Internet/Ethernet Relay Board 12 Channel with DAEnetIP4 - I/O, SNMP, Web
The next generation Ethernet SNMP and WEB relay I/O module based on DAEnetIP4 with 12 SPDT relays (up to 15A), 8 ADC inputs (0-10V) and 8 digital inputs (0-12V) plus 2 PWM outputs (0-3.3V). With its built in real time clock and individual pulse timer for every relay it is suitable for controling electrical devices and monitor different sensors from the ethernet network, orginze thermoregulators or home automation applications. It can be accessed locally (LAN) or remotely (Internet,WAN) via web browser, computer software or smartphone. Supported by DRMv3. We provide various software examples for easy integration in your code. Works with Home Assistant, Domoticz and OpenHAB home automation systems as well as with Node-RED IoT platform. Now with FREE iOS and Android App!
Code:

DAE-PB-RO12-12V/DI8/AI8+DAEnetIP4

Weight:

0.345

Kgs
Feauters
10/100 Full duplex Ethernet interface (Auto MDIX);
12 SPDT relays;
8 x analog inputs with 10 bit resolution (0-10VDC);
8 x digital inputs port with schmitt trigger (0-12VDC or 0-24VDC). The inputs are combined with 16 bit cyclic counters as well;
2 x PWM outputs port (0-3.3VDC);
Hardware "Pulse" function for the relays;
Standart protocols: ARP, IP, ICMP (ping), DHCP, DNS,NTP;
SNMPv1 - snmpset, snmpget, snmptrap, snmpbulk, snmpgetnext, snmptable,snmpwalk;
SNMPv1 Traps upon analog input, digital input event or boot;
HTTP access - via web browser (integrated WEB server for all functions/parameters access with autorization);
HTTP/XML commands including support for encrypted requests;
JSON protocol;
Built-in Real Time Clock (RTC) with back-up power supply source for days;
Weekly schedule table for up to 30 records - the module it can work without PC connected;
The ports for HTTP, SNMP and Traps can be changed;
Function "load outputs states from EEPROM on boot";
Each I/O line can be named by user via web browser/snmp;
A Relay can be assigned to be controlled by analog and/or digital input according input level/edge;
Possibility of connection analog sensors to the analog inputs as LM34DZ, LM35DZ, LM335, MCP9700A;
Scaling (linearization) for the analog inputs to show values in suitable units;
Supported by DRMv3 Software -

New

;
iOS software - DAE-iModules App;
Android software - DAE-aModules App;
Software examples for PHP, JAVA, VB.NET, C#.NET and NI LabView - here;
Compatible various third party software: net-snmp, MRTG...
Supported by Home Assistant home automation software - New;
Supported by openHAB home automation software;
Supported by Domoticz home automation software;
Supported by Node-RED IoT platform;
DAEnetIP4 user's manual: download
Please note this is replacement for the legacy product: Internet/Ethernet 12 Channel Relay Board - I/O, SNMP, Web (however the snmp command are not the same).
Technical Parameters
PCB size (LxW), mm
209.68 x 85.85
PCB weight, g
300
Power supply voltage,VDC
12 or 24 (depends on the model) ±2
Maximum current consumption at 12VDC (when all relays are ON), mA
700
Maximum current consumption at 24VDC (when all relays are ON), mA
400
Operating temperature range, °C
0 to 70
SPDT relay channels (the type depends on the stocks quantity in our store):

TONGLING - JQC-3FF-S-Z (10A / 250VAC, 15A / 120VAC, 10A / 28VDC)

SUNHOLD - RAS xx15 (10A / 250VAC, 15A / 120VAC, 15A / 24VDC)
Please note the product does not come with power supply adapter that you may need. We offer suitable 12V or 24V adapters http://denkovi.com/power-supply-adapters
Electrical appliances remote control applications
Monitoring and logging applications
Standalone applications with sensors and electrical devices
Counters in shops
Web based thermo-regulator
Home automation
Irrigation systems
Security and fire alarm systems
Management/monitoring for industrial
Remote Lock/unlock doors
Suitable for school and university education
The package includes
1 x DAEnetIP4 Ethernet controller
1 x DAE-PB/RO12/DI8/AI8 peripherial board
3 x plastic spacers
The module is shipped assembled and tested
Relay module overview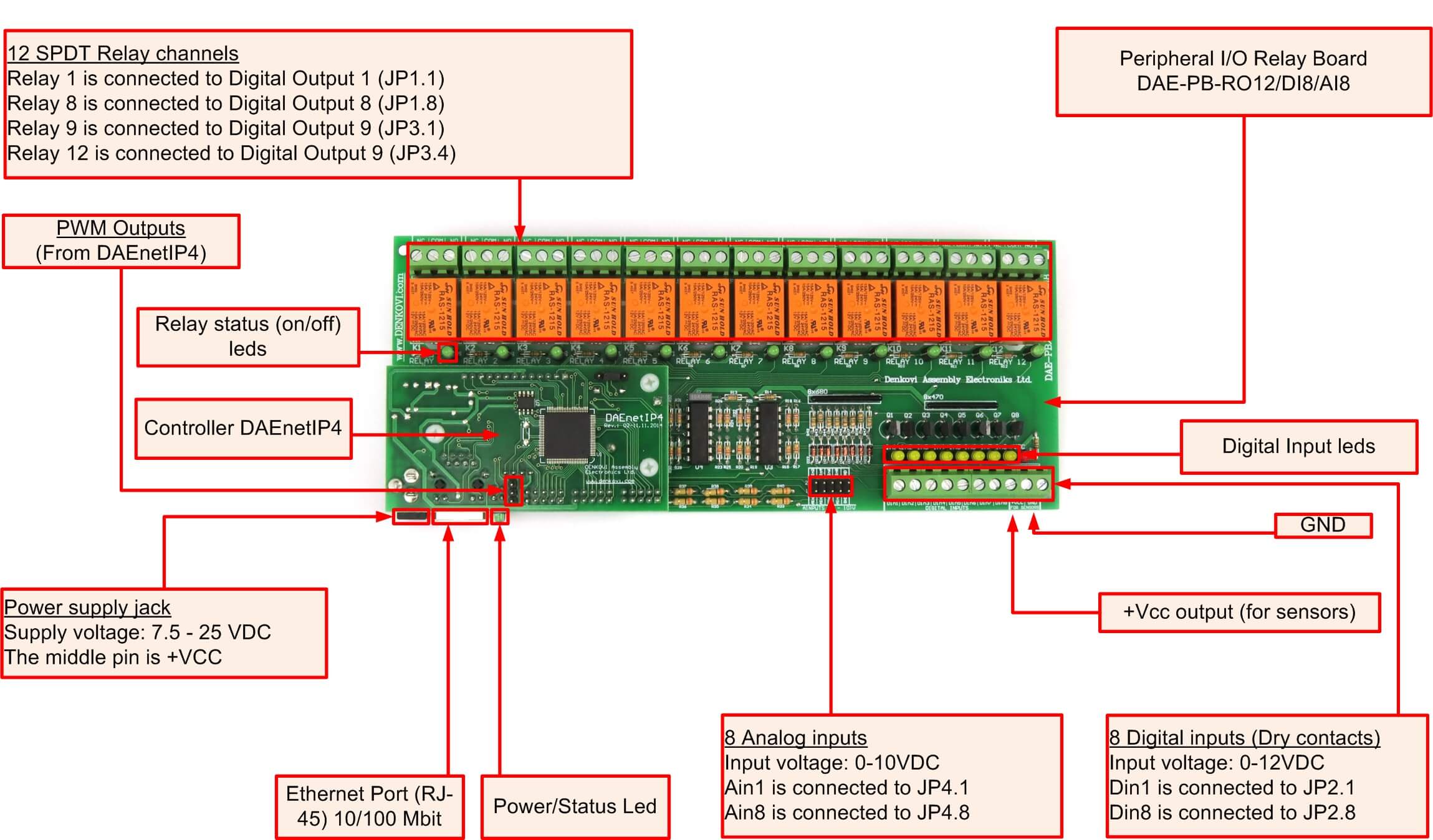 Access from Home Assistant
Home Assistant is very powerful home automation system. Please checkout our application note for more information.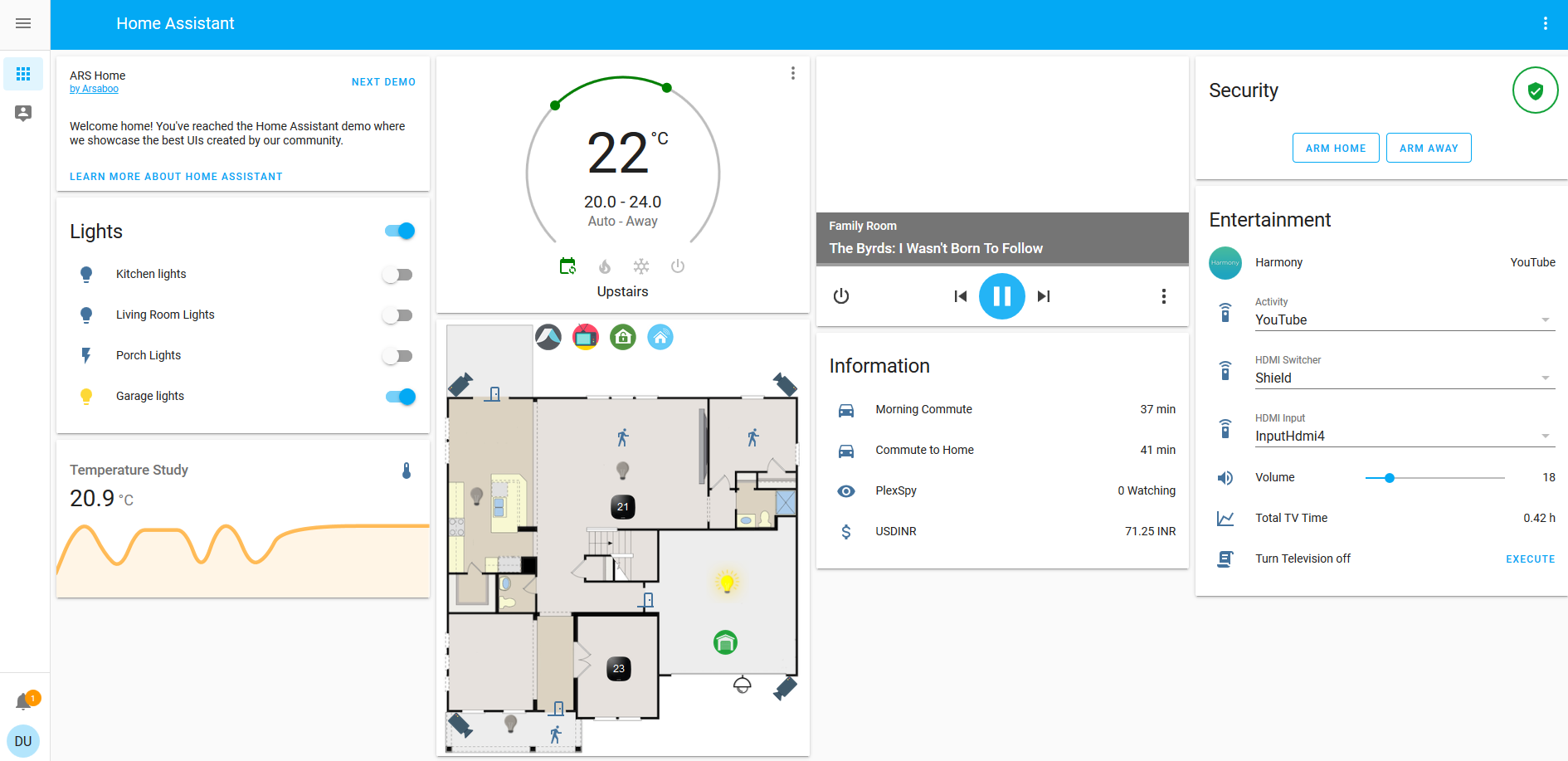 Access DAEnetIP4 from OpenHAB
OpenHAB is a third party open source free home automation software. Run your server on Linux, macOS, Windows, Raspberry Pi, PINE64, Docker, Synology... Access it with apps for the web, iOS, Android and others. Use a powerful and flexible engine to design rules, with time and event-based triggers, scripts, actions, notifications and voice control.
There are two ways of communication - via SNMP and HTTP GET requests. More information about the integration with our hardware - http://denkovi.com/openhab-with-denkovi-modules or contact with us.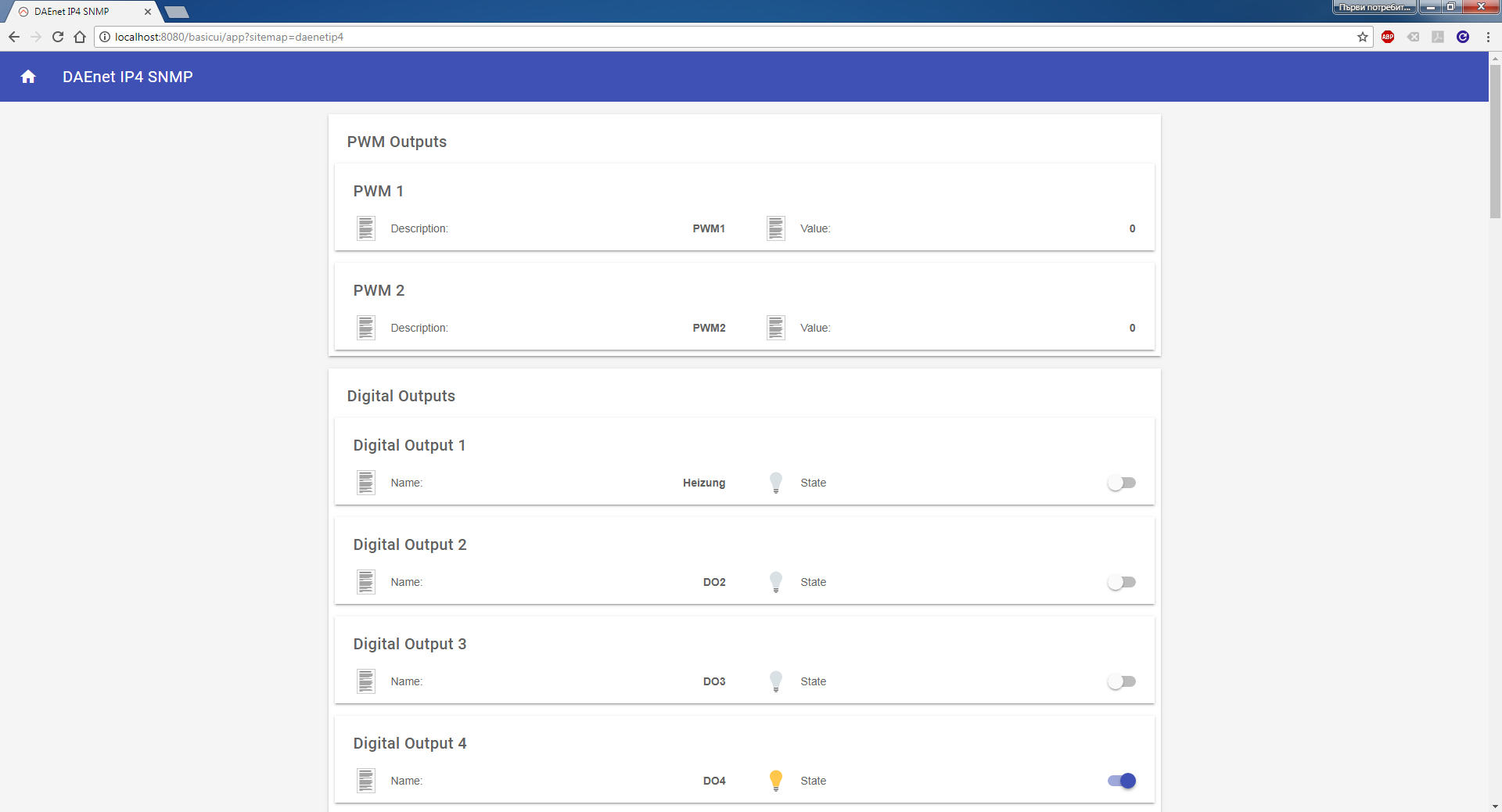 Access DAEnetIP4 from Domoticz
Domoticz is a free open source popular home automation software which can run on Windows, Linux, MAC, Rasberry PI and others. It is a home automation system design to control various devices and receive input from various sensors. Access it with apps for the web, iOS, Android and others.
More information about how to connect and use it with our hardware - http://denkovi.com/domoticz-with-denkovi-modules or contact with us.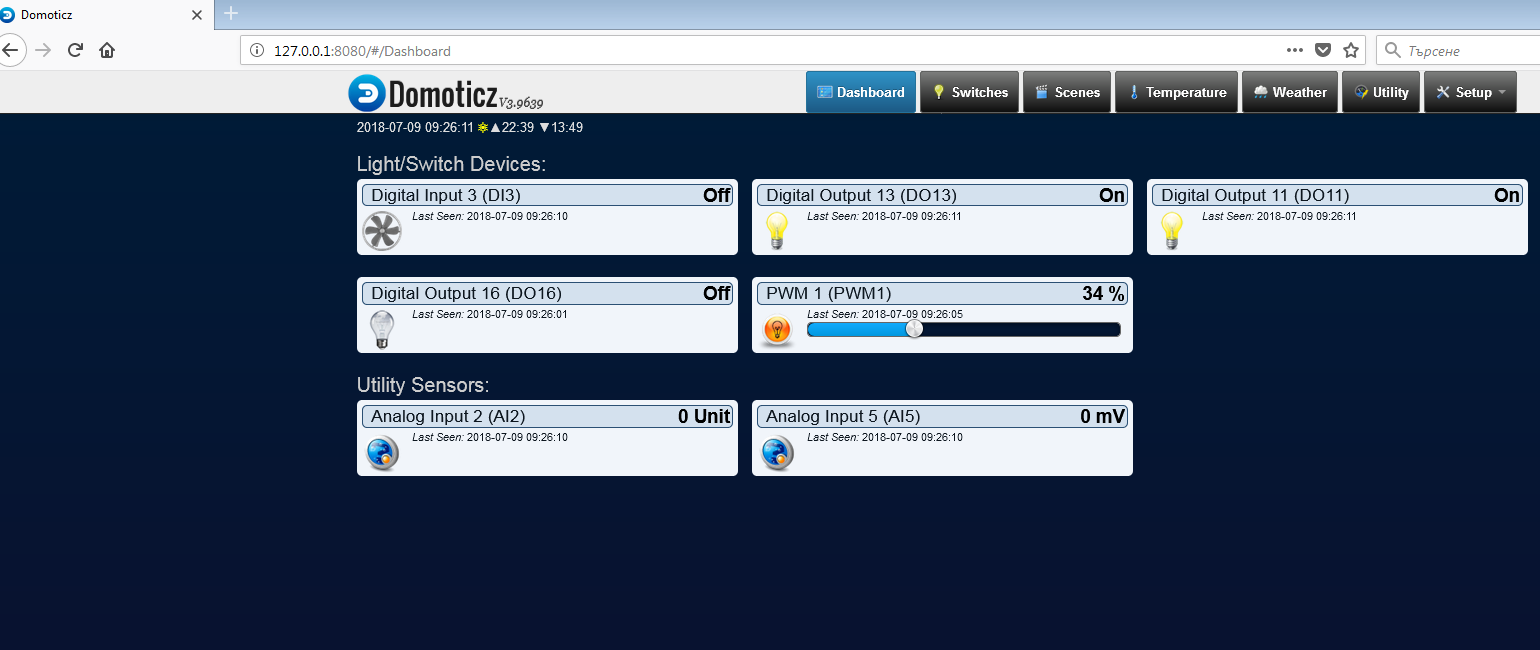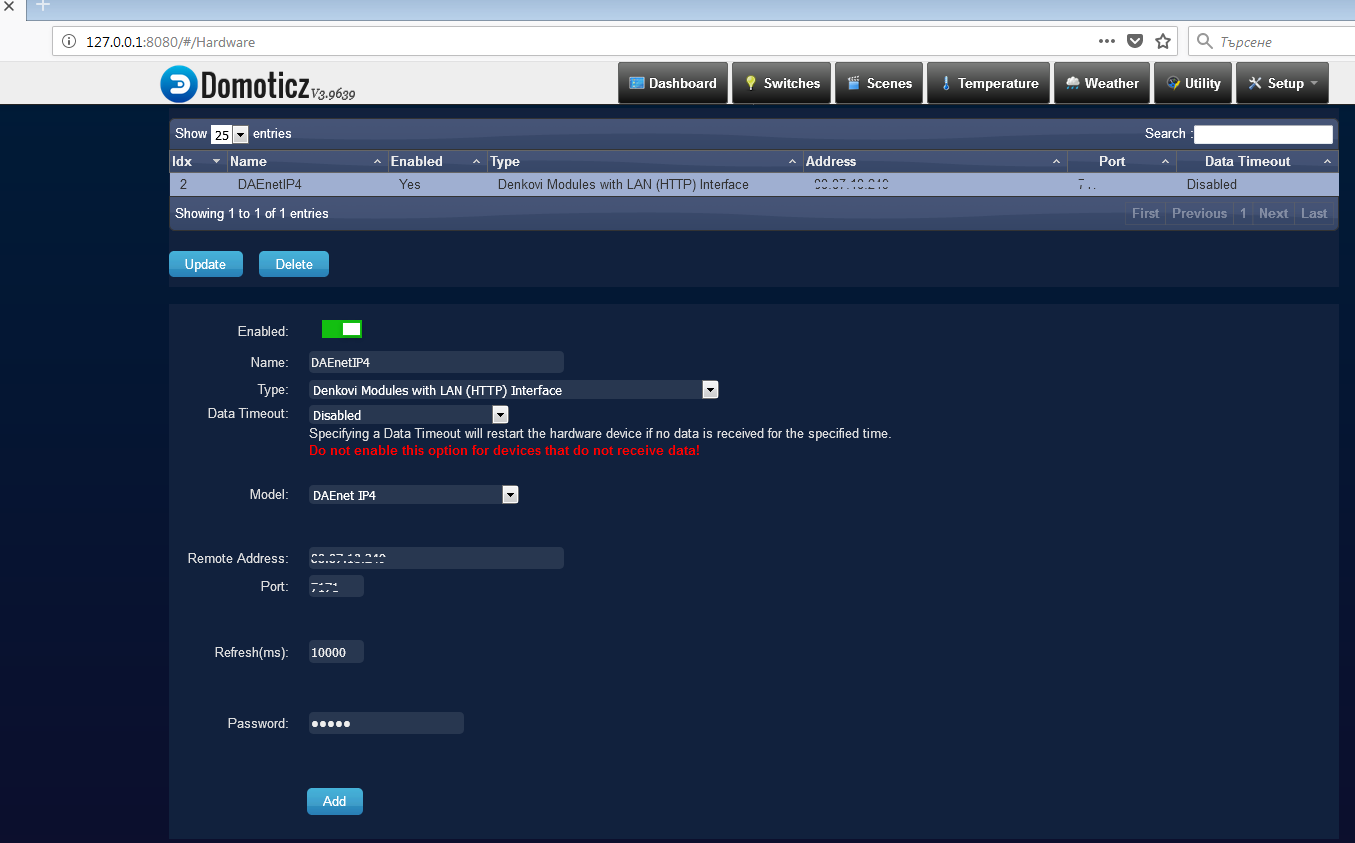 Access DAEnetIP4 from Node-RED
Node-RED is a flow-based programming platform for the Internet of Things. We prepared small example for communication between Node-RED and our device. More info about Node-RED and denkovi modules: here
You can download the example Node-RED flows from here: SNMP and HTTP
Access DAEnetIP4 from mobile devices
iOS App DAE-iModules
Android App DAE-aModules
The video bellow shows how you can control DAEnetIP4 based device - Internet/Ethernet 12 Channel Relay Board. Any other Denkovi Ethernet Device from this list can be acessed with same success from your iOS device via DAE-iModules.

Some useful information:
Select device DAEnetIP4. Enter the IP address (URL), UDP Port and SNMP Community for the device;
Access DAEnetIP4 via Web Browser
DAEnetIP4 has internal web server for access and configuration of almost all parameters. It can be accessed via any browser supporting javascript. It is tested with Internet Explorer, Firefox, Chrome, Safari. It is tested with the browsers of the Android and iPhone mobile devices and works well.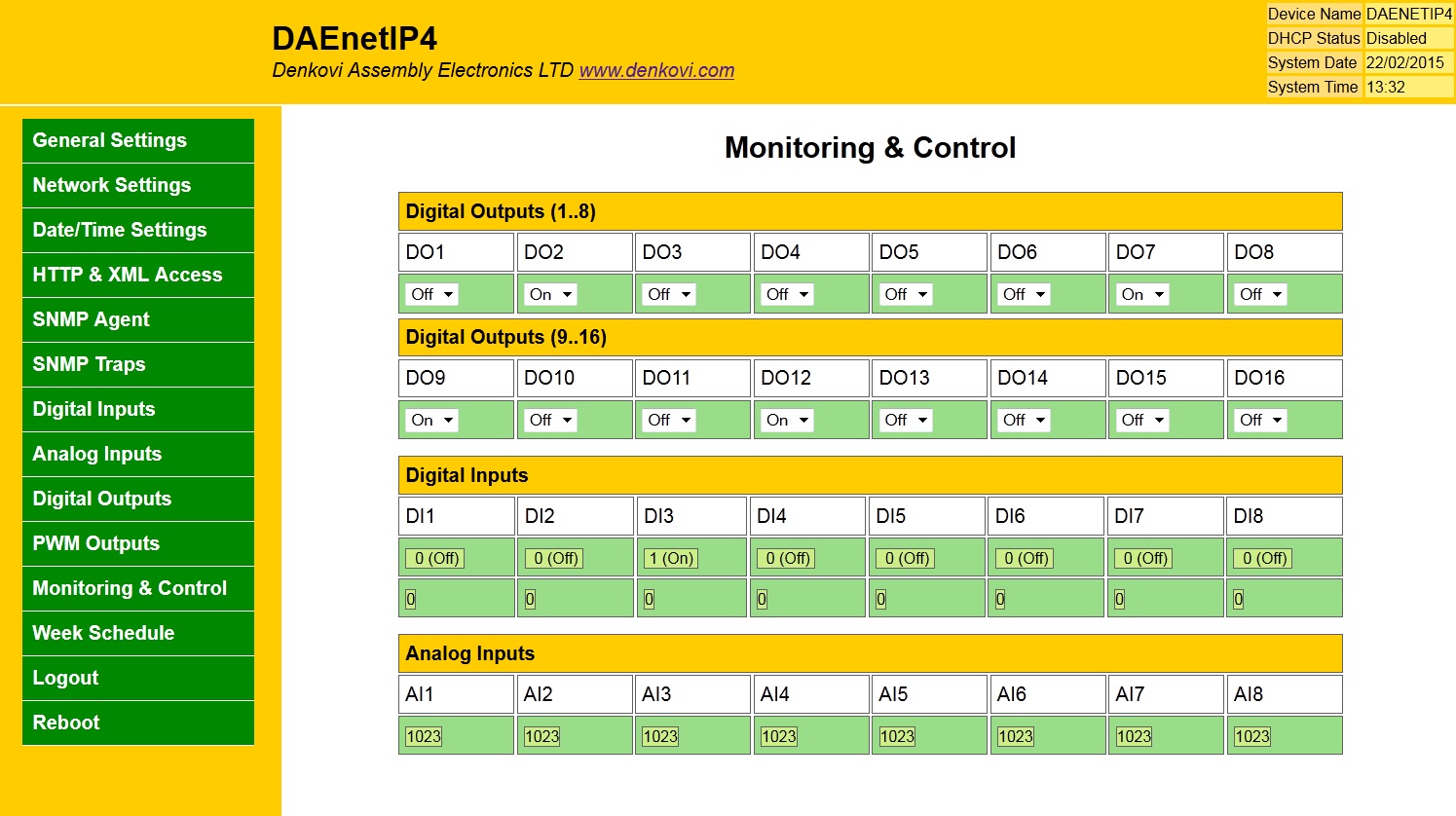 Control DAEnetIP4 via command line
Net-snmp is free command line utility for windows which allows you to execute snmp commands from command line, BAT files, BASH scripts or any other sofwtare that can execute external .exe file or commands from command line. The instructions file how to install net-snmp and example commands can be downloaded from here.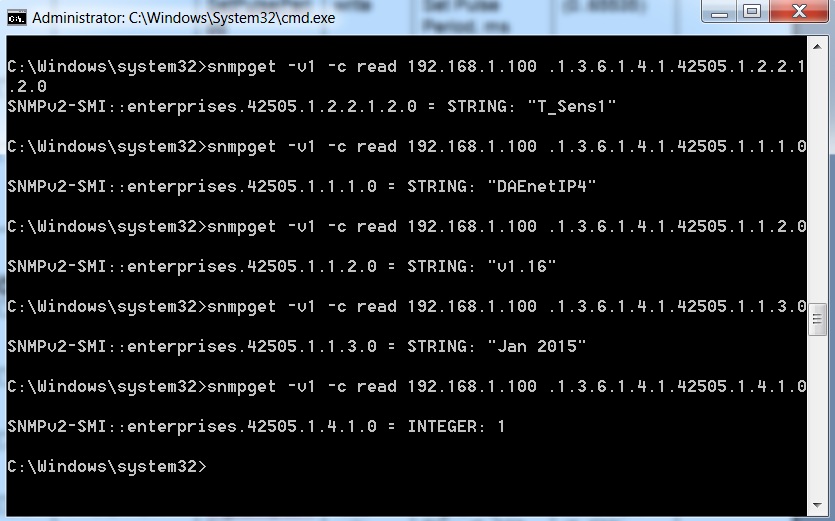 Access via software DRMv3
This device is supported by DRMv3 Software.
The device can be found in the device list under the default name: DAEnetIP4 LAN 12 Relay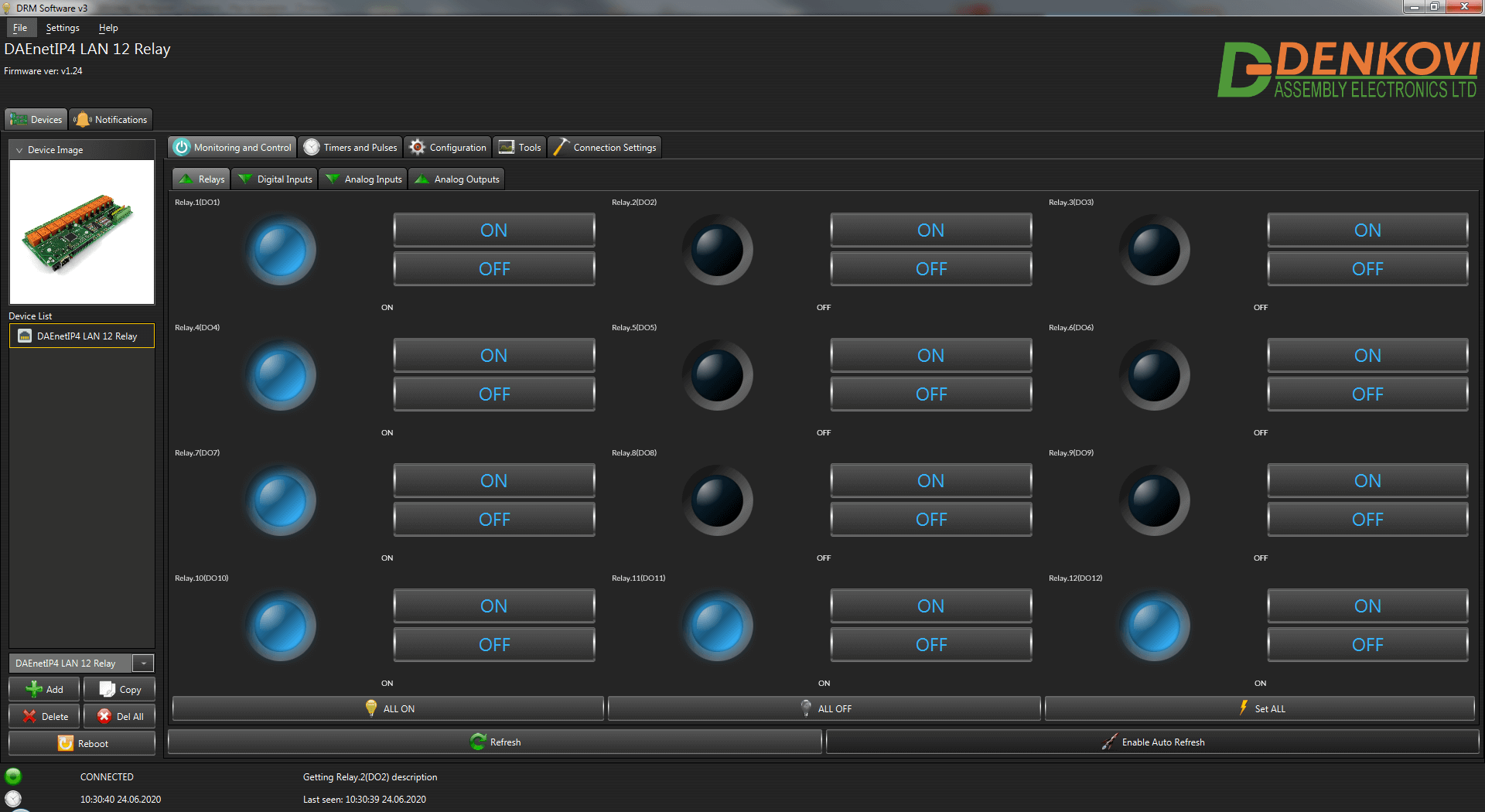 Access via Labview
We have created labview demo application for DAEnetIP4 and its project source code can be downloaded from this link - denkovi.com/SoftwareExamples/DAEnetIP4/labview/DAEnetIP4.rar. The .exe file is in the directory as well - it can be used ad standalone application.
Links
| | | | | | |
| --- | --- | --- | --- | --- | --- |
| Release Date | Current Version | Mib File | Update Utility | Version History | Note |
| 08 Sep 2022 | 1.25 | Here | Denkovi Finder | Version History | Instructions how to update - will be sent by request only |
Denkovi software
Web server, SNMP, XML
LAN 12 Relay I/O Module
12 Relays, 16 I/O
Complete solution and very good product. Also fast and satisfactory technical support.
Goods as described + information completed. Fast delivery, smooth processing!
Extremely smart product, excellent service!
Works great.
The DAEnetIP4 boards are big improvement. Мore stable, than their predecessor DAEnetIP1.
Excellent seller!!! Perfect transaction!!! Seller recommended !!!
Thank you for making such a great product!