Internet/Ethernet 12 Channel Relay Board - I/O, SNMP, Web
Ethernet SNMP and WEB relay I/O module based on DAEnetIP1 with 12 SPDT relays (up to 15A), 8 ADC inputs (0-10V) and 8 digital inputs (0-12V). Suitable for controling electrical devices and monitor different sensors from the ethernet network. It can be accessed locally (LAN) or remotely (Internet,WAN) via web browser, computer software, android/iOS smartphone. We provide various software examples for easy integration in your code.
Code:

DAE-PB-RO12-JQC/DI8/AI8 + DAEnetIP1

Weight:

0.345

Kgs
Features
10/100 Full duplex Ethernet interface (Auto MDIX)
Power supply 12VDC / 700mA (when all relays are on)
8 x analog inputs with 10 bit resolution (0-10VDC)
12 SPDT relays RAS-12-15 or JQC-3FC/T73 (selectable during purchase)
8 x digital inputs port (0-12VDC)
Hardware "Pulse" function for the relays
Standart protocols: ARP, IP, ICMP (ping), DHCP
Supports snmp v1 (snmpset, snmpget, snmptrap), HTTP (web server with autorization), TFTP (for firmware upgrade)
Port for SNMP (161) can be changed
It can be configured with SNMP requests or web browser
Integrated WEB server for all functions/parameters access
Reset of the digital outputs on incoming/outgoing ping timeout
Function "load outputs states from EEPROM on boot"
Each I/O line can be named by user via web browser/snmp
It can send traps according analog ADC level
An analog input may be referred to control a digital output according its input level
Onboard temperature sensor
Possibility of connection analog sensors to the analog inputs as LM34DZ, LM35DZ, LM335, MCP9700A
Denkovi software: DAEnetIP1 Manager
3rd parity software: Command line utility - netsnmp
Software examples: .NET, Java, Labview and PHP
User Manual: download
Application examples
Control devices depending on analog input value (temperature, hummidity, voltage)
Security and fire alarm systems
Manual or automatic device restart if event occur
Management/monitoring for industrial
Sensor information processing
Remote electrical devices control
Remote Lock/unlock doors
Suitable for school and university education
The package includes
1 x DAEnetIP1 Ethernet controller
1 x DAE-PB/RO12/DI8/AI8 peripherial board
3 x plastic spacers
The module will be shipped assembled and tested
Relay module overview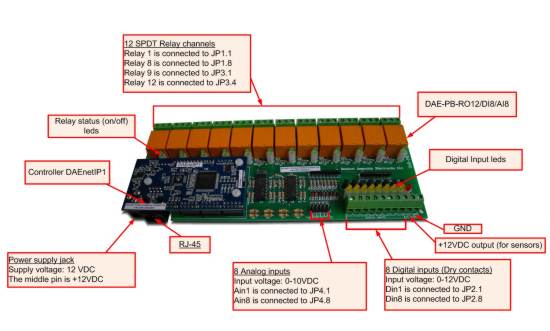 Power supply requirements
12VDC / 1000mA - center positive tip.
DAEnetIP1 does not have reverese polarity or over-voltage protection.
We recommend to use this 12VDC Power Supply Adaptor (SYS1357-2412) that may be found also in our store. Please contact with us if you have questions. We sell the adaptor with one of the AC plugs for: USA, UK, EU, AUS. It is sold separately !
Access DAEnetIP1 via Web Browser
DAEnetIP1 has internal web server for access and configuration of almost all parameters. It can be accessed via any browser supporting javascript. It is tested with Internet Explorer, Firefox, Chrome, Safari. It is tested with the browsers of the Android and iPhone mobile devices and works well.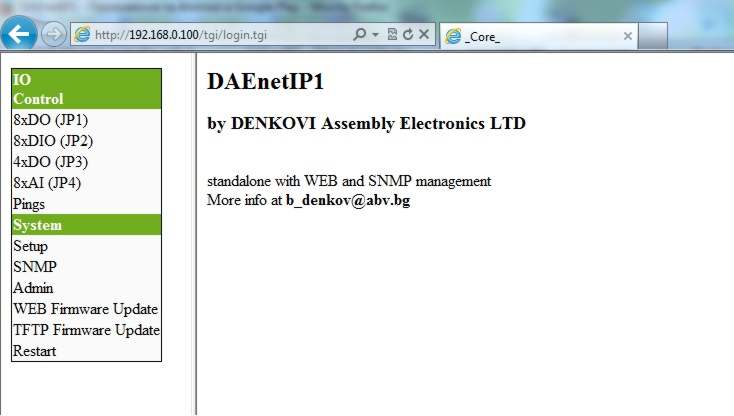 Access from Mobile Devices
The DAEnetIP1 controller and all devices based on this controller can be controlled by almost all knds of mobile devices. The applications we offer allow controlling the DAEnetIP1 digital outputs, polling the analog and digital inputs, timers for the outputs can be set as well. Please refer to the specific application description on its corresponding marketplace for more details.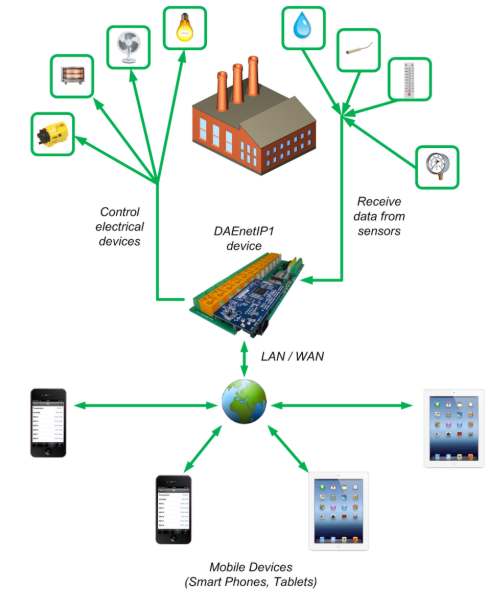 DAEnetIP1 device controlled by mobile devices
Access the relay module via DAEnetIP1 manager
DAEnetIP1 Manager is SNMP v1 configuration/control/monitor utility for DAEnetIP1. It supports many functions of the controller but not all. It works as sending/receiving snmp requests to the target DAEnetIP1 controller.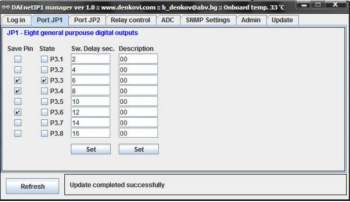 Command line (net-snmp)
Steps for Install net-snmp library in Windows. In this way you will be able to control the ethernet controller with command line (For most Linux OS, there is built in the same snmp tool in the kernel).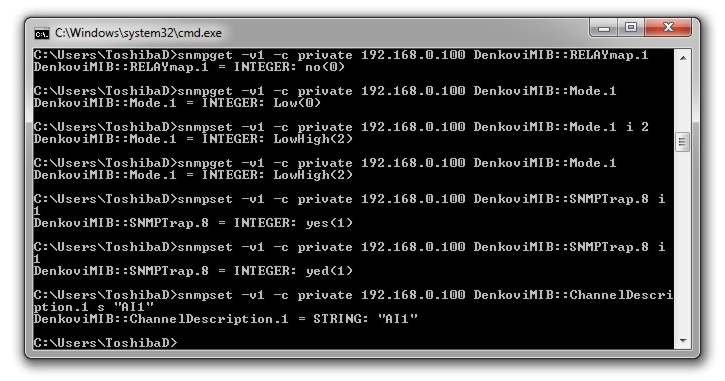 Download the last version net-snmp binary for windows from http://net-snmp.sourceforge.net/download. The file must look like net-snmp-X.X.X.X-X.win32.exe
Install the downloaded file. Leave the default options. The packet will be install in c:\usr by default.
Download the DAEnetIP1 MIB file from here
Copy the mib file here c:\usr\share\snmp\mibs
Add new line in the file c:\usr\etc\snmp\snmp.conf with the "mibs all" directive.
Now you can test different commands for OID access, supported by this module. Their names you may see in the DAEnetIP1.mib file.
You can find example commands in the DAEnetIP1 user's manual
Access via DRM Software
The Etherent Relay Module is supported by DRM Software but it is possible to control ONLY THE RELAYS.
DRM Software is Windows/Linux software for controlling all our relay boards. Supported OS:
Windows: tested on XP, Vista, 7 and 8
Linux: tested on Ubuntu and OpenSuse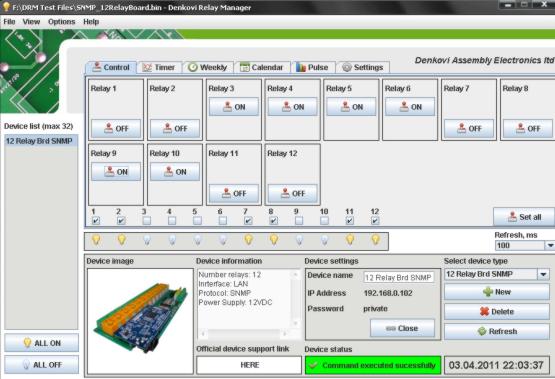 DRM Software image - control mode for Internet/Ethernet 12 Relay Module

For more information about DRM Software, documentation and download - here

Download the last version (install package) - DRMsetup.exe

Download the last version (intstall archive) - DRMsetup.rar
Demo Videos
The video demonstrate the eight relays (JP1 port) attached to ultrasonic sensor, which is connected to JP4.1. It is Low mode.
The video demonstrate the eight relays (JP1 port) attached to ultrasonic sensor, which is connected to JP4.1. It is High mode
The video demonstrate the eight relays (JP1 port) attached to ultrasonic sensor, which is connected to JP4.1. It is Acc mode.
DAEnetIP1 manager demonstration.
Useful links
General links
Software by Denkovi
Third parity software

Net-snmp command line tool for windows (instructions how to install - see in the manual) and C++ library - here (example commands - in the user manual).
Java (Netbeans) - Example for accessing DAEnetIP1 controller. Works in Linux / Windows / Mac
labVIEW 2011 - basic snmp manager for DAEnetIP1 build with labVIEW. For download please contact us
VB .NET Express 2010 - Very simple demo. It demonstrates how to set and get DAEnetIP1 ports values. For download please contact us
Super cool! Up and running about as fast as I can assembile...5min