smartDEN Opener - IoT smart Garrage Door Controller with Wi-Fi, Relays, I/O, MQTT, HTTP
smartDEN Opener is a relay controller which provides motor control for garage doors, barriers, awnings, windows, blinds, roulette shutters. It can be opened/closed via RF 433 MHz pocket remotes but also provides Wi-Fi wireless interface for control from mobile smartphone, tablet or computer.
The android app DAE-aModules (iOS app support is comming soon) ensure secure communication with the controller, easy monitoring of the extra relays/sensors, receiving event notifications (for example when and who opened the door lastly) and even control the door via GPS location (for example when approaching your garage door driving your car).
The controller has and several additional I/O lines for extra buttons, switches, contact or barrier detectors, anti-freezing temperature (or other) sensors and two extra relays for warning lamps, heaters or door locks. An email can be sent to one user email address upon triggered event and the internal memory keeps small amount of log records for the previous 300 events.
For system integrators we provide two communication protocols (MQTT and HTTP/XML/JSON) for embedding in third party systems (such as home automation servers like Home Assistant, Domoticz, Openhab and Node-RED) and lot of software examples.
Code:

smartDEN-Opener-12V-DIN

Weight:

0.400

Kgs
Feauters
Motor Control:
1 x Motor control channel with maximum load (current): 4A;
Secured with fuse;
Programmable opening(closing) time;
"Auto-close" function based on timer and/or sensor;
Supported types of motors:

Reversible AC asynchronous (induction) motors equipped with limit switches;
Reversible DC motors equipped with limit switches;

Suitable for garage doors, barriers, awnings, windows, blinds, roulette shutters;
Two independent protection options:
Via digital input using IR beam sensor;
Via programmable over-current motor limit;
Relays:
2 x SPDT Relays (contacts parameters: 10A / 250VAC, 15A / 120VAC, 10A / 28VDC);
Suitable for warning lights, anti-freeze heaters, door locks;
Digital Inputs:
3 x optically-isolated (status led for each, input voltage: 3-24VDC);
Suitable for RFID readers, buttons, switches, barrier/PIR/motion detectors...;
Analog Input:
1 x analog input (ADC) with input voltage range: 0-5VDC;
Suitable for hummidity, wind speed or light sensors...;
Temperature Sensor Input:
1 x temperature input channel for sensor DALLAS DS1820, DS18S20 or DS18B20;
Maximum (tested) cable length: 20 meters;
Software selectable units °C or °F;
Can be used to detect too low/high temperatures and send notification/email and/or to switch relay/door;
Control from mobile smartphone:
Android support for DAE-aModules app (iOS app is comming soon)
Manually open/close the door, monitor the sensors;
Automatic open the door via GPS location - when approaching your home with your car;
Notifications;
Software:
Secure RF remote control:
2 x pocket remotes for open/close (additional can be purchased separately);
Working frequency: 433 MHz;
Working distance: 50 meters open area;
Encryption: rolling code;
Programming the opening (closing) time function;
Maximum number of stored remotes: 20;
Standalone modes:
Weekly schedule events table for automatic actions: max 20 events. Can be used for awnings/roultte shutters automatic openening/closing;
Controlling motor and relays based on sensors automatically;
Timer functions;
Events log:
Internal EEPROM memory for events log;
Minimum 330 (typical 400) I/O events;
Minimum 270 (typical 400) system events;
Web Interface:
System configuration and monitoring;
Setup and control the motor open/close timings and I/O;
IP camera embedding option;
Setup the weekly schedule;
Backup and restore function of all the parameters;
Access the logs;
Secure login authorization;
Access protection (by IP address);
Mobile friendly web interface;
Built-in real time clock (RTC):
Used for schedule (calendar) stand-alone work;
Option for auto-synchronization via Internet (NTP);
Daylight savings option;
Back-up power supply keeps the time for days when power off;
Communication:
Wireless Wi-Fi 802.11 b/g/n standard;
External Wi-Fi antenna 3 dBm for better range;
Supported Wi-Fi modes: Access Point (AP), Station (STA);
Supported Wi-Fi encryption modes: WEP, WPAPSK-TKIP, WPAPSK-AES, WPA2PSK-TKIP, WPA2PSK-AES;
Protocols: HTTP, DHCP, DNS, NTP, ICMP (ping), MQTT(QoS 0), XML, JSON, SMTP;
Push notifications upon event:
Emails notifications (no SSL supported, only AUTH PLAIN LOGIN);
MQTT (Android) notifications - accessible from DAE-aModules;
TCP/IP Services:
HTTP server: Access (GET) current measurements in XML/JSON format, download log files in .txt format;
Two types of power supply options selectable during purchase:
DC power supply: DC12V
DC power supply: DC24V
Physical and Environment:
Working temperature range: -25°C ~ +70°C;
Working humidity range: 40% ~ 85%;
Two types of housing selectable during purchase:
DIN rail box (IP20): 157 x 86 x 58 mm;
Distribution Box (IP65): 200 x 155 x 80 mm;
Documentation:
Detailed user's manual - here
The package includes
1 x smartDEN Opener module (power supply voltage and box type are selectable during purchase);
2 x RF remotes 433 MHz
Backup fuse 6.3A
Please note power supply adaptor is not included in the package.
Additional accessories can be found in our store as well
Application Example #1. Barrier control
smartDEN Opener can be used successfully for opening/closing barrier. Here are the benefits using smartDEN Opener for such kind of application:
Application Example #2. Garage door control
smartDEN Opener is also very useful in application requiring garage door control. It provides smart control via mobile phone or internet and open/close via RF remote at the same time.
Application Example #3. Awning control
Motorized awnings also can be controlled via smatDEN Opener with success. Besides the regular open/close function, here the smartDEN Opener can provide and function to close the awning if the wind speed is too high. Thanks to its internal schedule the awning can be controlled automatically standalone by date/time or a light sensor can be used as well.
Application Example #4. Roof window control
Roof windows can be controlled by smartDEN Opener as well. Additionally the rich amount of sensors and the capability of sending notifications make the device ideal for home automation and even security applications.
Application Example #5. Blinds control
Motorized window blinds are also possible to be automated via smartDEN Opener. Here the benefit is that the module can be scheduled to set up/down the blinds standalone by internal clock (weekly schedule). From the other hand a sunlight sensor can do that as well. Opening via mobile phone (android app DAE-aModules), web browser, computer, wall switch, RF remote...
Overview
Capability to control AC and DC motors
It comes with two convient nice pocket RF 433 MHz remotes
Wi-Fi 802.11 Wireless 2.4 GHz interface because it is smart IoT device
Integrated web server for easy control, monitoring and configuration
It is equipped with extra I/O periphery lines
Two independent protection modes
Weekly schedule table
Android app
Push notifications and Emails
Automatic open the garage door when approaching home
Support for integrators
Access via software DRMv3
This device is supported by DRMv3 Software.
The device can be found in the device list under the default name: smartDEN Opener-MQTT or smartDEN Opener-XML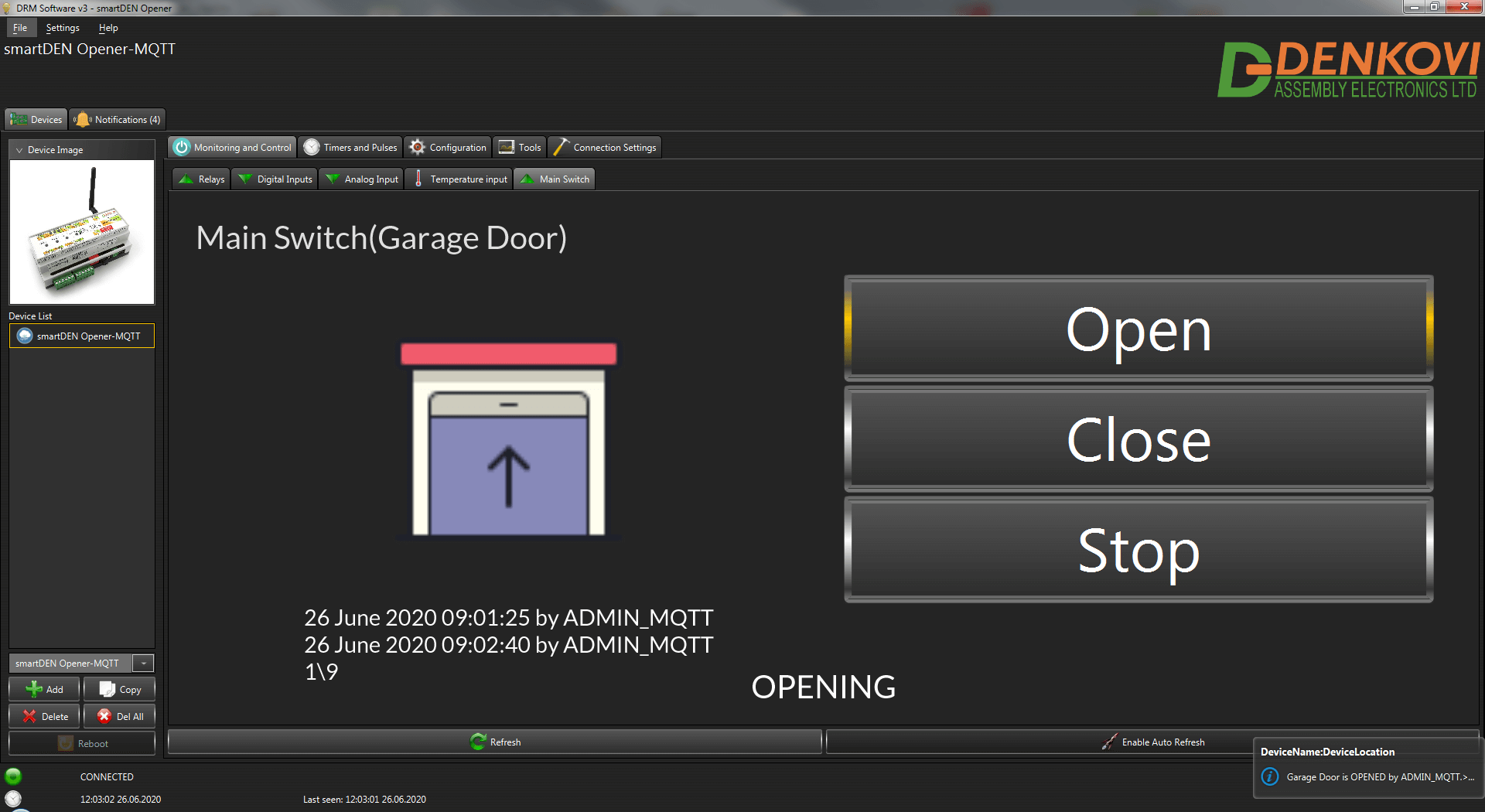 Access from Home Assistant
Home Assistant is very powerful home automation system. Please checkout our application note for more information.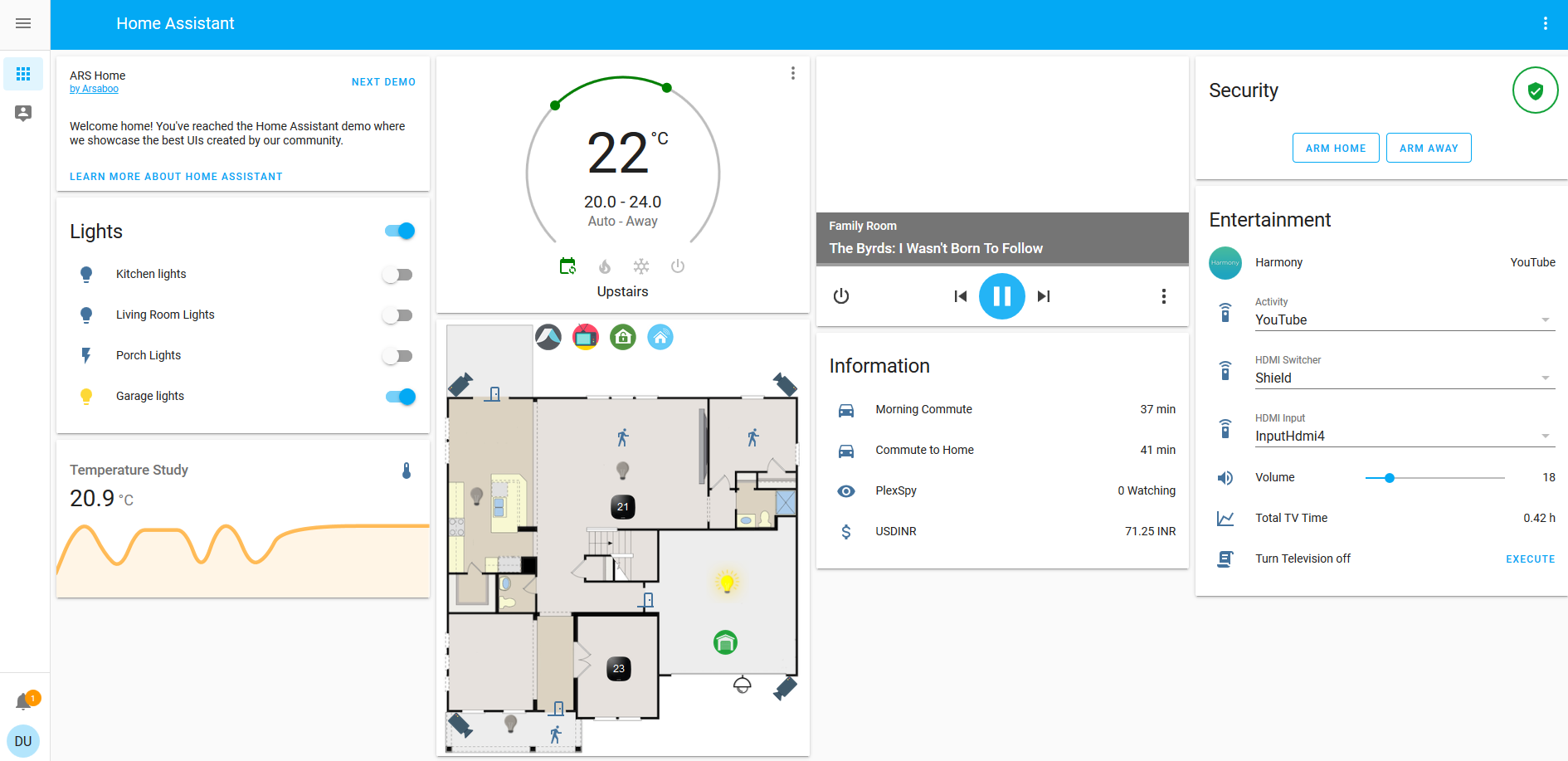 Access smartDEN Opener from OpenHAB
OpenHAB is a third party open source free home automation software. Run your server on Linux, macOS, Windows, Raspberry Pi, PINE64, Docker, Synology... Access it with apps for the web, iOS, Android and others. Use a powerful and flexible engine to design rules, with time and event-based triggers, scripts, actions, notifications and voice control.
There are two ways of communication - via MQTT and HTTP GET requests. More information about the integration with our hardware - http://denkovi.com/openhab-with-denkovi-modules or contact with us.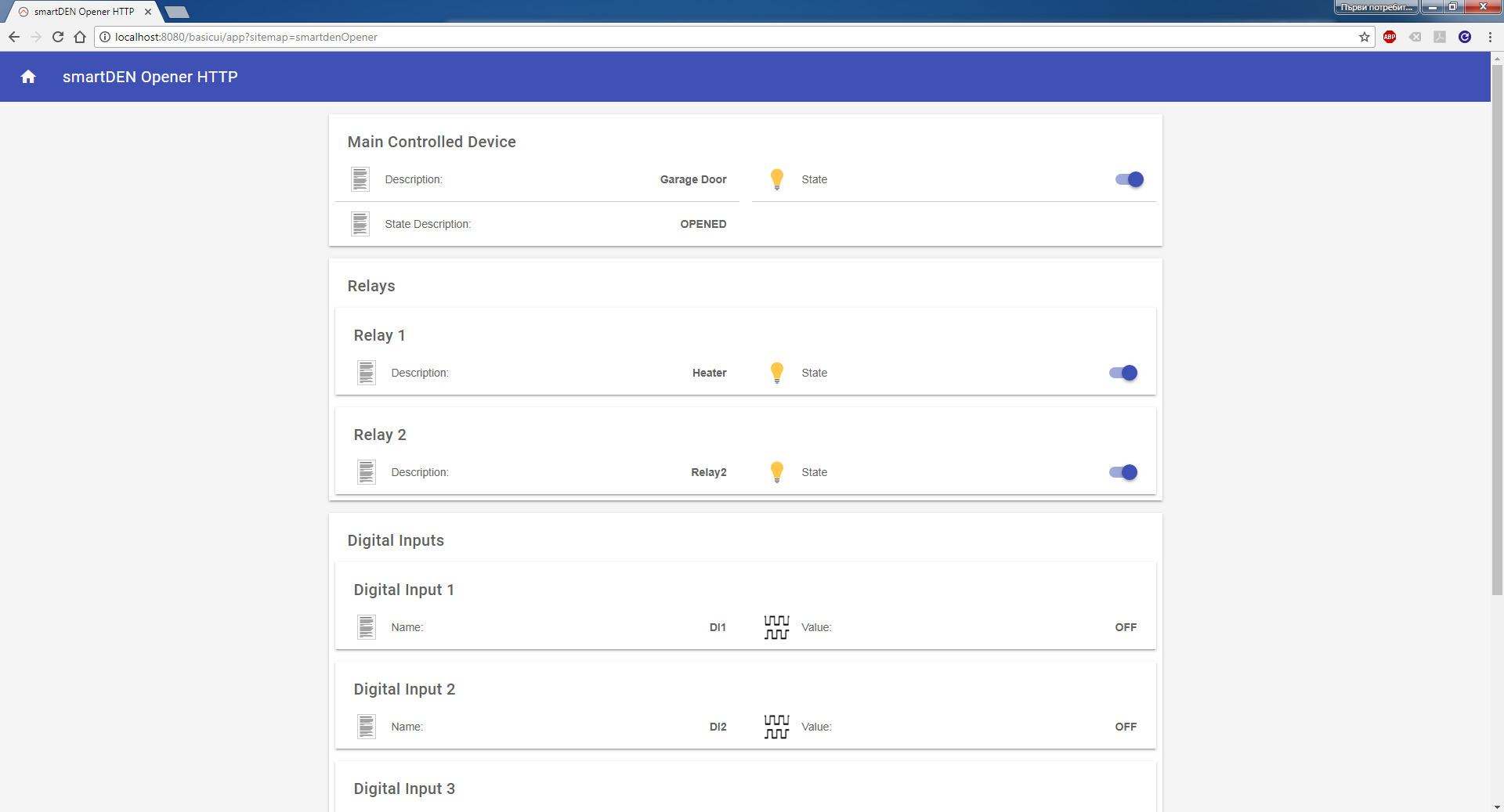 Access smartDEN Opener from Domoticz
Domoticz is a free open source popular home automation software which can run on Windows, Linux, MAC, Rasberry PI and others. It is a home automation system design to control various devices and receive input from various sensors. Access it with apps for the web, iOS, Android and others.
More information about how to connect and use it with our hardware - http://denkovi.com/domoticz-with-denkovi-modules or contact with us.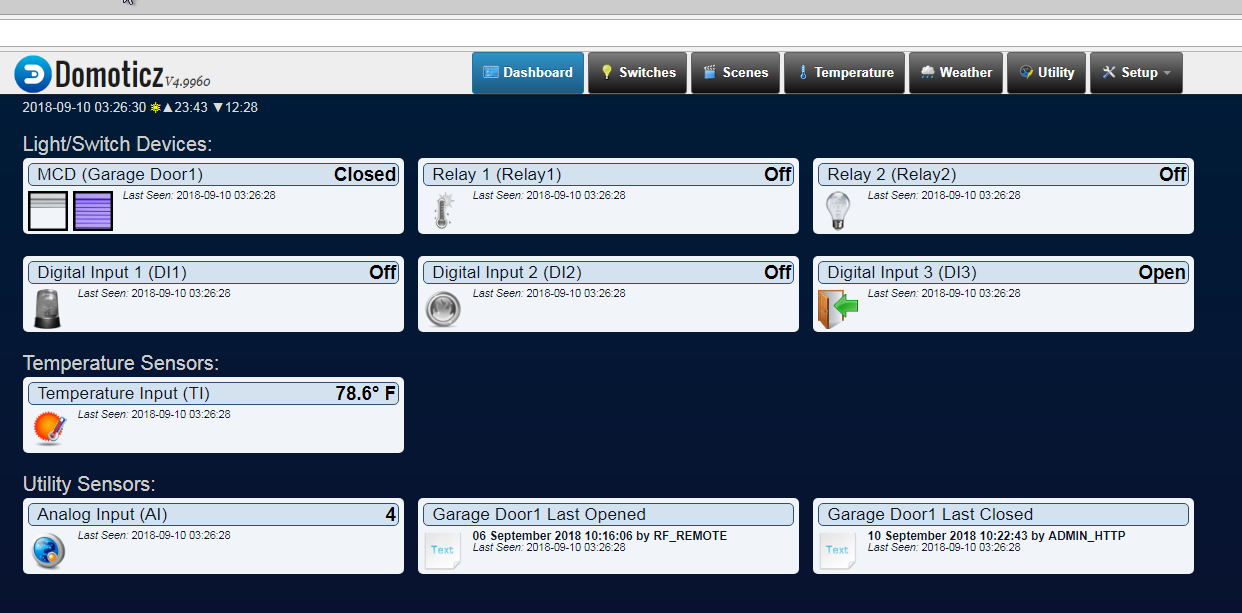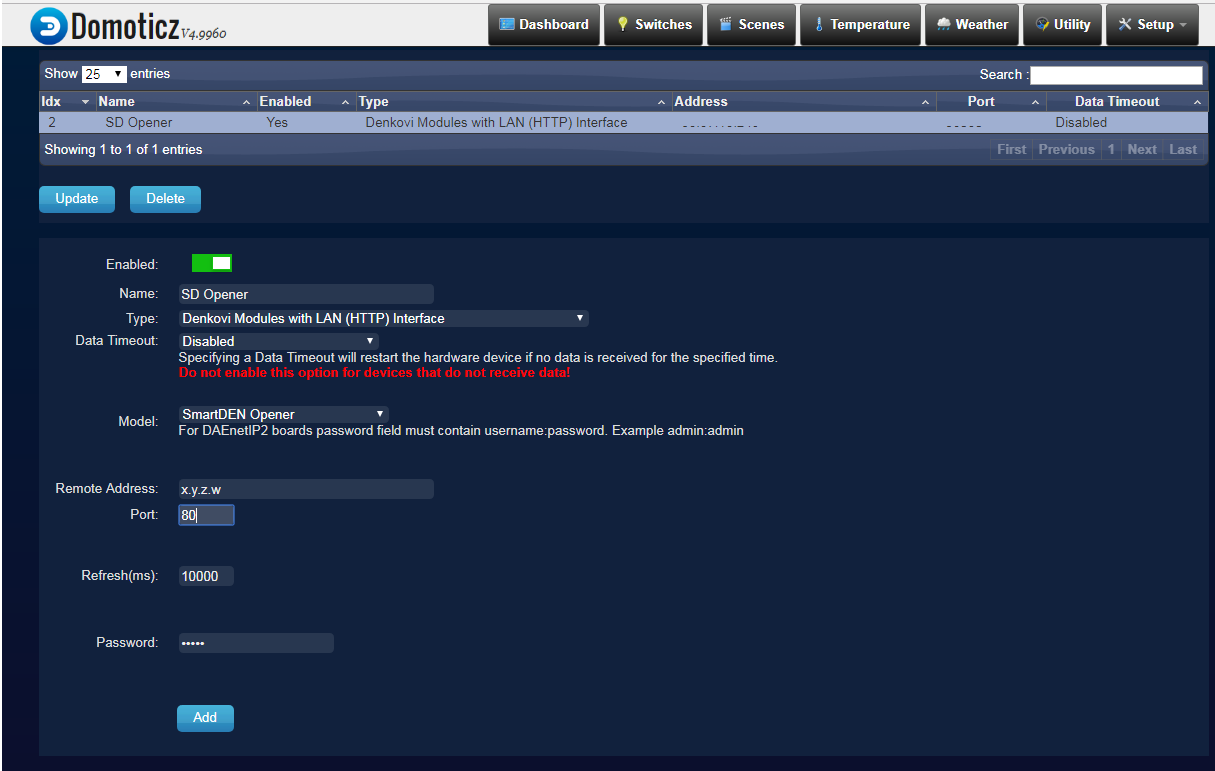 Access smartDEN Opener from Node-RED
Node-RED is a flow-based programming platform for the Internet of Things. We prepared small example for communication between Node-RED and our device. More info about Node-RED and denkovi modules: here
You can download the example Node-RED flows from here: MQTT and HTTP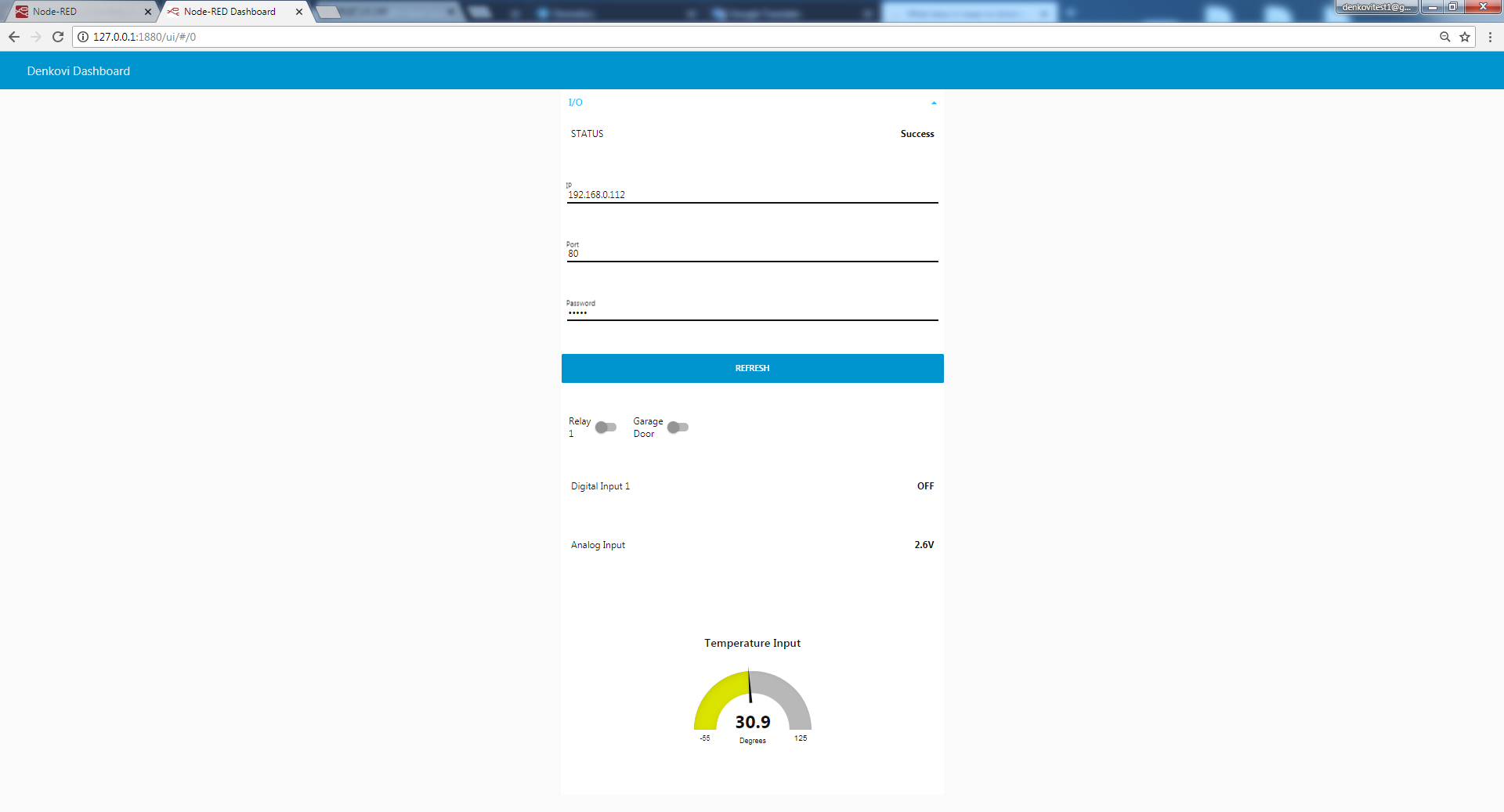 Links
Denkovi software
DRMv3 Software - software for monitoring, control and configuration - here
Denkovi Finder - utility for discovery DAEnetIP4 and smartDEN devices in local network - here
DAE-aModules - App for Android mobile devices, support link here