Ethernet Relay Card 5 Channels - SNMP, HTTP/XML, Real Time Clock, DIN BOX
Five channel Ethernet relay card based on DAEnetIP4 snmp IP controller. Supports independent weekly schedule for up to 30 events without connection to computer. Control it from web browser, DRM software, command line tool, free Android and iOS App and others. Flexible for integration. For developers we provide software examples in Java, .NET, Labview, PHP. The relay card can be used for home automation, industrials, sensor monitoring or embedding in larger systems. This is the DIN Rail Box version.
Code:

DAE-PB-RO5-12V+DAEnetIP4-BOX

Weight:

0.300

Kgs
Functions
10/100 Full duplex Ethernet interface (Auto MDIX);
5 SPDT relays;
DIN Rail enclosure;
Hardware "Pulse" function for the relays;
Standart protocols: ARP, IP, ICMP (ping), DHCP, DNS,NTP;
SNMPv1 - snmpset, snmpget, snmptrap, snmpbulk, snmpgetnext, snmptable,snmpwalk;
SNMPv1 Traps upon analog input, digital input event or boot;
HTTP access - via web browser (integrated WEB server for all functions/parameters access with autorization);
HTTP/XML commands including support for encrypted requests;
JSON protocol -

New

;
Built-in Real Time Clock (RTC) with back-up power supply source for days;
Weekly schedule table for up to 30 records - the module it can work without PC connected;
The ports for HTTP, SNMP and Traps can be changed;
Function "load outputs states from EEPROM on boot";
Each relay can be named by user via web browser/snmp;
Can be controlled from smartDEN IP-32IN IP Module over the network ("box to box" mode);
iOS software - DAE-iModules App;
Supported by DRM Software;
Android software - DAE-aModules App;
Software examples for PHP, JAVA, VB.NET, C#.NET and NI LabView - here;
Third parity software (Majordomotic, MyDomoticaHd, openHAB ...) - more info here;

This is replacement for the legacy product:

Web SNMP controlled 4 Relay Board

(the snmp command are different, there are 5 relays instead of 4 and this device has DIN Rail Box support).
Parameters
Size L x W x H, mm
150 x 85 x 58
Weight, g
150
Power supply voltage,VDC
12 or 24 (depends on the model) ±2
Maximum current consumption at 12VDC (when all relays are ON), mA
210
Maximum current consumption at 24VDC (when all relays are ON), mA
140
Standby current consumption at 12VDC (when all relays are OFF), mA
70
Standby current consumption at 24VDC (when all relays are OFF), mA
40
Operating temperature range, °C
0 to 70
Relays count
5
SPDT relay channels (the type depends on the stocks quantity in our store):

TONGLING - JQC-3FF-S-Z (10A / 250VAC, 15A / 120VAC, 10A / 28VDC)

SUNHOLD - RAS xx15 (10A / 250VAC, 15A / 120VAC, 15A / 24VDC)

Please note the product does not come with power supply adapter that you may need. We offer suitable 12V or 24V adapters http://denkovi.com/power-supply-adapters
Application examples
Electrical appliances remote control applications
Home automation
Irrigation systems
Security and fire alarm systems
Remote Lock/unlock doors
Suitable for school and university education
The device can be controlled from smartDEN IP-32IN Input Module
This is the so called BOX-TO-BOX mode. An input from smartDEN IP-32IN Input module can control over the network (ethernet/internet) relay from current module. Please check out our application note DAE-AN016 for more information.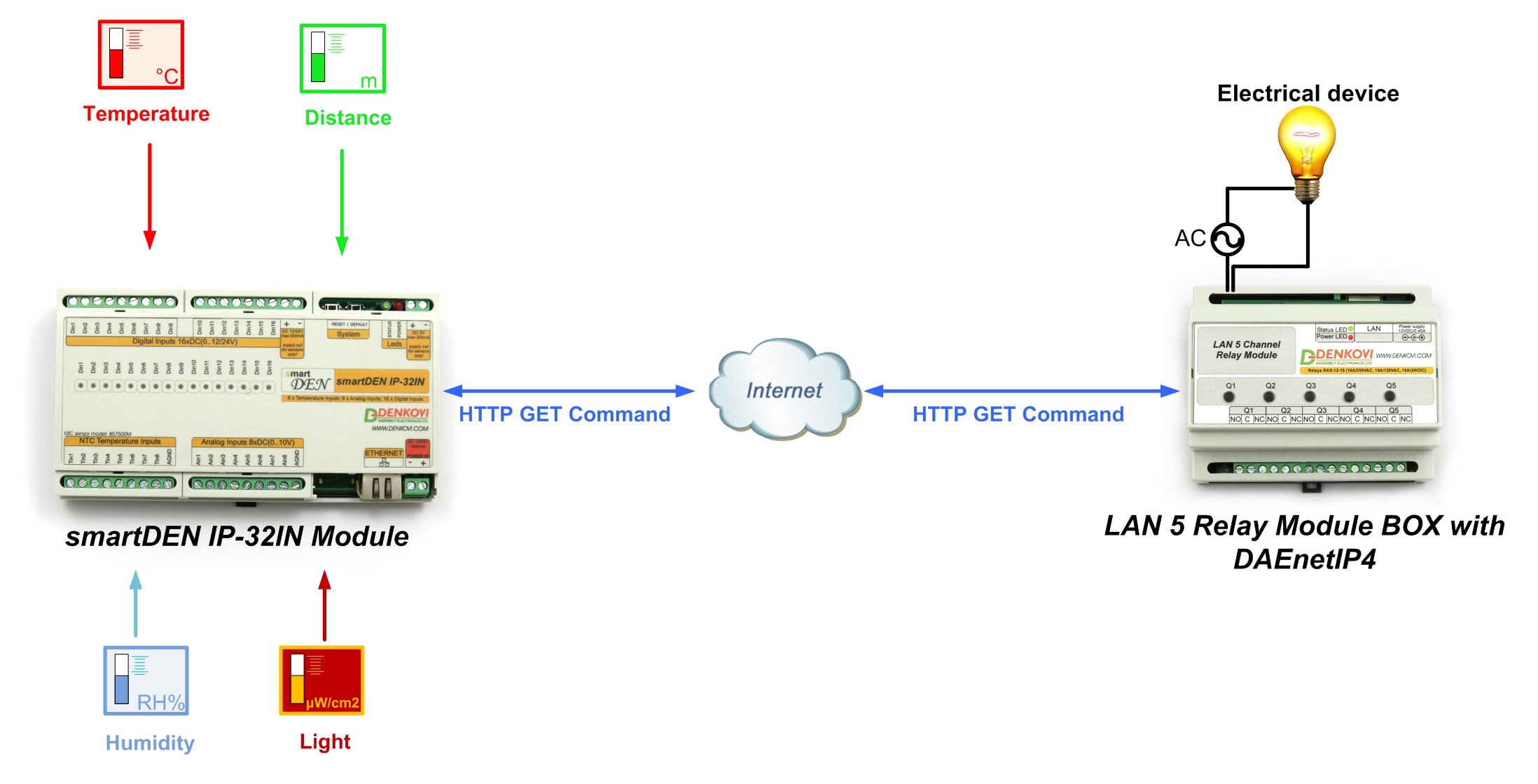 Access via browser
The relay card can be controlled via web browser like Mozilla Firefox, Internet Explorer, Chrome, Safari and so on. The relays are toggled from combobox under DO9 to DO13. From the monitoring and control page, you can monitor as well the Digital Inputs and the Analog Inputs.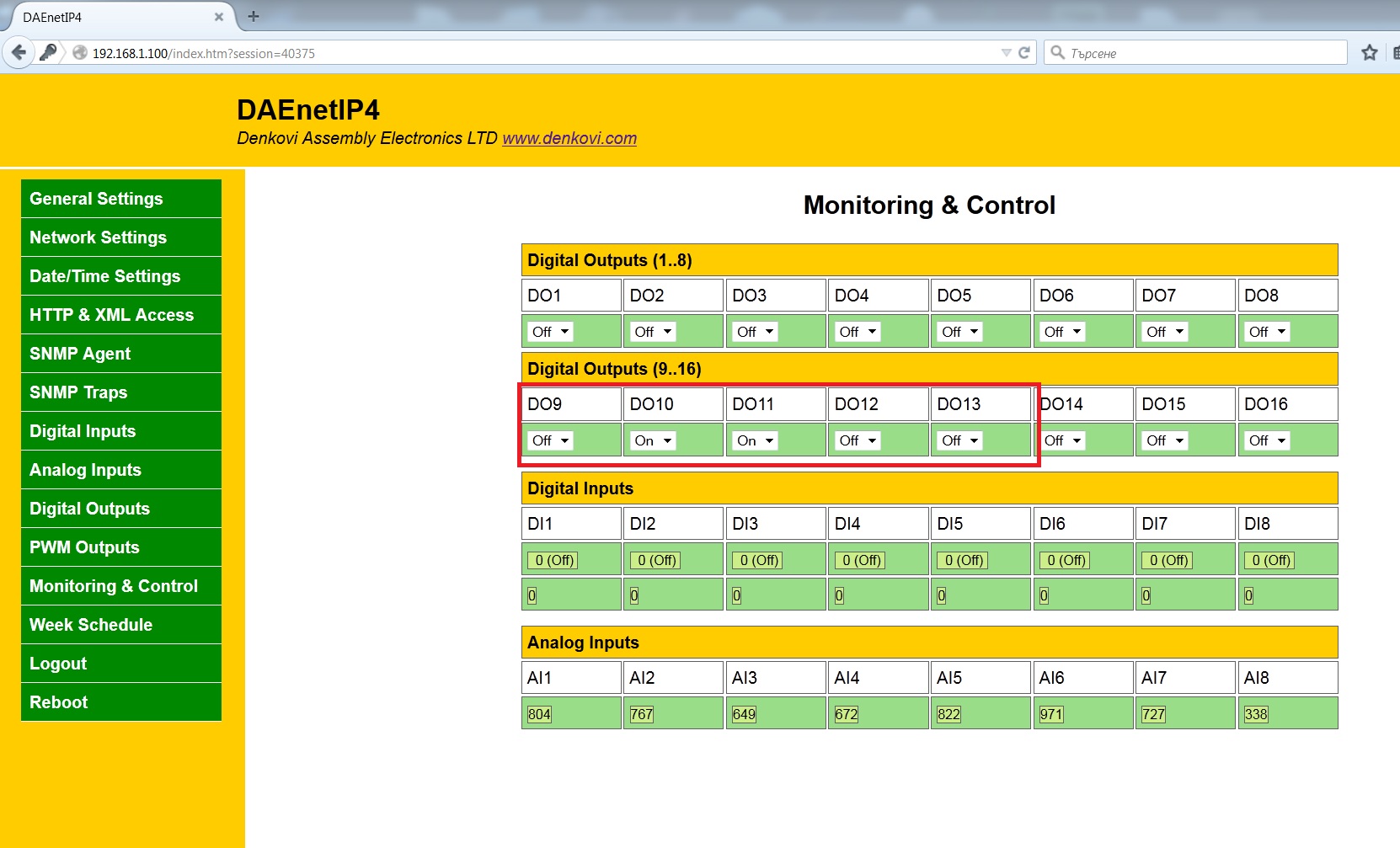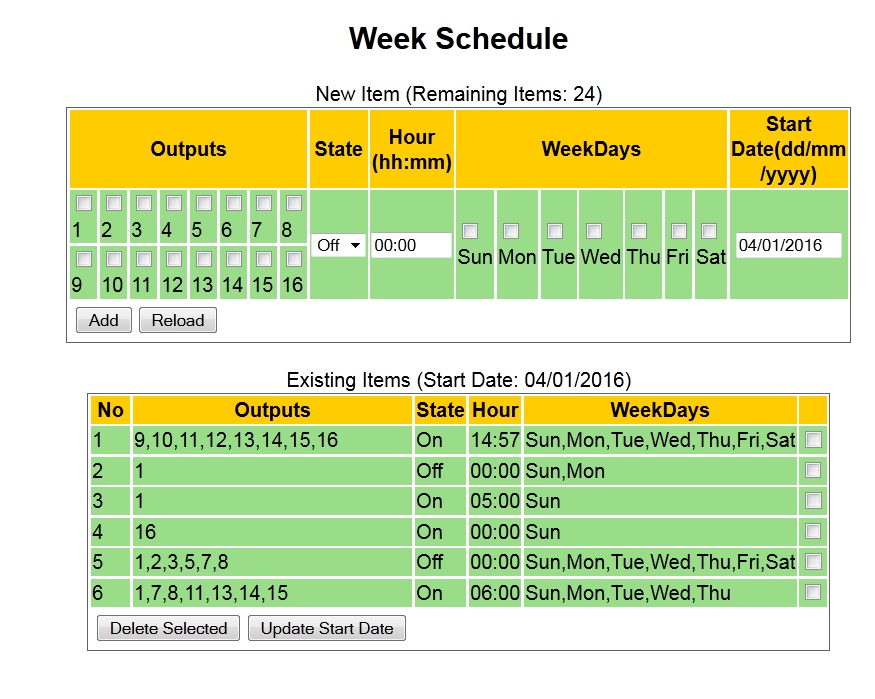 Access via software DRM
This Five channel Ethernet Relay Module is supported by DRM Software. Please note the weekly schedule is not synchronized with the DRM software and the both are not related but separate. DRM Software is Windows/Linux software for controlling all our relay boards. Supported OS are Windows (tested on XP, Vista, 7 and 8) and Linux (tested on Ubuntu and OpenSuse)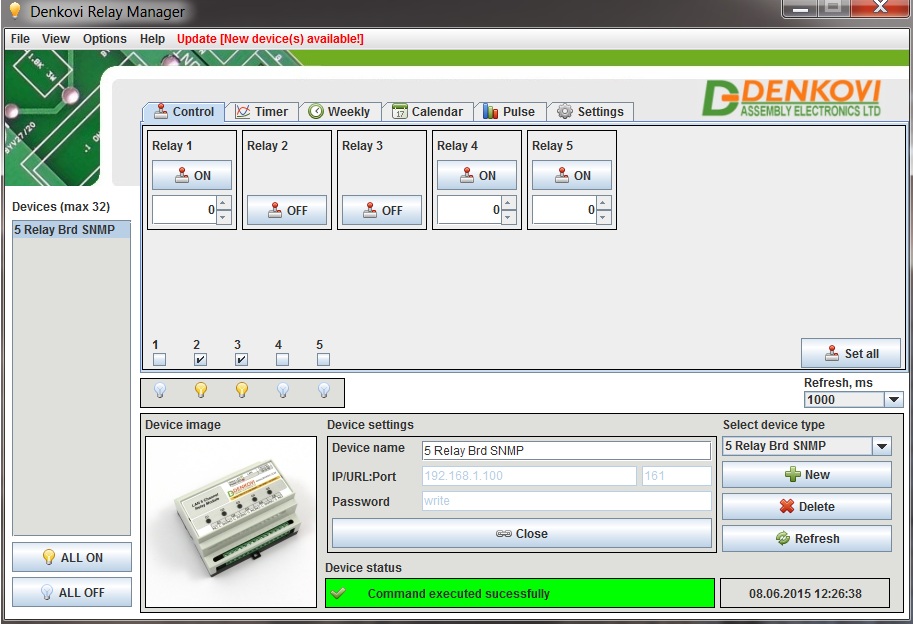 Access DAEnetIP4 from mobile devices
iOS App DAE-iModules
Android App DAE-aModules

Some useful information about DAE-iModules/DAE-aModules and DAEnetIP4 Five Channel Relay Board:
Select device DAEnetIP4. Enter the IP, UDP Port and SNMP Community for the device
Links
| | | | | | |
| --- | --- | --- | --- | --- | --- |
| Release Date | Current Version | Mib File | Update Utility | Version History | Note |
| 04 Apr 2017 | 1.22 | Here | Denkovi Finder | Version History | Instructions how to update - will be sent by request only |
Denkovi software
WEB, SNMP, XML relay
LAN 5 Relay Board - BOX
Relay with weekly timer
+++++ excellent support and communication
Fast shipping, great seller and everything is as it should be!
Excellent customer service thank you.
Everything was great, always gladly again!