Wi-Fi 16 Relay Module - ModBus TCP, Timers, DIN RAIL BOX
A sixteen channel ModBus TCP/UDP relay board with Wi-Fi 802.11 interface. The relays can be controlled manually with the standart coils commands they also can act like timers. Supported by DRMv3 Software. Supported by many modbus applications and profesional software. This is the DIN RAIL BOX version.
Code:

DAE-RO16-12V-MODBUS-WIFI-BOX

Weight:

0.505

Kgs
Features
Communication protocol: ModBus TCP / ModBus UDP;
16 SPDT relay channels (the type depends on the stocks quantity in our store):

TONGLING - JQC-3FF-S-Z (10A / 250VAC, 15A / 120VAC, 10A / 28VDC)
SUNHOLD - RAS xx15 (10A / 250VAC, 15A / 120VAC, 15A / 24VDC)

16 independent timers with resolution 100ms;
Option for loading relays states on boot: last saved, predefined or OFF;
Supply source is selectable during purchase:

12V DC / 600mA;
24V DC / 400mA;
Wireless Wi-Fi 802.11 b/g/n standart;
Supported Wi-Fi modes: AP (Access Point), STA (Station) and AP+STA (Access Point + Station);
Supported Wi-Fi encryption modes:

WEP;
WPAPSK-TKIP;
WPAPSK-AES;
WPA2PSK-TKIP;
WPA2PSK-AES;

WEB server configuration of system parameters;
WEB server secure login authorization;
Standart network protocols: DHCP, DNS, ICMP (ping);
Led indicators: Relays, Power ON, Wi-Fi link, Ready Status;
Hight quality PCB: FR4 / 1.5mm / two layers / metalized holes / HAL / white stamp / solder mask / extra PCB openings for better voltage isolation / doubled PCB tracks for better voltage isolation;
Operating temperature range: from 0 ºC to +70 ºC;
DIN RAIL BOX;
Dimensions: W=82mm x L=203mm x H=24mm;
Supported by DRMv3 Software (Windows, Linux, Raspbian) -

New

;
Supported by various third parity software (Android, iOS, Windows);
Control from command line tool;
Comes with free configuration/control demo software - download
Software examples: here;
Documentation: here.
Please note the product does not come with power supply adapter that you may need. We offer suitable adapters with plug-in outlet or DIN Rail BOX on this link: http://denkovi.com/power-supply-adapters
Application Examples
Home Automation
Industrial Automations
HVAC
Overview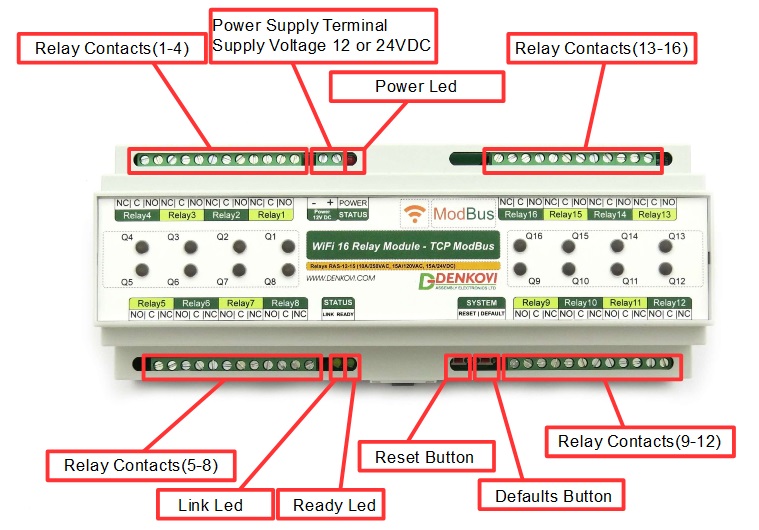 Supported ModBus TCP commands
Read Coils (0x01)
Write Single Coil (0x05)
Write Multiple Coils (0x0F)
Write Single Holding Register (0x06)
Read Multiple Holding Registers (0x03)
Write Multiple Holding Registers (0x10)
Report Slave ID (0x11)
Warning: please note it is not possible to connect multiple devices from this type in single modbus network. This means the computer/smartphone is the master and the only Wi-Fi 16 Relay Module - TCP Modbus is the slave.
Access via software DRMv3
This device is supported by DRMv3 Software.
The device can be found in the device list under the default name: Wi-Fi 16 Relay ModBus TCP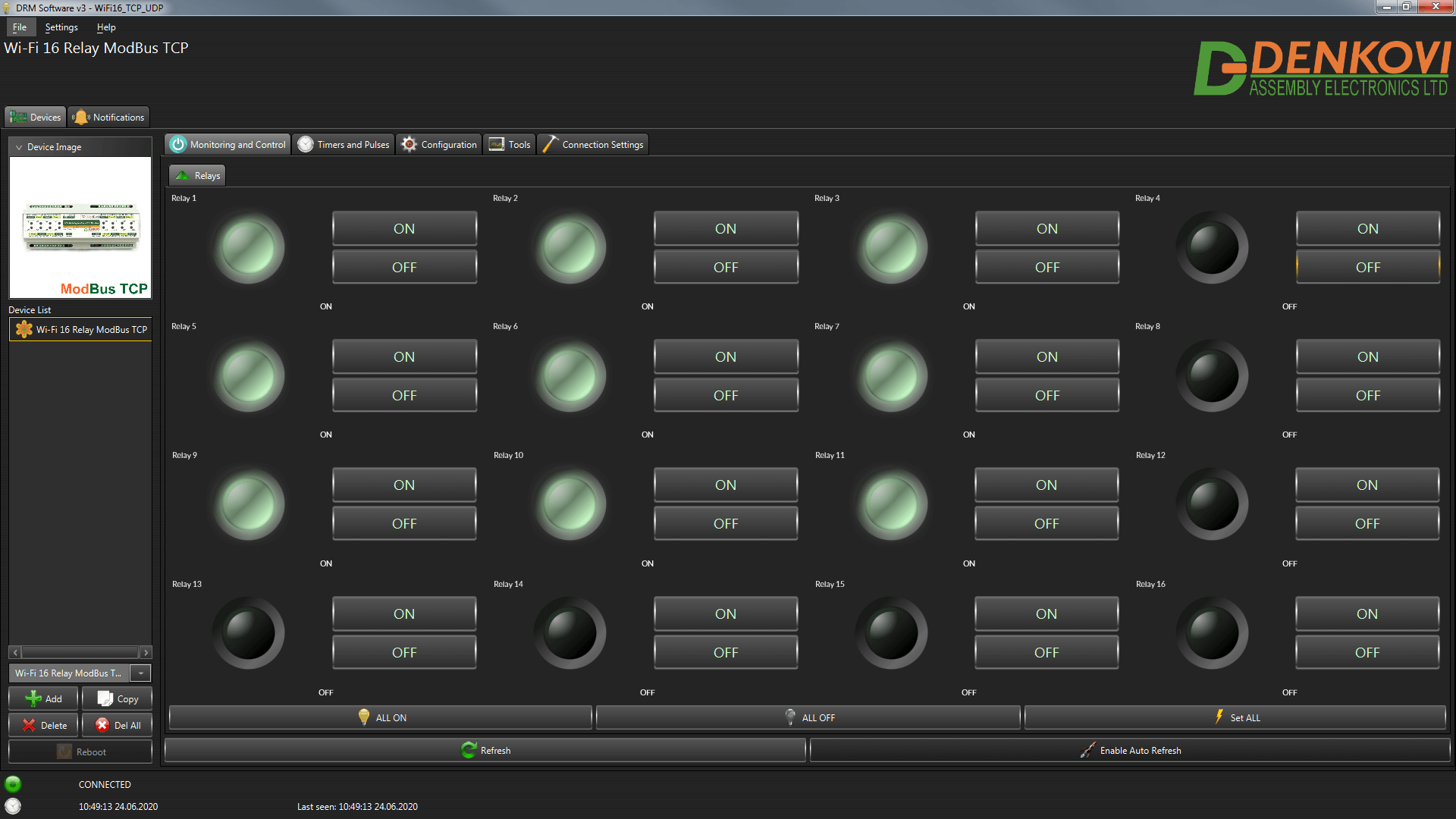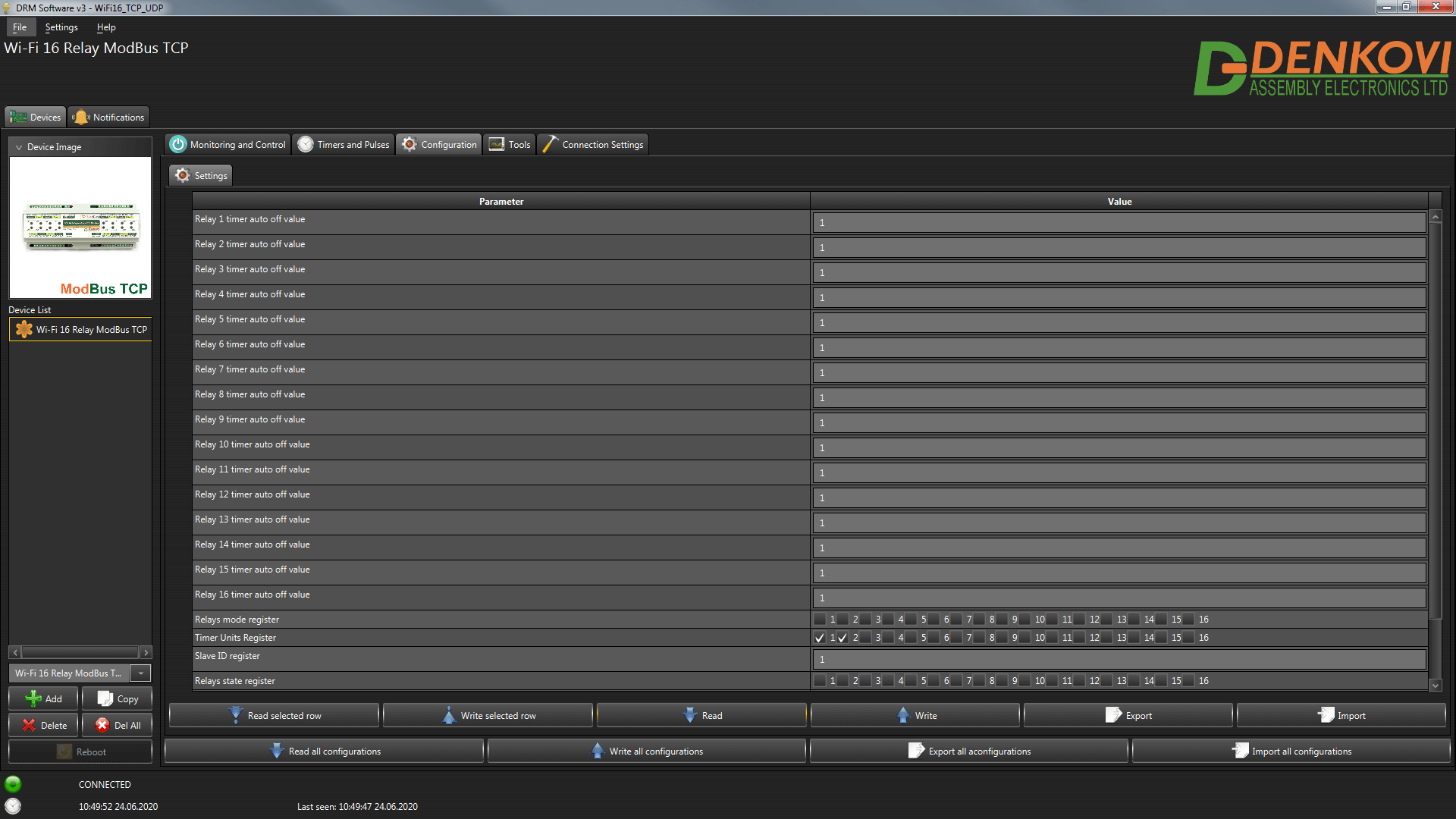 Control from Denkovi Wi-Fi 16 Relay TCP Modbus App
This is free software for easy configuration/monitoring/control the Wi-Fi 16 Relay Module.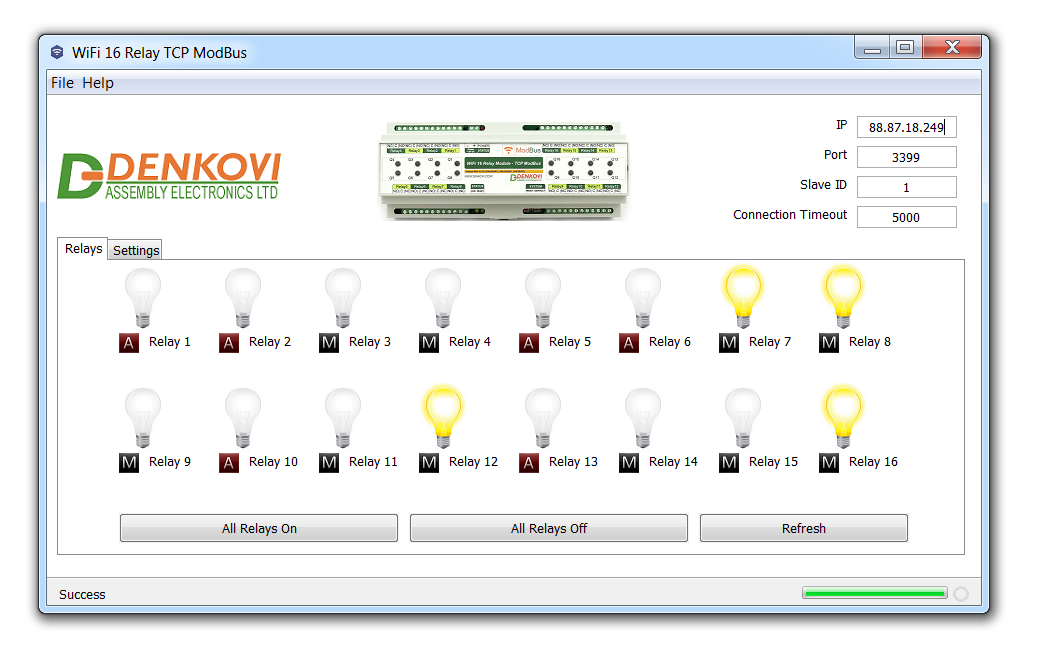 Control from iOS mobile apps
The Wi-Fi 16 Relay Module can be controlled/tested easily with Modbus Peek & Poke
Control from Windows
The Wi-Fi 16 Relay Module can be controlled/tested easily with Modbus Poll. Download the mbp description file for Holding Registers.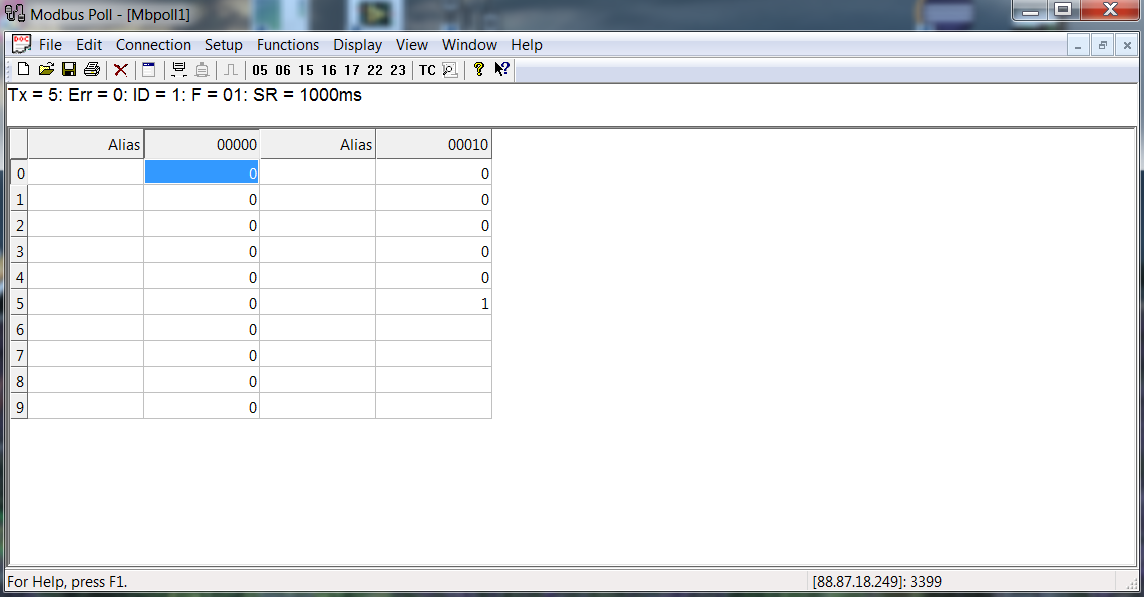 Packet Sender is also very useful tool for TCP/UDP packets sending. It supports GUI but there is also command line interface (CLI) which allows the relays to be controlled from command line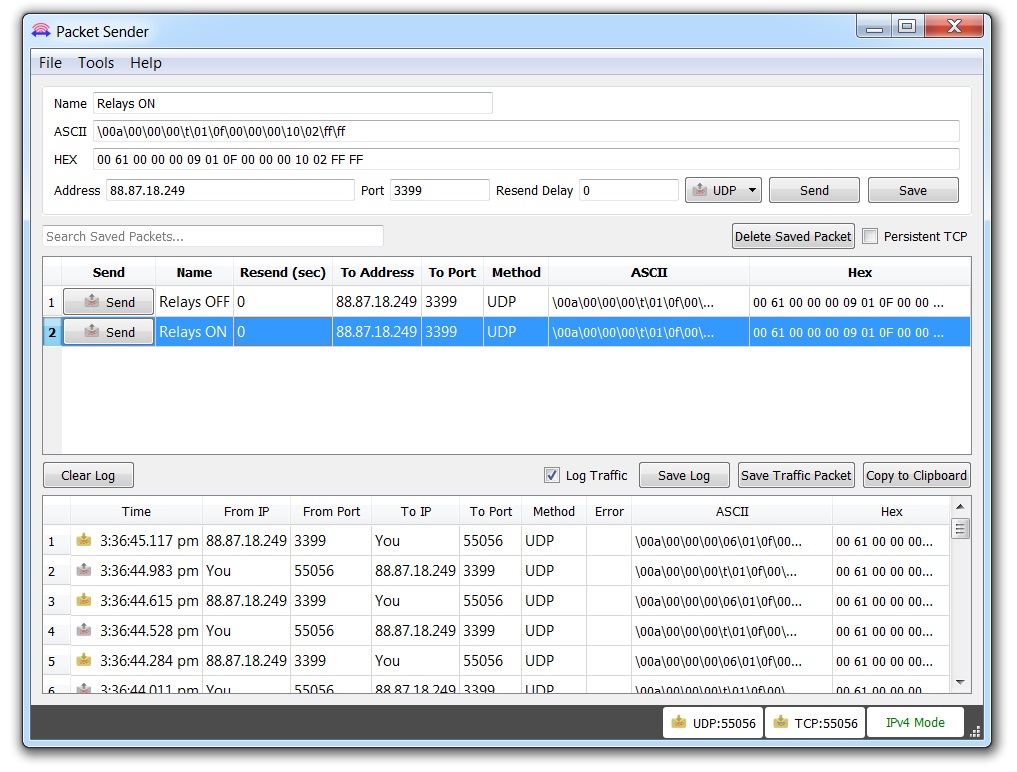 Controlling from command line console is also very easy. Here we have prepared some example commands for turning ON/OFF relays - download.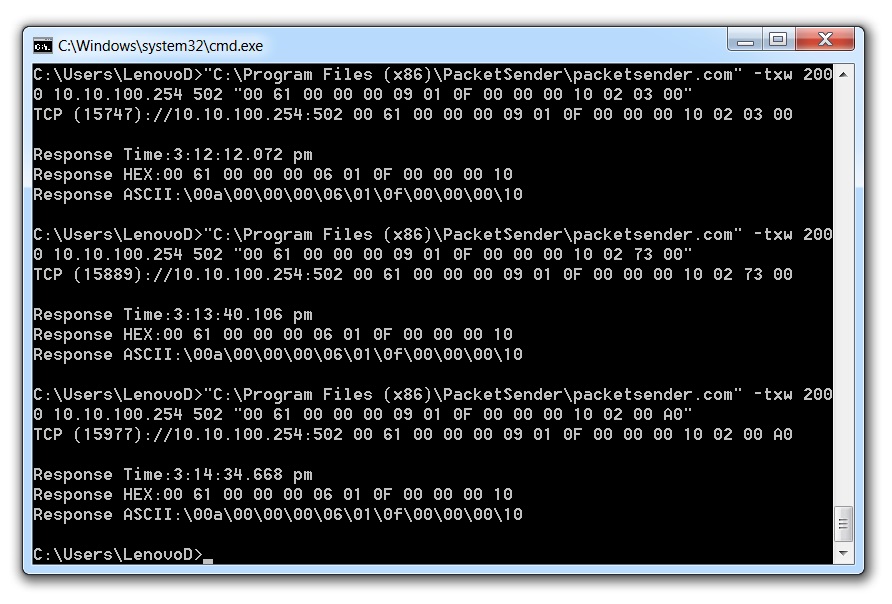 Configuration via Web Browser
The built-in web server provides ability for basic configuration of the module, like network settings, TCP/IP and UDP sockets parameters, wireless settings, passwords. Please note the relays can not be controlled via the web server!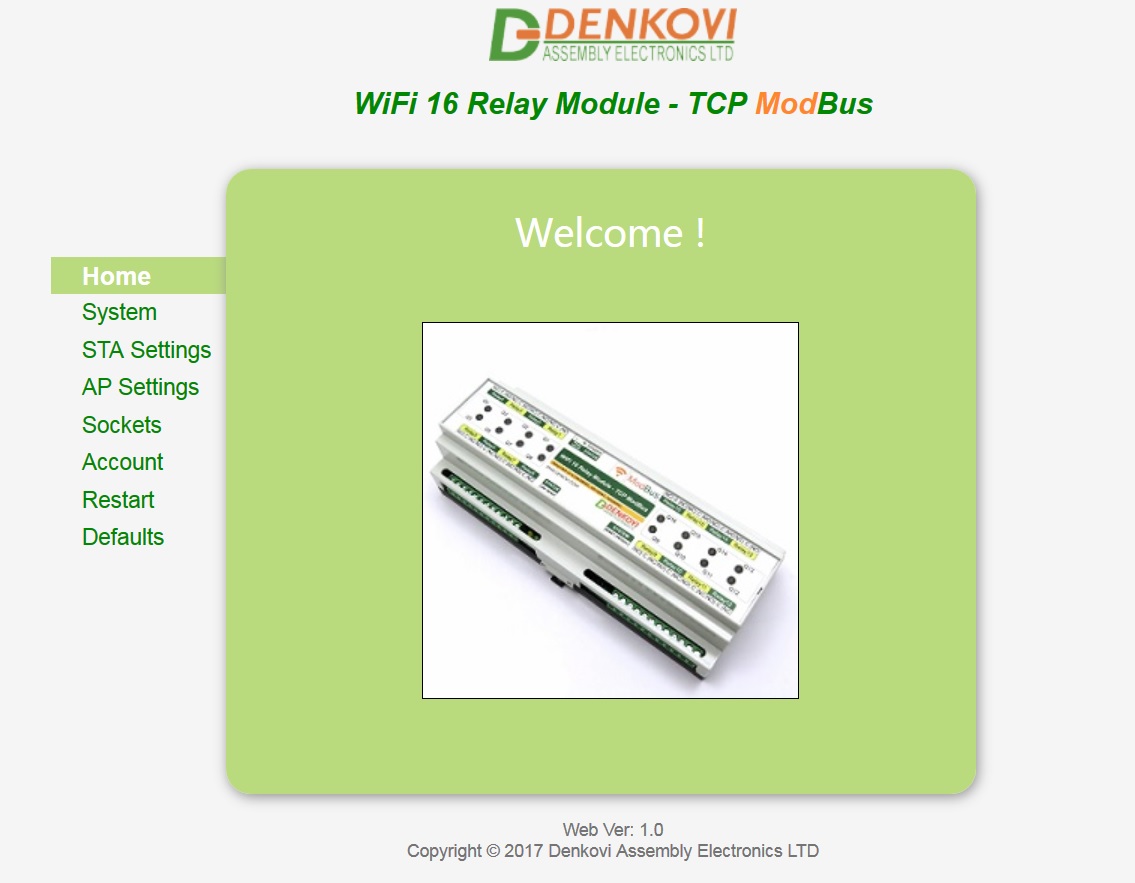 Links
Home Assistant - This device is supported by Home Assistant. For more information - please follow this article.
openHAB - This device is supported by the powerful home automation system openHAB. Please take a look at our application note for more information. You can also download the configuration files for openHAB (ver 2.2.0) for communication via Modbus binding example.
Tibbo Virtual Serial Port Manager (part of Tibbo Device Servet Toolkit) - 32bit download or 64bit download
Packet Sender is 100% free tool for sending TCP/IP or UDP messages (If you find the app useful, please consider donating)
Windows Software - qModMaster, Simply Modbus TCP Client, Modbus Poll, RMMS, ModbusViewTCP, MACH 3
Android Apps - Modbus Monitor, iPlc, TCP Socket Test, HMI Modbus TCP, Bluetooth Free
iOS Apps - TCP Modbus, Modbus Peek & Poke