Web SNMP controlled 2 Relay Board with DAEnetIP2
This is kit of IP controler and card with 2 SPDT relays. It is for home automation, hobby and commercial projects. It allows you controlling electrical devices via LAN/WAN (Internet). Just connect the device into your local network and control it from another computer or android smartphone over the LAN or Internet. This IP relay board can be controlled from: Configuration utility - DAEnetIP2 Manager, web browser, command line, HTTP API commands, android smartphone application or Denkovi Relay Manager Software. Supported by DRMv3 software. Works with Home Assistant, Domoticz and OpenHAB home automation systems as well as with Node-RED IoT platform. Now with FREE Android and iOS App and lot of software examples for intregration!
Code:

DAEnetIP2 + DAE-RB/Ro2-12V

Weight:

0.150

Kgs
Features
10/100 Mb Ethernet interface with Link/Activity Led (for DAEnetIP2 rev2)
Power supply requirements (No protection against overvoltage and inverse polarity) - selectable during purchase:

12VDC / 150 mA
24VDC / 100 mA

2

SPDT relay channels (the type depends on the stocks quantity in our store):

TONGLING - JQC-3FF-S-Z (10A / 250VAC, 15A / 120VAC, 10A / 28VDC)
SUNHOLD - RAS xx15 (10A / 250VAC, 15A / 120VAC, 15A / 24VDC)

8 analog inputs with 10 bit resolution (0-3.3VDC)
16 (2x8) bit configurable digital I/O port (0-3.3VDC) - in this kit one of the 2 ports is reserved for the relay board
Dimensions: Relay PCB - 85mm / 37mm / 20mm; DAEnetIP2 - 43mm / 55mm / 15mm
Standart protocols: ARP, IP, ICMP (ping), DHCP
Supports snmp v1 (snmpset, snmpget, snmptrap), HTTP (integrated web server with autorization) , TFTP (for firmware upgrade)
Ports for SNMP (161) and HTTP (80) can be changed
Two MAC addresses protection
It can be configured with SNMP requests or web browser
Integrated WEB server for all functions/parameters access. I/O lines labels can be changed via browser
HTTP API commands for getting/setting the I/O states (with basic access authentication)
Reset of the relays on incoming/outgoing ping timeout (watchdog function)
Function "load outputs(relays) states from EEPROM on boot"
Each I/O line can be named by user via web browser
It can send traps according analog ADC level
Analog Inputs may be referred to control the relay according their level
Possibility of connection analog sensors to the analog inputs as LM34DZ, LM35DZ, LM335, MCP9700A
Relay PCB parameters: FR4 / 1.5mm / two layers / metallized holes / HAL / white stamp / solder mask / Extra PCB openings for better voltage isolation / Doubled PCB tracks for better voltage isolation
Software by Denkovi - DRM Software (Windows/Linux), DAEnetIP2 Configuration utility, DAE-iModules App for iOS, DAE-aModules App for Android;
Supported by DRMv3 Software (Windows/Linux/Raspbian) -

New

;

Third party software - more info here;
Supported by Home Assistant home automation software - New;
Supported by openHAB home automation software;
Supported by Domoticz home automation software;
Supported by Node-RED IoT platform;
Software examples for PHP, JAVA, .NET and NI LabView - here;
For detailed user manual - please contact us for download
Application examples
Security and fire alarm systems
Manual or automatic device restart if event occur
Management/monitoring for industrial
Sensor information processing
Remote Lock/unlock doors
Home automation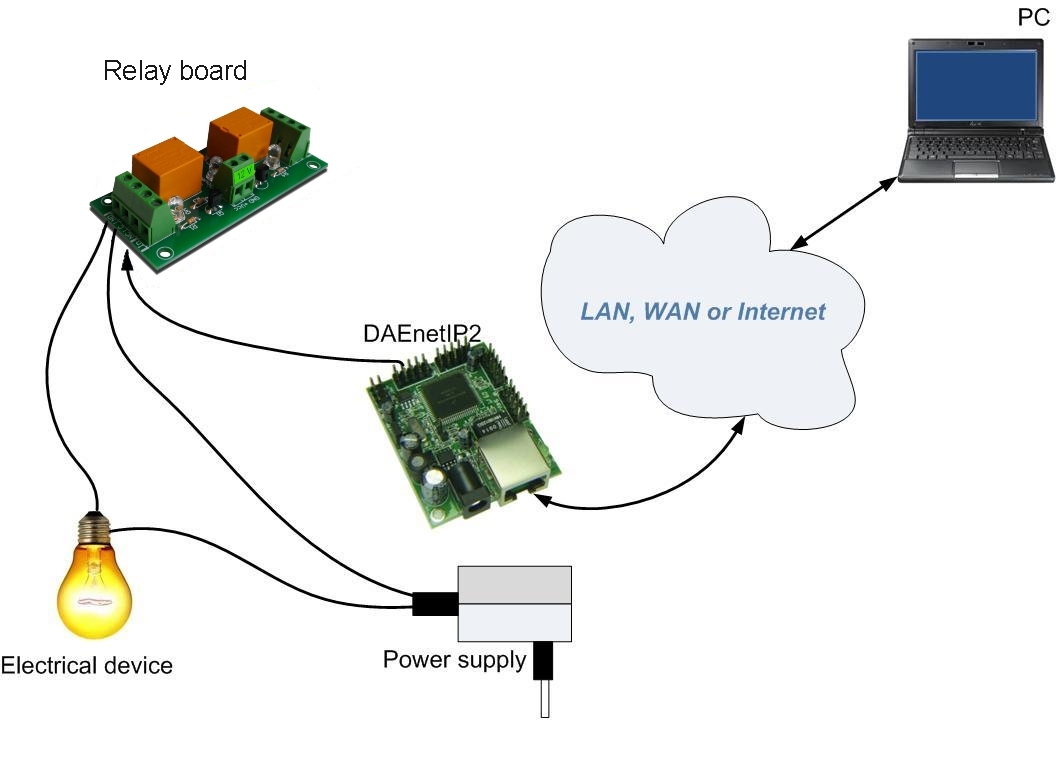 The kit includes
IP controller (Ethernet controller) - DAEnetIP2
2 Output Channel SPDT Relay Board (Supply voltage is selectable during purchase: 12VDC or 24VDC)
Flat ribbon labeled cabel
DAEnetIP2 I/O Ports
Port JP3 (P3)

Port JP4 (P5)

Port JP5 (P6)

Port JP6 (System Port)

PIN #

Bit

FUNC

DIR

Bit

FUNC

DIR

Bit

FUNC

DIR

Bit

FUNC

DIR

1

1

Free

I/O

1

Free

I/O

1

Free

Ain

-

3.3V

PWR

2

2

Free

I/O

2

Free

I/O

2

Free

Ain

-

3.3V

PWR

3

3

Free

I/O

3

Free

I/O

3

Free

Ain

-

Reserved

-

4

4

Free

I/O

4

Free

I/O

4

Free

Ain

-

Ping LED

Out

5

5

Free

I/O

5

Free

I/O

5

Free

Ain

-

Reserved

-

6

6

Free

I/O

6

Free

I/O

6

Free

Ain

-

Target RST

Out

7

7

Free

I/O

7

Free

I/O

7

Free

Ain

-

Switch (RST)

Out

8

8

Free

I/O

8

Free

I/O

8

Free

Ain

-

Switch (SCL)

Out

9

-

GND

PWR

-

3.3V

PWR

-

Vref(+3.3V)

PWR

-

Switch(SDA)

In/Out

10

-

GND

PWR

-

GND

PWR

-

GND

PWR

-

GND

PWR
Legend:
| | | | | | |
| --- | --- | --- | --- | --- | --- |
| "Free" - the pizn is free and defined for the user. | "XXXXXX" - the pin is reserved | "In" - the pin is input | "I/O" – digital input or output depending the settings | "Out" - the pin is output | "Ain"– analog input |
All the DAEnetIP2 I/O ports does not have any protection against overvoltage or reversed polarity.
For inputs, if the input voltage exceed 3.3V, the controller may be damaged. If you have questions how to use the I/O ports please contact with us or take a look into the manual.
Installation
Here are the steps (instructions) how to power on and connect the device directly to your computer (see this image). For router LAN connection (see this image) or Internet connection, please see in the user manual:
| | |
| --- | --- |
| 1.Connect the DAEnetIP2 controller with your computer via UTP crossover cable. (note that the device does not support AUTO MDIX). | |
| 2.The flat ribbon cable connector must be fitted into to DAEnetIP2 IDC in this way | |
| 3.Connect each "In" labeled wire into the referred screw terminal of the relay board. For example "In 1" wire goes into Relay 1 In screw terminal, "In 2" wire goes into Relay 2 screw terminal and so on. | |
| 4.Connect the GND wire of the flat ribbon cable into the GND screw terminal of the relay board. | |
| 5.Connect supply jack to DAEnetIP2. You will have to find suitable power supply adaptor. DAEnetIP2 minimal supply voltage is 7.5 VDC. The maximal voltage is 25 VDC. It is recommended the supply voltage to be 12 VDC but 24 VDC also will work (in case you have 24V relay board and want single power supply source). DAEnetIP2 doesn't have any protection against inverted supply voltage, so be careful. The middle pin of the power terminal is + Vcc (center positive tip polarity) | |
| 6.Connect the power wires to the relay board as it is shown on the image right to the text. It is possible to supply the DAEnetIP2 controller and relay board either with single either with 2 separate power supply sources. | |
| 7.Now you can power on the whole kit (for example plug the supply adaptor into the electricity network) | |
| 8.In case of success you have to see this when you power on the kit (the link led (top) is blinking and the bottom led by default shows the power on and it is constantly on) | |
| 9.Check if the relay board power led is on constantly | |
| 10. The kit in working condition | |
| 11.Open your LAN card network settings and save them, because next step is to change them. | |
| 12.Your initial computer IP should be in the device network range. So it is recommend to be 172.16.100.1. Mask 255.255.0.0. Gateway 172.16.100.1. Change them. There is lot of info in the net how to do it (for example a good link is this one) | |
| 13.Open web browser and type 172.16.100.2 – default username/password are "admin"/"admin" | |
| 14.Now you can access all the parameters via your web browser or software on your computer. | |
How to connect sensors to DAEnetIP2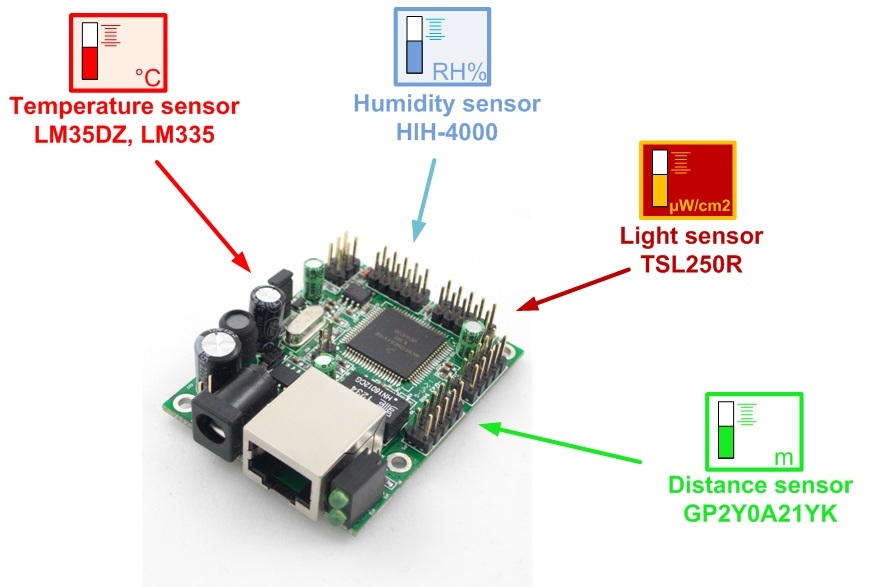 More information how to connect different types of sensors to the DAEnetIP2 Analog Port -
http://denkovi.com/connecting-analog-sensors-to-daenetip2
Default settings
The controller has default settings, in case the access is lost. There are several steps for loading the default settings:

Turn off the power supply of the IP controller.
Move the jumper from position 1 to position 2.
Turn on the power supply of the IP controller.
Move the jumper from position 2 to position 1.
Turn off the power supply of the IP controller.
Turn on the power supply of the IP controller.

Default settings

Parameter

Value

DHCP
Disabled
IP
172.16.100.2
Mask
255.255.255.0
Gateway
172.16.100.1
VLAN ID
1
VLAN mode
Disabled
Access MAC 1,2
000000000000
SNMP access to IP
Enabled
SNMP listen UDP port
161
SNMP Read-only string
000000000000
SNMP RW string
private
SNMP/Web Access network IP
172.16.100.1
SNMP/Web Access network Mask
0.0.0.0 (disabled)
Ping Timeout
6
Restart on incoming ping timeout
Disabled
Restart on remote IP timeout
Disabled
Remote monitor IP
172.16.100.1
I/O ports settings
P3,P5 - Outputs
Pull-Up/Pull-Down
All "pull-down"
Reset I/O ports on restart
Disabled
TFTP update
Enabled
TFTP Server IP
172.16.100.1
Broadcast Frames
Parse
Web Server
Enabled
Web Server TCP port
80
SNMP traps target host
172.16.100.1
SNMP traps community

Low/High Analog Trap Threshold

0/1023 (disabled)
Analog Events – Low, High, Acc
None
Web user/password
admin/admin
Access via software DRMv3
This device is supported by DRMv3 Software.
The device can be found in the device list under the default name: DAEnetIP2 LAN 2 Relay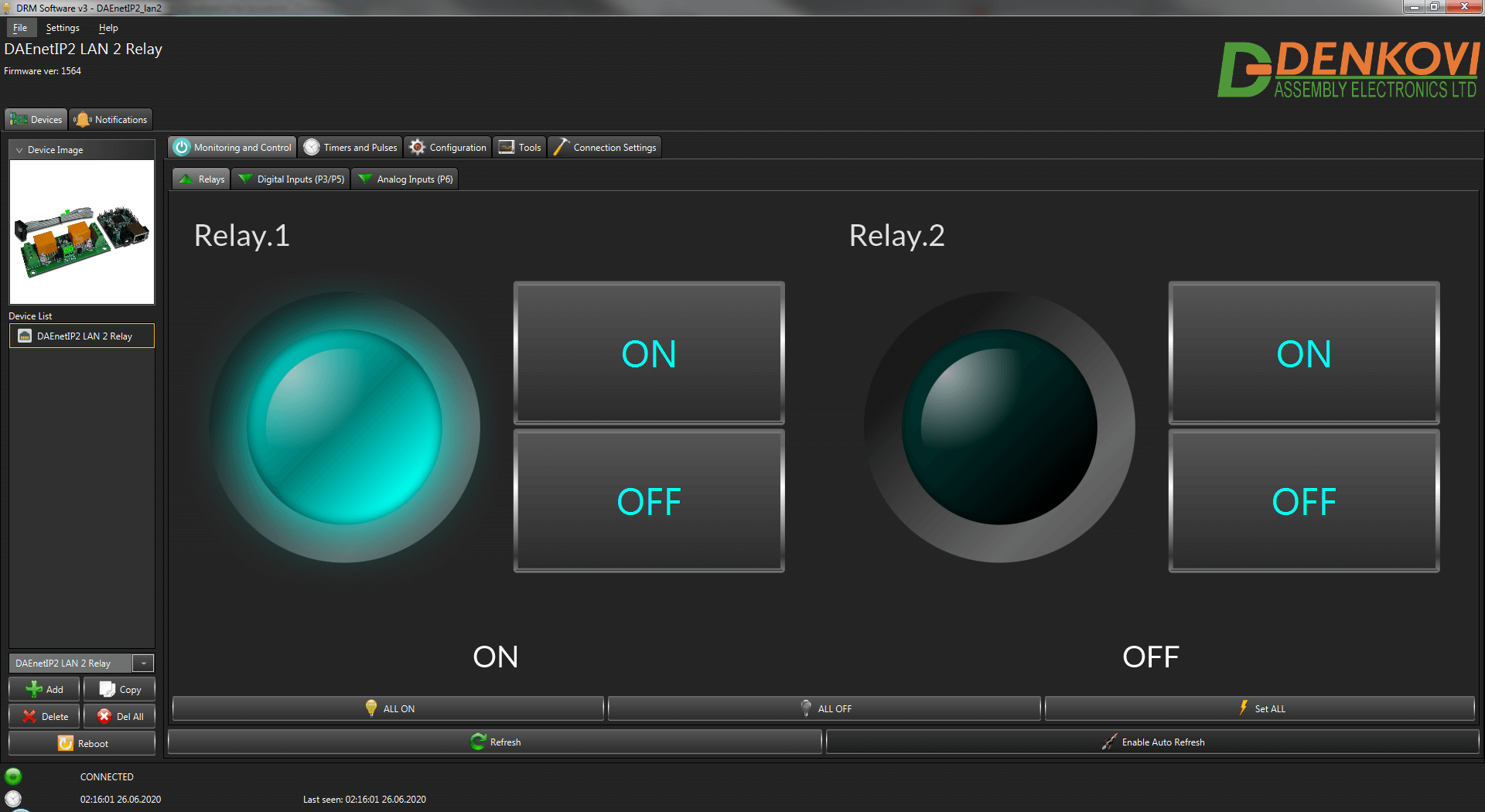 DAEnetIP2 Manager
DAEnetIP2 Manager is configuration utility for Denkovi DAEnetIP2 controller
Access many DAEnetIP2 controllers at a time
SNMPv1 protocol
Name for each controller
Support most of the DAEnetIP2 OIDs
Configurating each P3/P5 I/O line separately as input or output
Linearization (scaling) for the Analog Inputs (displaying the analog inputs values in human reading values - volts, meters degrees)
Thresholds can be converted automaticaly from human units into divisions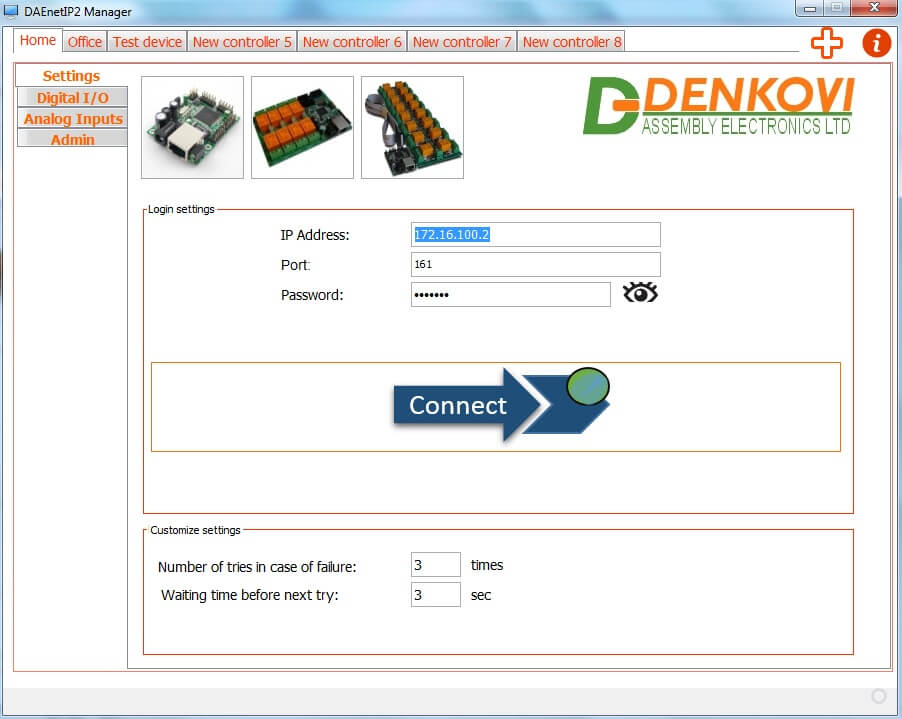 For download please use this link: download
Access from Home Assistant
Home Assistant is very powerful home automation system. Please checkout our application note for more information.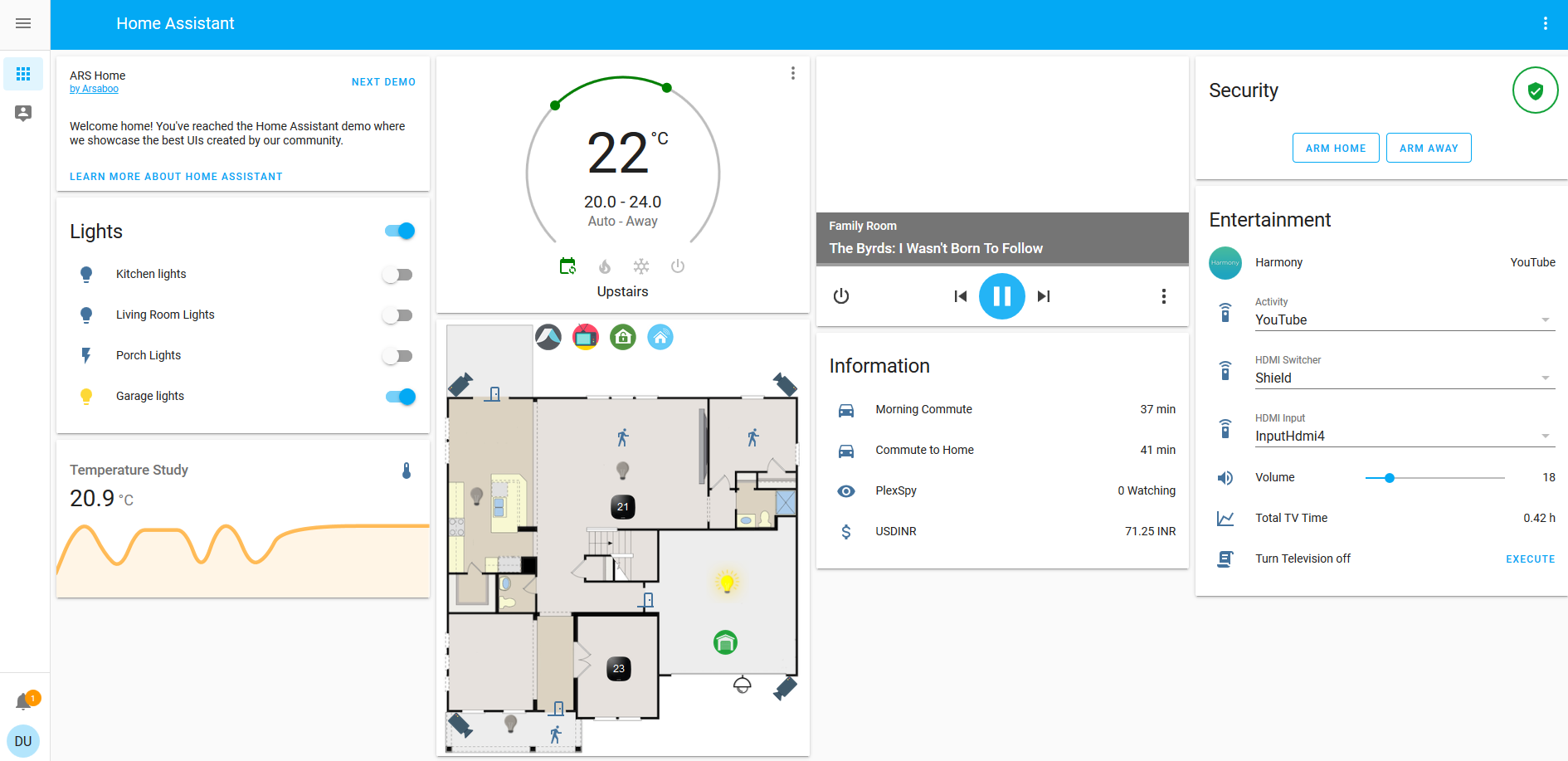 Access from OpenHAB
OpenHAB is a third party open source free home automation software. Run your server on Linux, macOS, Windows, Raspberry Pi, PINE64, Docker, Synology... Access it with apps for the web, iOS, Android and others. Use a powerful and flexible engine to design rules, with time and event-based triggers, scripts, actions, notifications and voice control.
The device can be accessed via SNMP requests. More information about the integration with our hardware - http://denkovi.com/openhab-with-denkovi-modules or contact with us.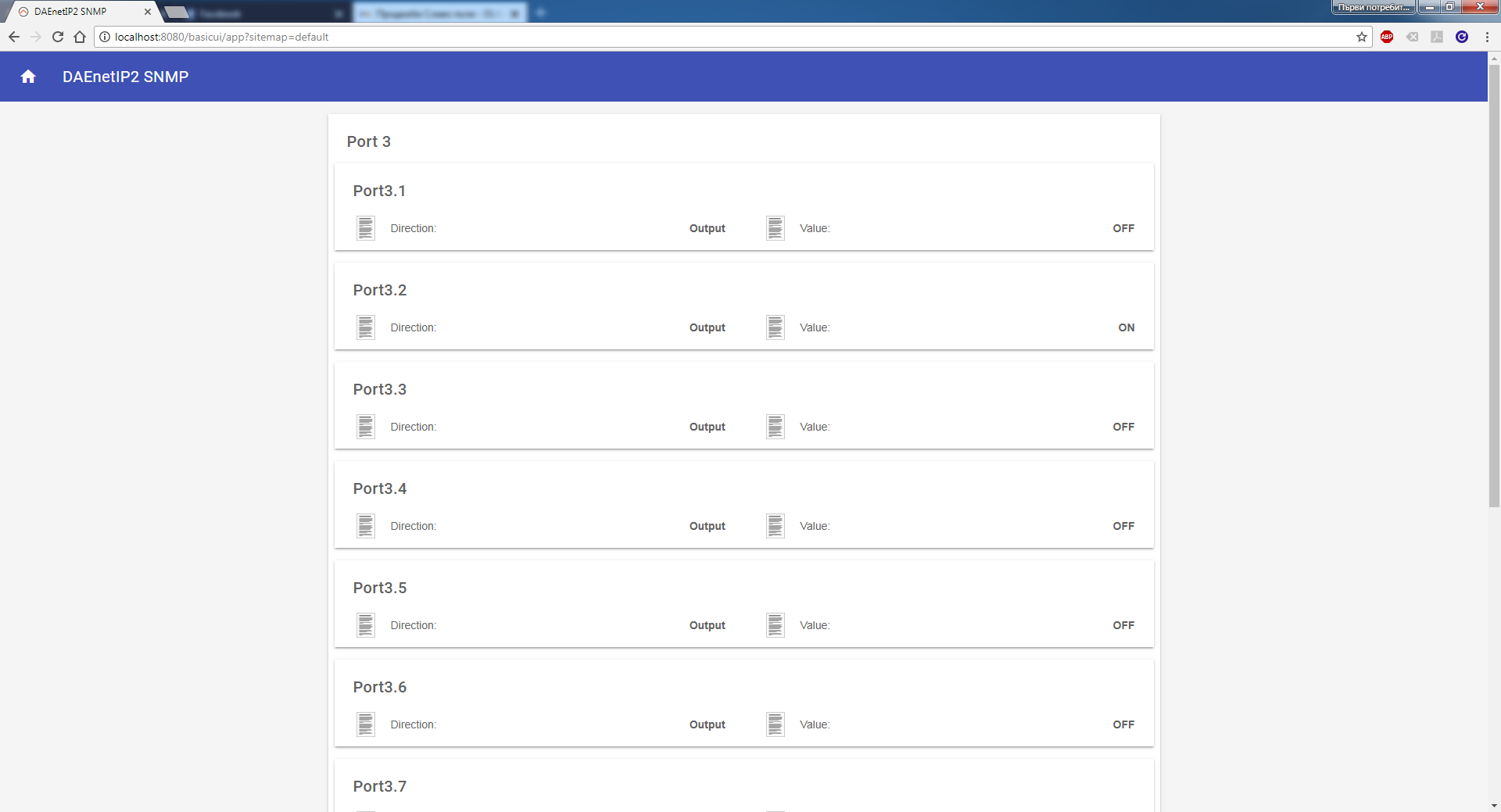 Access from Domoticz
Domoticz is a free open source popular home automation software which can run on Windows, Linux, MAC, Rasberry PI and others. It is a home automation system design to control various devices and receive input from various sensors. Access it with apps for the web, iOS, Android and others.
More information about how to connect and use it with our hardware - http://denkovi.com/domoticz-with-denkovi-modules or contact with us.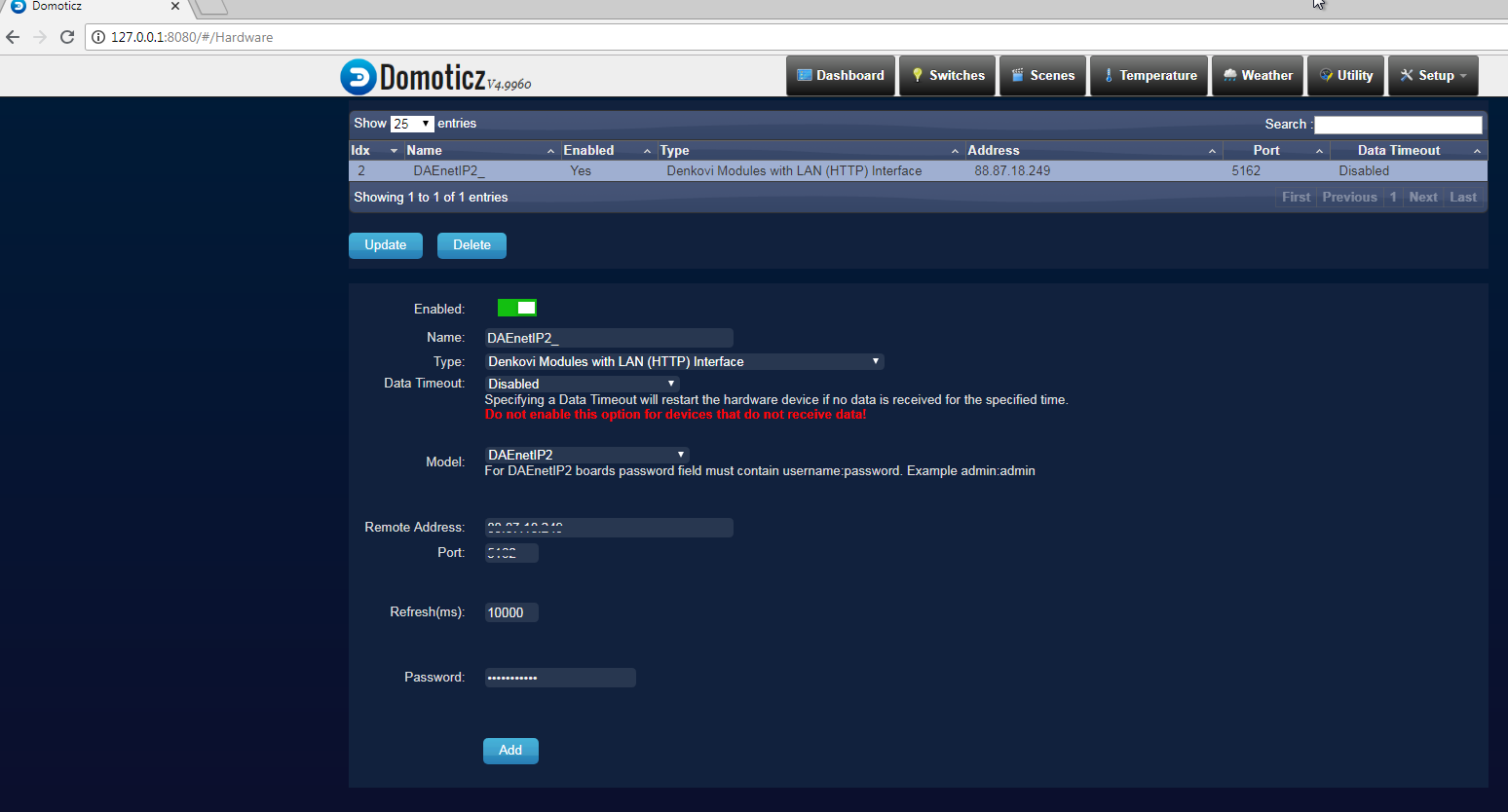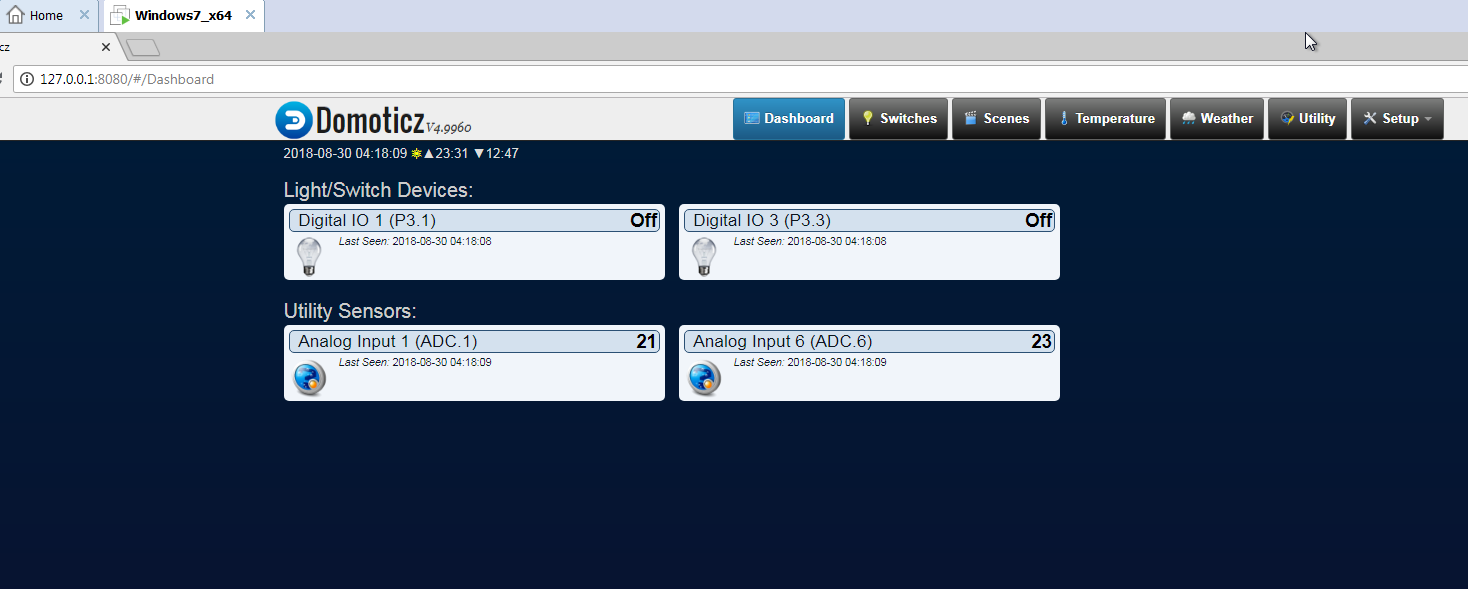 Access from Node-RED
Node-RED is a flow-based programming platform for the Internet of Things. We prepared small example for communication between Node-RED and our device. More info about Node-RED and denkovi modules: here
You can download the example Node-RED flows from here: SNMP and HTTP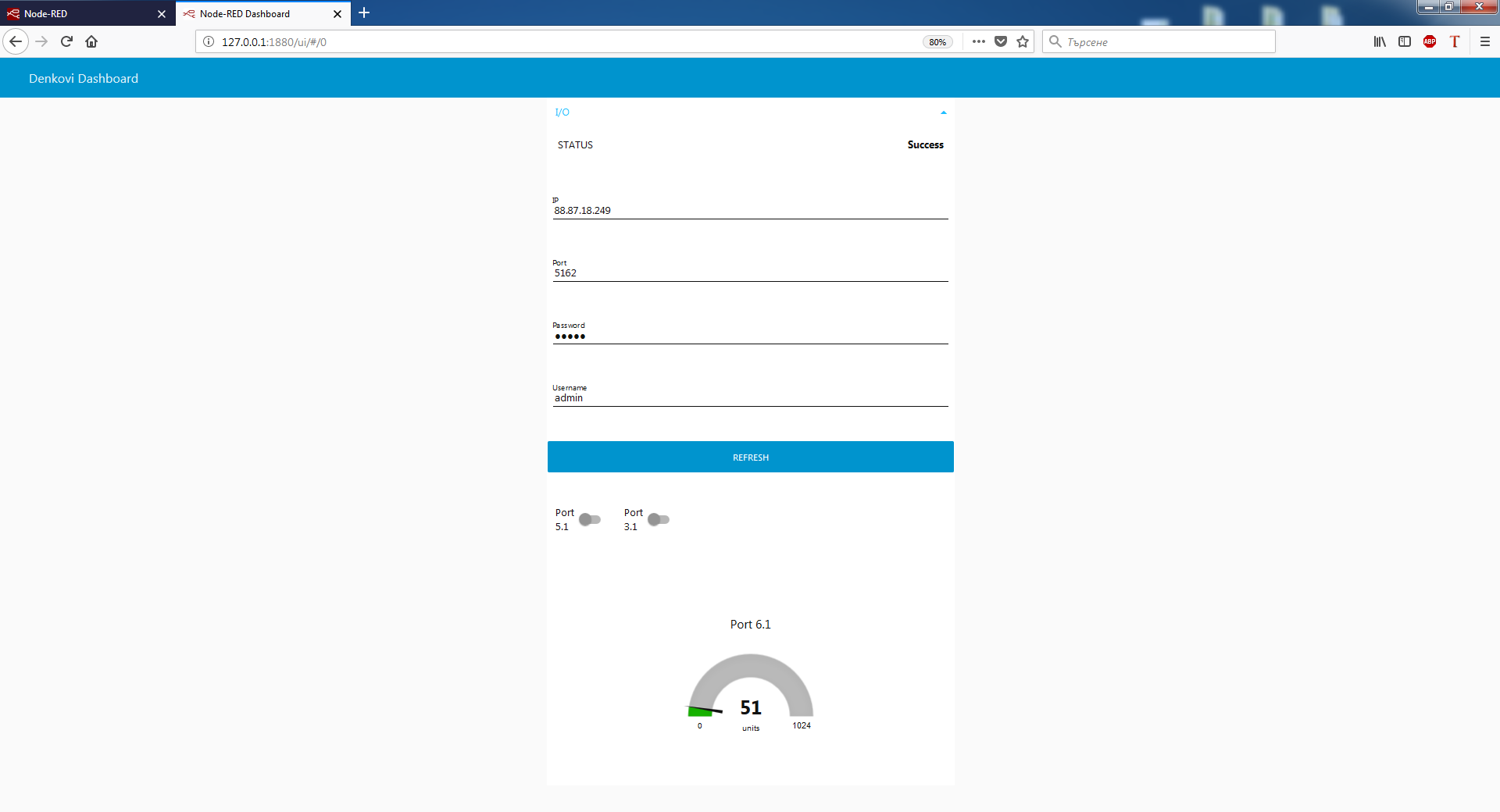 Access DAEnetIP2 from mobile devices
iOS App DAE-iModules
Android App DAE-aModules
The video bellow shows how you can control DAEnetIP2 based device - SNMP 8 Relay Board LM35DZ. Any other Denkovi Ethernet Device from this list can be acessed with same success from your iOS device via DAE-iModules.

Some useful information about DAE-aModules/DAE-iModules and DAEnetIP2:
Control via web browser
In order to access your DAEnetIP2 controller from browser, your web browser have to supports javascript. Just write the IP address of the controller in the address bar and you will see the page, which is integrated in the controller (it has small built in server). The default username/password are admin/admin.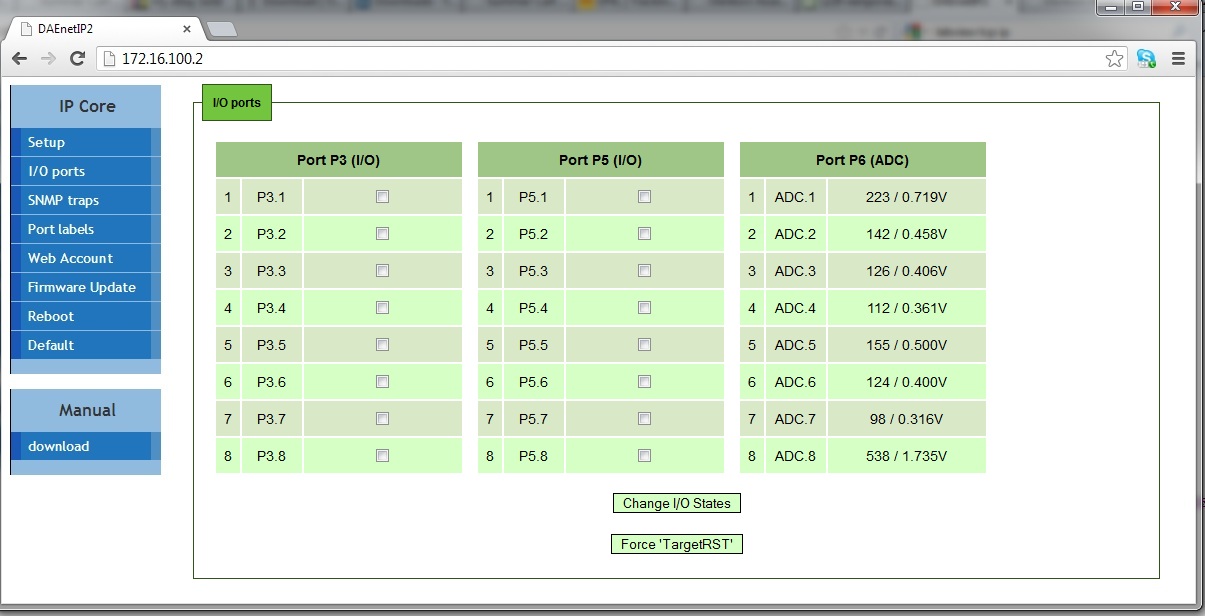 I/O Ports control/monitor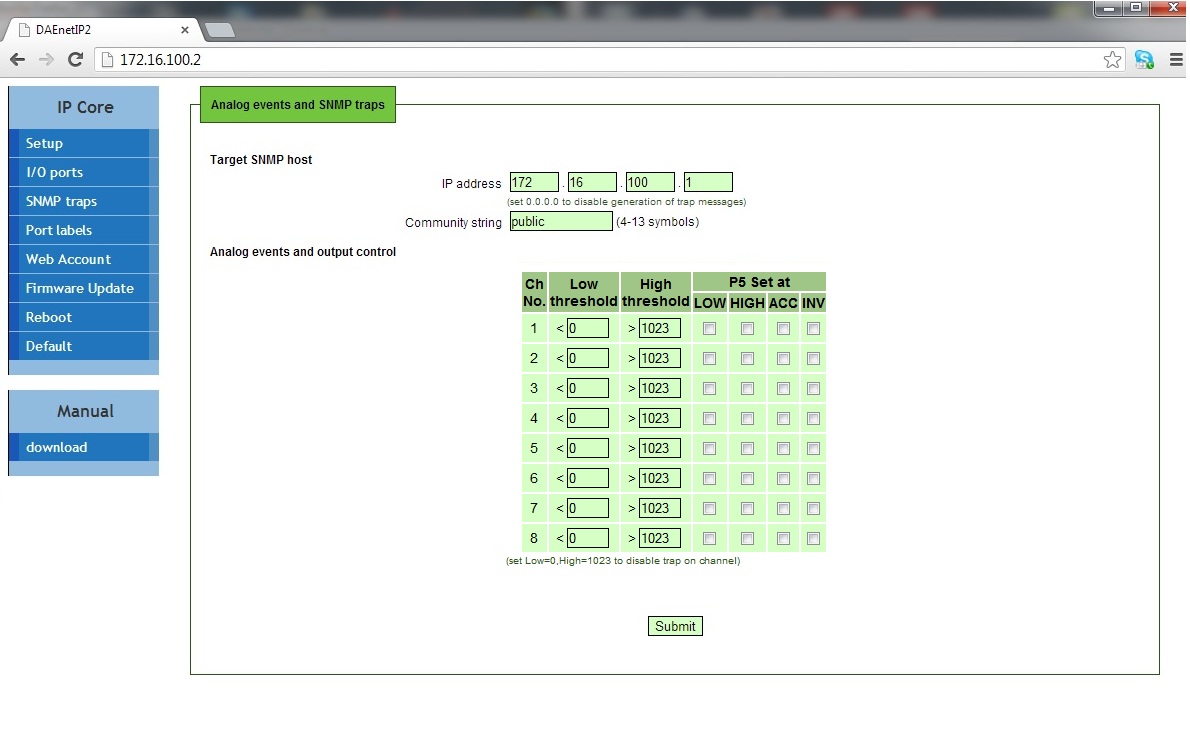 Traps/P5 control. DAEnetIP2 can send traps if some analog input changes its level bellow/above some threshold (Low/High).
The same logic can be used for setting one of the digital outputs port - JP5 according analog input port JP6.
HTTP API commands
DAEnetIP2 i/o lines can be controlled/accessed via HTTP API commands and basic access authentication is required to do that.
The digital outputs (P3 and P5) can be controlled by sending this HTTP command:
http://admin:admin@device.ip.address/iochange.cgi?ref=re-io&01=00&02=FF
admin:admin
are the username:password
device.ip.address
is the DAEnetIP2 IP address (by default it is 172.16.100.2)
01=00 is the state of P3 DO
02=FFis the state of P5 DO
http://admin:admin@172.16.100.2/iochange.cgi?ref=re-io&01=00&02=FF
The i/o states (P3, P5, P6) can be retreived by sending this HTTP command:
http://admin:admin@device.ip.address/ioreg.js
it will be received javascript file with several variables and one of them is:



var IO=new Array (0xFF, 0xFF, 0x80, 0x00AB, 0x0049, 
0x0118, 0x014A, 0x012F, 
0x003E, 0x0029, 0x01DD)
Bytes 0 and 1 are the digital I/O states (in hex format)
Bytes 3...10 are the Analog inputs values (in hex format)
http://admin:admin@172.16.100.2/ioreg.js
Control DAEnetIP2 via command line
Net-snmp is free command line utility for windows which allows you to execute snmp commands from command line, BAT files, BASH scripts or any other sofwtare that can execute external .exe file or commands from command line. The instructions file how to install net-snmp and example commands can be downloaded from here.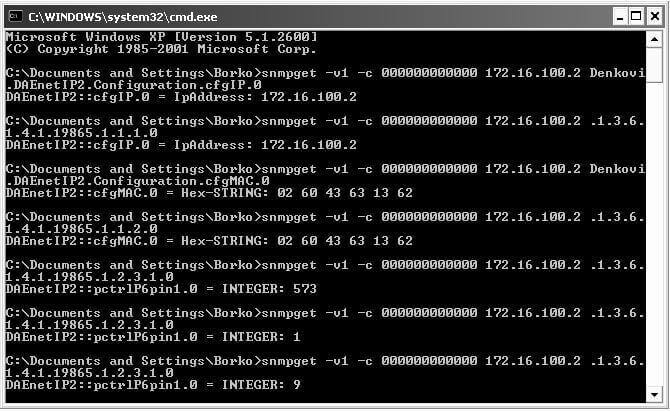 For developers - we can provide examples and support for the following platforms: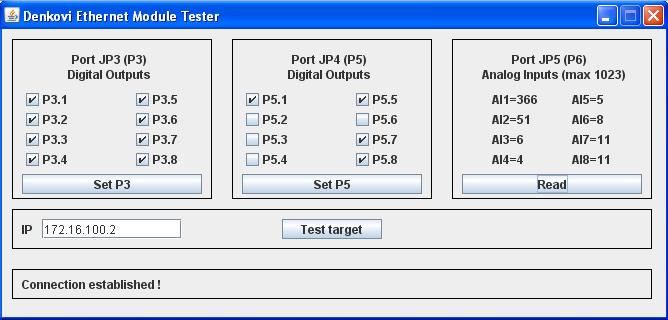 Java Example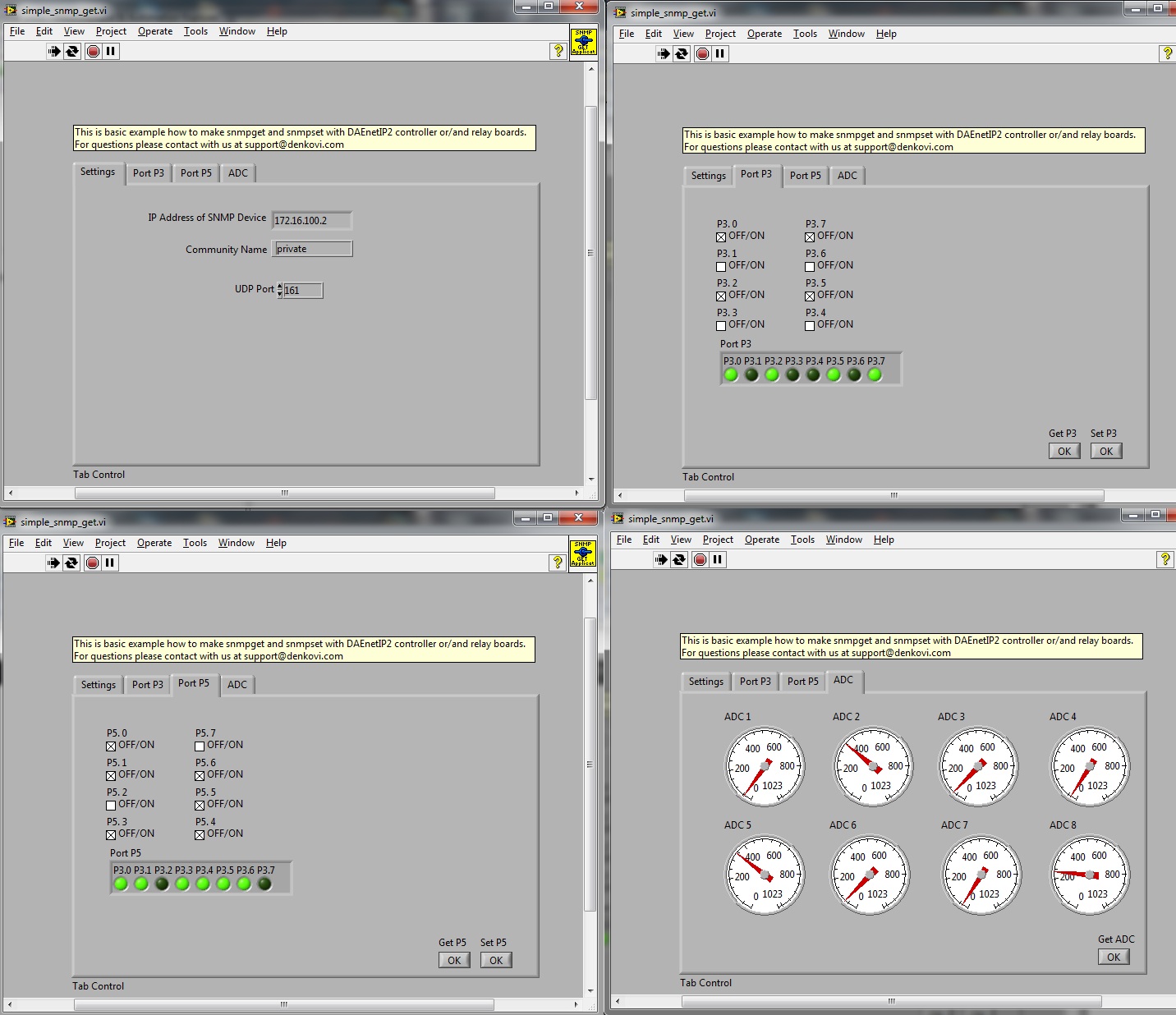 labVIEW example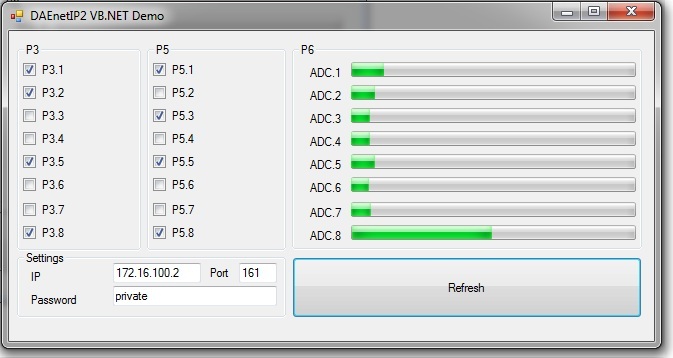 VB.NET Express example
Links
User manual - download link will be sent to your email after purchase or by request.
SNMP definitions file (MIB file) - here
How to connect sensors to DAEnetIP2 controller itself - here
Denkovi software
Please use DAEnetIP2 rev.2 firmware files only for DAEnetIP2 rev.2 modules and old DAEnetIP2 firmware files only for old DAEnetIP2 modules! The old and new firmware files are not compatible as there is hardware change from rev.2.
Date
Changes
08 Nov 2017

From 08 Nov 2017 we start shipping DAEnetIP2 with minor hardware changes (rev2). The new hardware is designed in a way to keep the compatibility however there are still small changes:

Factory (default) jumper - the factory (default) jumper must be placed at another location on DAEnetIP2 rev2. The procedure is the same like before. Also with the DAEnetIP2 rev2 the jumper is not included (shipped) with the module but must be provided separately.
10/100 Ethernet interface is supported by DAEnetIP2 rev2 - the new module has new 10/100 network interface compared with the old DAEnetIP2 which works only in 10Mbit/Half-Duplex mode.
Embedded Ethernet interface protection in DAEnetIP2 rev2 - in the new module as well there is built-in protection of voltages over 10VDC (differential).
Software changes - The parameter "Target RST" is in seconds and the "Digital filter for ADC" is removed (the filter is always activated) on DAEnetIP2 rev2.

On the picture below it is shown how does it looks like the DAEnetIP2 rev2 module. You will see on the bottom side label with text "Rev. 2" which means that is DAEnetIP2 rev2 module, otherwise you have the old DAEnetIP2 module.
Some examples are not public, and the download links will be sent to your email after purchase or by request.
LAN Relay complete
Ethernet 2 relay board
IP Relay for LAN control