Easy Home Control KIT - 1
With Easy Home Control KIT - 1 you can organize very complex home automation processes without need of any programing knowledge. Get our high quality hardware devices (USB 4 Relay Board, USB One Wire converter, 4 pcs DS18S20 temperature sensors) + Home Automation PC software and you will obtain significant discount. Make simple ON/OFF, control devices based on temperature, set pulses and timers, see charts and others just with several clicks (wizard style). It has web server feature with responsive design which allows controlling by Smart Phones and Tablets.
Overview
Here we offer you "Easy Home Control KIT - 1" consisting of 1 x USB Four Channel SPDT Relay Board, 1 x USB One Wire Converter, 4 x DS18S20 Temperature sensors and License for Windows Home Automation Software. With this KIT, you can organize your very complex home automation process without any special programming skills. This kit basicly is for users which would like to control electrical devices based on temperature values of the sensors or software timers, pulses and schedules. It supports the feature web server, which allows the relays and sensors to be accessed not only from the host PC, but from any mobilde device (Smart Phone and Tablet). The software can plot graphics, send emails if hardware is not found and some other interesting functions are available. Getting this KIT you are receiving automaticaly 15% discount!
The conception of the KIT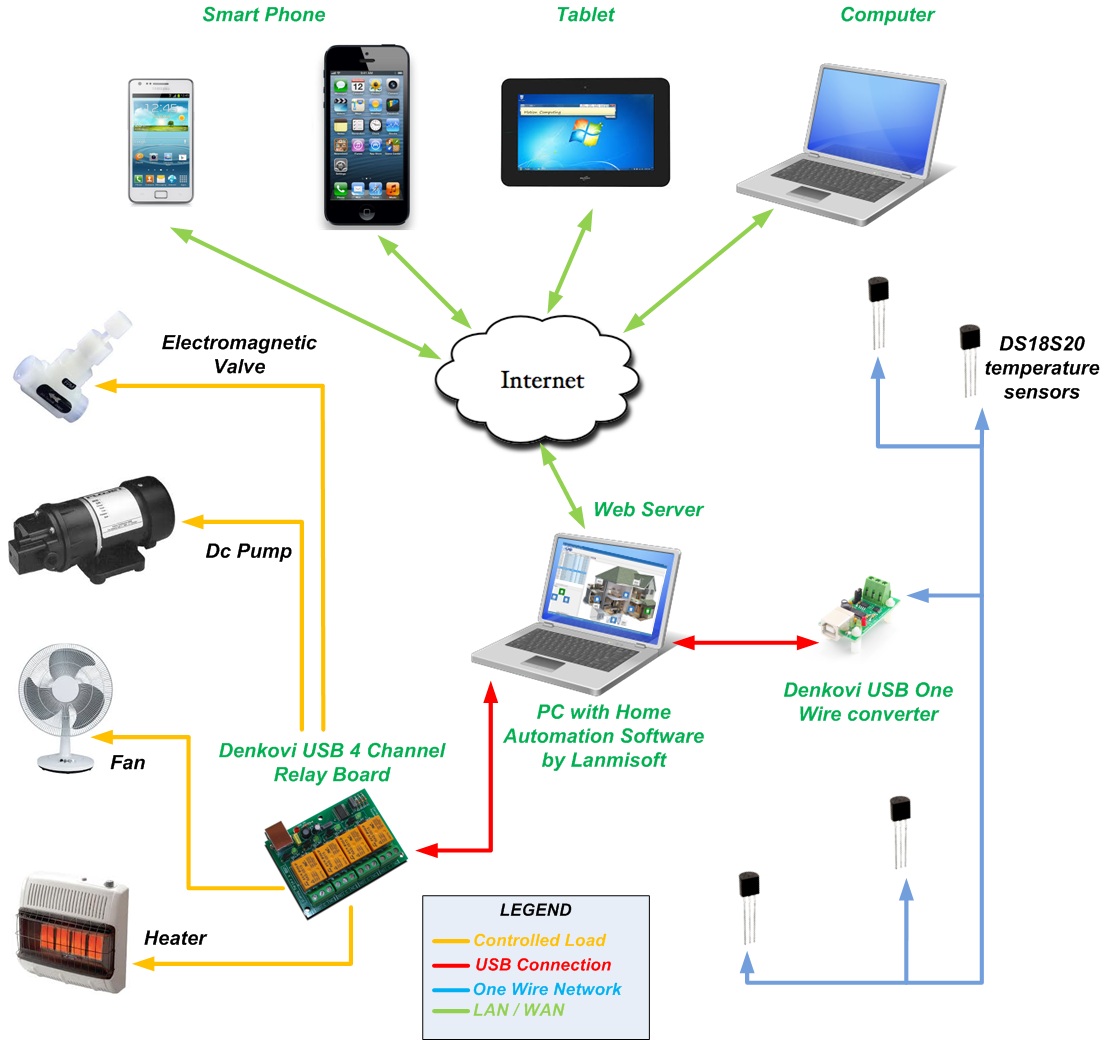 The KIT turns your PC in powerful home automation tool.
The KIT includes
1 x Denkovi USB 4 Channel Relay Board

USB port (type B)
4 SPDT Relay channels - selectable by user:

JQC-3FC/T73 DC5V (7A / 250VAC, 10A / 125VAC, 12A / 120VAC, 10A / 28VDC)
RAS-05-15 (10A / 250VAC, 15A / 120VAC, 15A / 24VDC)

Fully supplied from the computer USB port

Additional USB 4 Relay Boards can be bought separately from here

1 x Denkovi USB One Wire Converter

USB port (type B)
3 pin output screw terminal (GND, 1 Wire Line, +5V)
Chipset: FT232RL and DS2480B
ESD line Protection based on DS9503P
Emulates the Maxim Dallas DS9097U converter
Fully supplied from the computer USB port

Additional Adaptors can be bought separately from here (although usually one is enogh)

4 x DS18S20 temperature sensor

Sensor type: temperature sensor
Kind of temperature sensor: digital thermometer IC
Temperature measuring range: - 55°C to +125°C ( - 67°F to +257°F)
Case: TO92
Temperature measurement accuracy: 0.50% from -10°C to +85°C
Datasheet - here

Additional sensors can be bought separately from here

1 x Lanmisoft Home Automation Software license

Low memory and CPU consumption
Multi-threaded, does not freezing windows during 1-wire sensors reading process
Easy to create the program and set conditions for relays (wizard style), special knowledge is not required
Drag'n'Drop sensors and relays on image which represent automation system
Temperature data acquisition with advanced charting options

Timer mode (Pulse, Weekly or Delay)

Thermostat mode (Normal, Differencial)

Switch mode (turn more than one relay at a time)

Web server

Emails notification during hardware failure

Supported by Windows 2000, XP, Vista, 7, 8

Measurement values database storage - MySQL, MSSQL, Local database(default)

The demo is here (http://www.lanmisoft.com/Automation/index.html)

2 x USB cable, 5.0m

Type of connection cable: USB - USB
Contact plating: gold plated
Cable length: 5.0m
Cable/adapter structure:

Additional cables can be bought separately from here

The cables are optional, not included by default
When you buy this complete
You save

15%

rather than you order each component separately.
You take all the stuffs from our web site - we guarantee all the components are tested and in working condition
The Home Automation Software by Lanmisfot comes with lifetime update feature
You will receive our support.
Please note that here we offer you only one possible configuration for our hardware + Lanmisoft Sofwtare. However it is possible to be assembled other combination - for example with several USB 4 or USB 8 relay boards and more DS18S20 sensors. Currently the software supports only USB 4 Relay Board and USB 8 Relay Board (up to 96 relays at once). If you need something special, please contact with us.
Please note that this kit can not work without computer.
Instalation instructions
The installation guide may be downloaded from -

here
Some screenshots of the software
Easy drag and drop placement of the sensors and relays over the image representing your Home. Each sensor and relay can be with different name.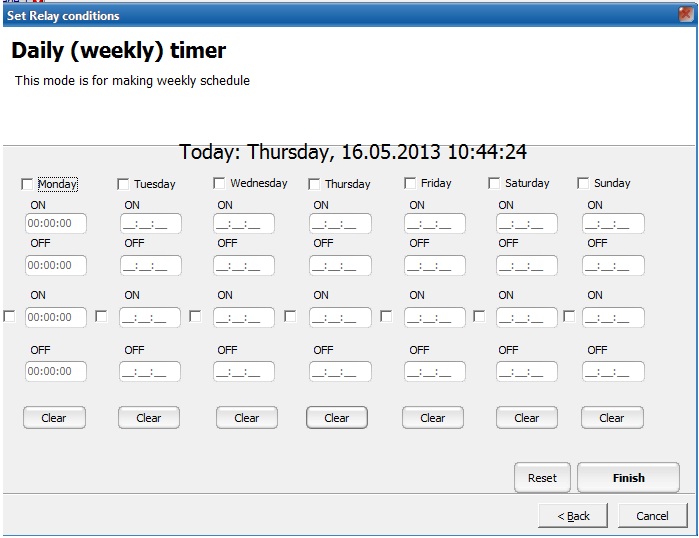 Each relay can work in weekly mode with 2 ON/OFF events per day.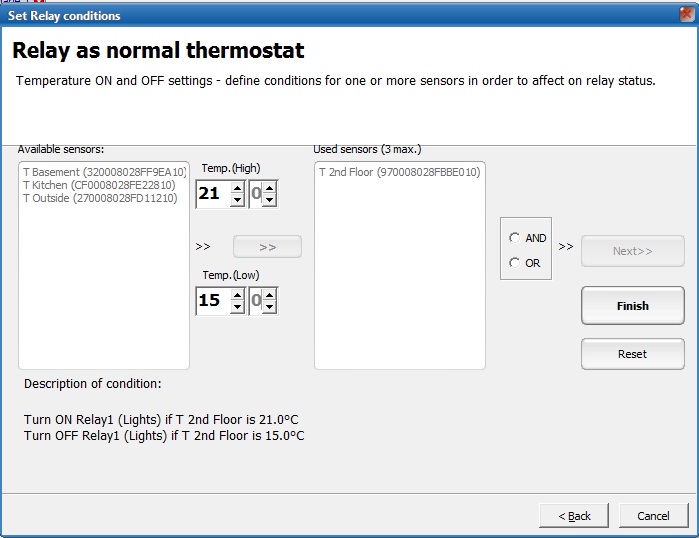 Each sensor can be "attached" to one or several relays. Based on its value and the adjusted thresholds (Low/High), the relay will be turned on/off automaticaly. The mode is called "Thermostat".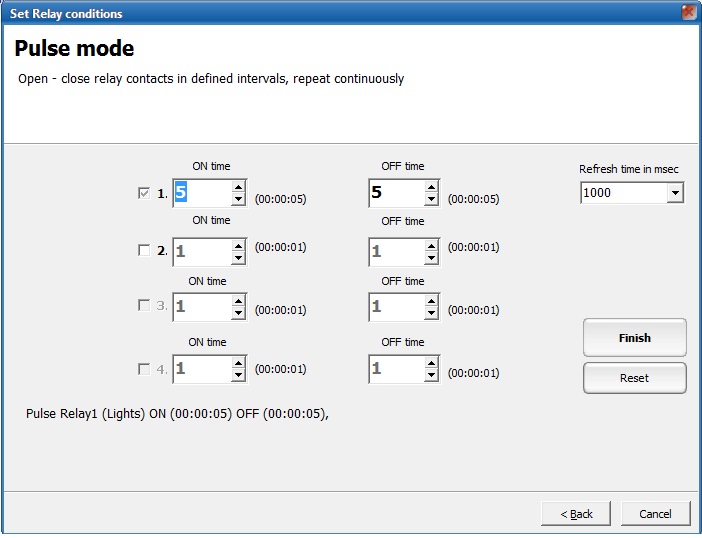 The relay can work in pulse mode with different on/off times.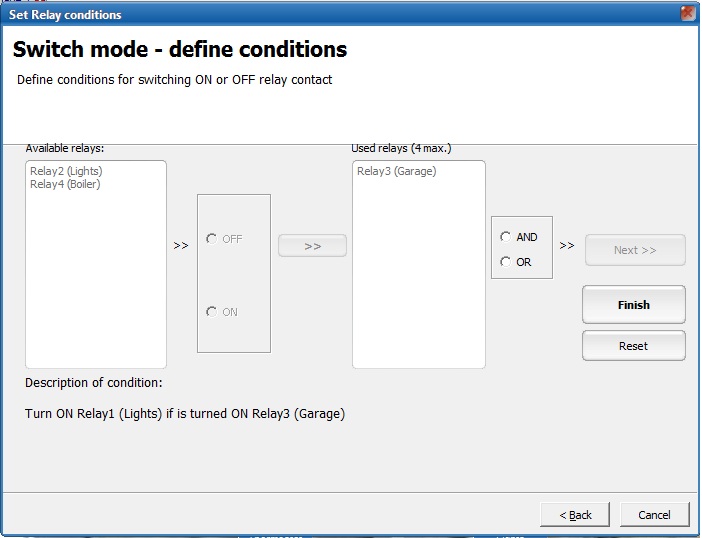 Each relay can work in "Switch mode". This means when it is turned other relay can be turned on/off. For example it is possible to simulate DPDT relay while clicking 2 (SPDT) relays at a time.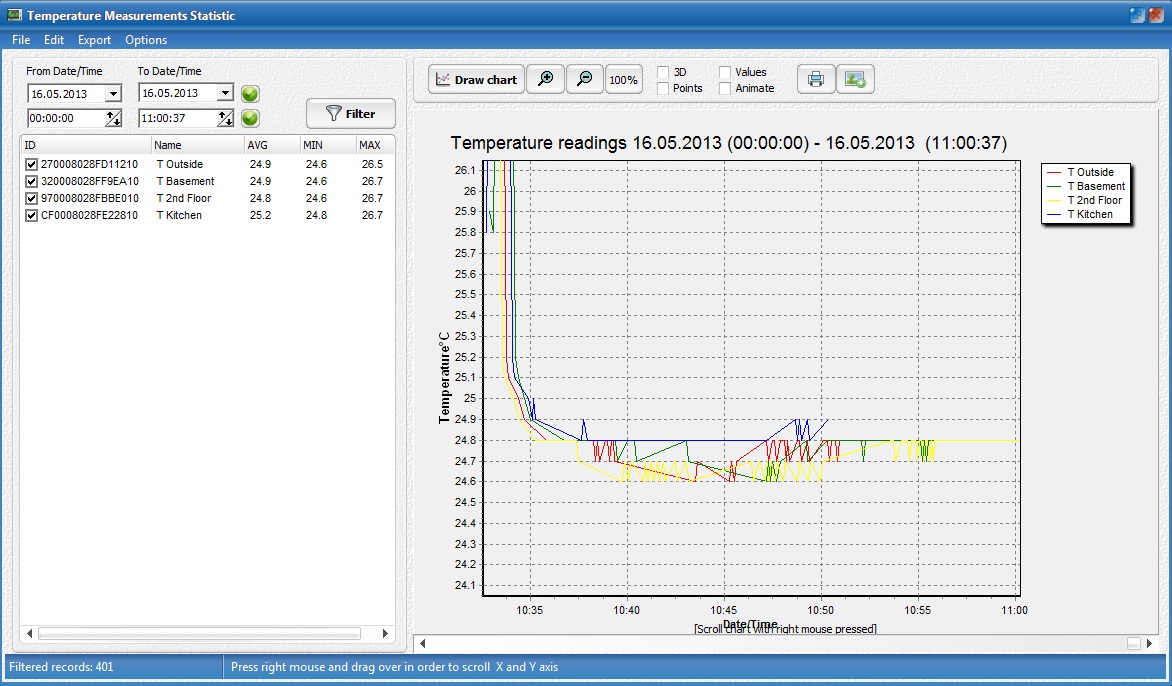 The software can plot charts based on the masured sensors values.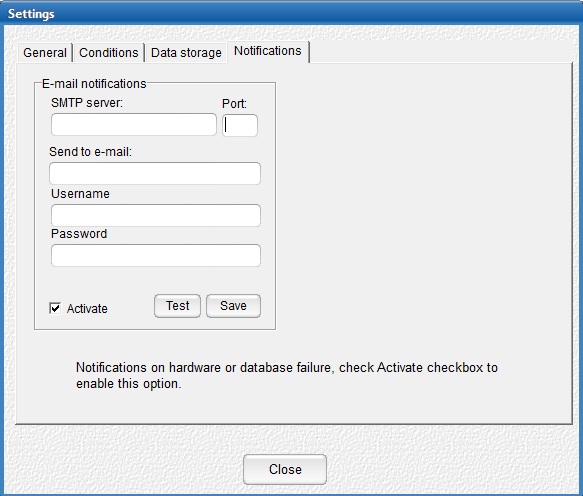 When some of the hardware components are not available the software can send email.
Home automation from PC
Home Automation KIT
Relays, sensors, software