USB to One Wire converter - Virtual Com Port FT232RL based
This adaptor connects your 1-Wire network to your computer. It appears as Virtual Com Port (VCP) and it is based on the FT232RL (USB-UART converter) and DS2480B Dallas-Maxim (RS232-One Wire converter). It has selectable RC filter for improving communication for lines between 1 and 100 meters and ESD line protection. It is compaitable with DS9097U of Maxim-Dallas with the difference this adaptor is connected to your USB port
Feauters
USB port (type B)
3 pin output screw terminal (GND, 1 Wire Line, +5V)
Chipset: FT232RL and DS2480B
ESD line Protection based on DS9503P
Emulates the Maxim Dallas DS9097U converter
Works with all iButton® and 1-Wire Slave Devices*
Reliable network weight: up to 200 meters**
Selectable RC filter for improving communication for middle lines (between 1 and 100 meters)
Rx and Tx leds for the serial communication
Fully supplied from computer USB port
It is shown as Virtual Com Port (VCP)
Large number of free software and source code
Supported by One Wire Viewer and TMEX of MAXIM-DALLAS, Home Automation by Lanmisoft and many others
Operating temperature range: -40°C to +85°C
Dimensions: 58.0mm / 26.5mm
Supported by OWFS - New;
Supported by Domoticz home automation software (requires OWFS) - New;
User manual: here
* The device can not program 1-wire EPROM devices
** The network weight is the length + devices weight. For example iButtons devices have weight 1m and non-iButtons have 0.5m. If the length is 100m and there are 200 sensors DS18S20 connected then the total weight is 200m. In our laboratory, the converter is tested with 300 meters twisted pair cable with 20 DS18S20 sensors and worked stable.

The package contains
1 x USB to One Wire interface module converter
1 x Temperature sensor DS18S20+
Typical applications
Home Automation
Industrial Automation
USB thermometer/logger (with combination of temperature sensor and software)
USB - One Wire bridge
Distributed systems for measurement temperature, voltage and so on...
Connecting the convertor with DS18S20
Together with DS18S20, the USB One Ore converter can be easily turned into USB Thermometer/Logger (of course with PC software). Bellow it is shown how to connect one such sensor (additional sensors can be bought separately from us). In this way you can measure temperatures from -55°C to +125°C (-67°F to +257°F).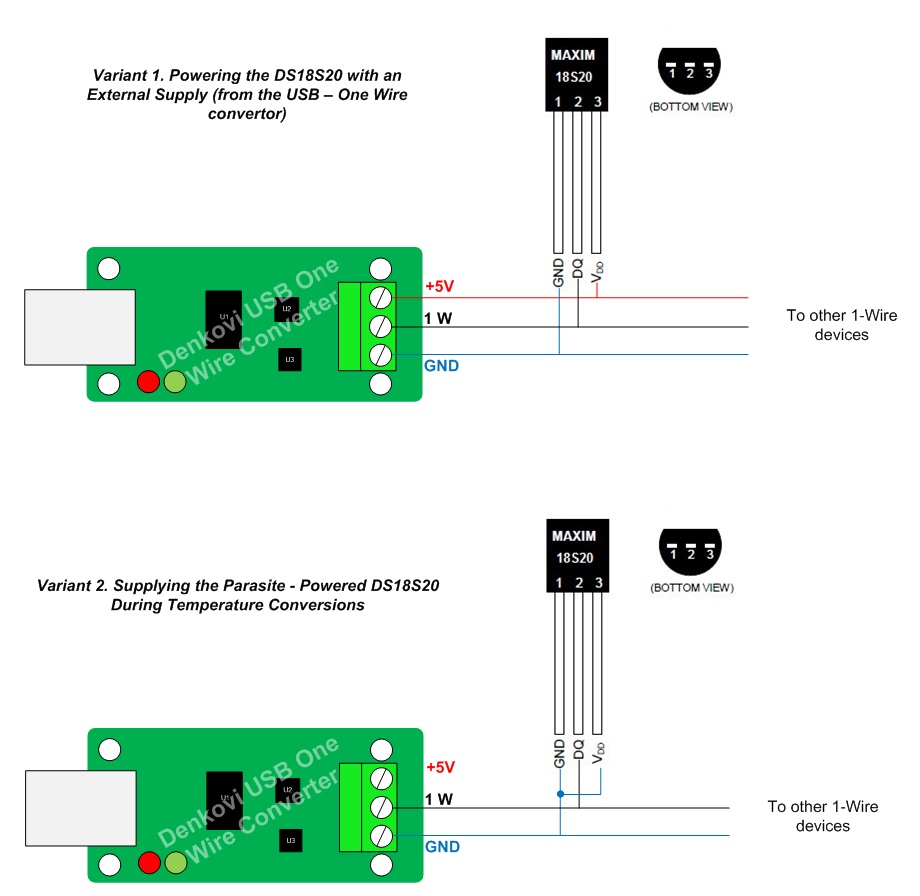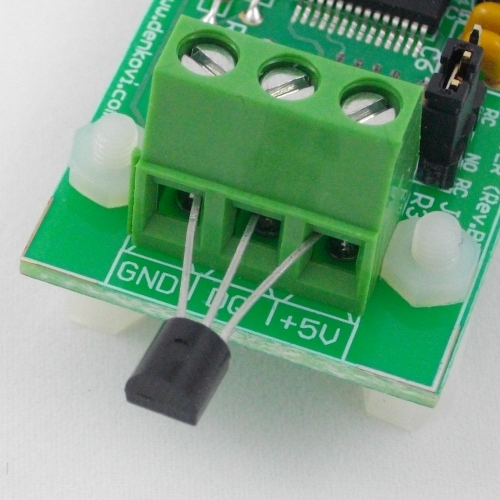 How to connect single DS18S20 sensor to the converter. It takes seconds!
OneWireViewer
There are many One Wire based sofware solutions on the market. One such software (free offered by Maxim-Dallas) is OneWireViewer. With this software the adaptor can be easily tested. The software will be available on your PC after you install the One Wire drivers (it will apprear as executable program).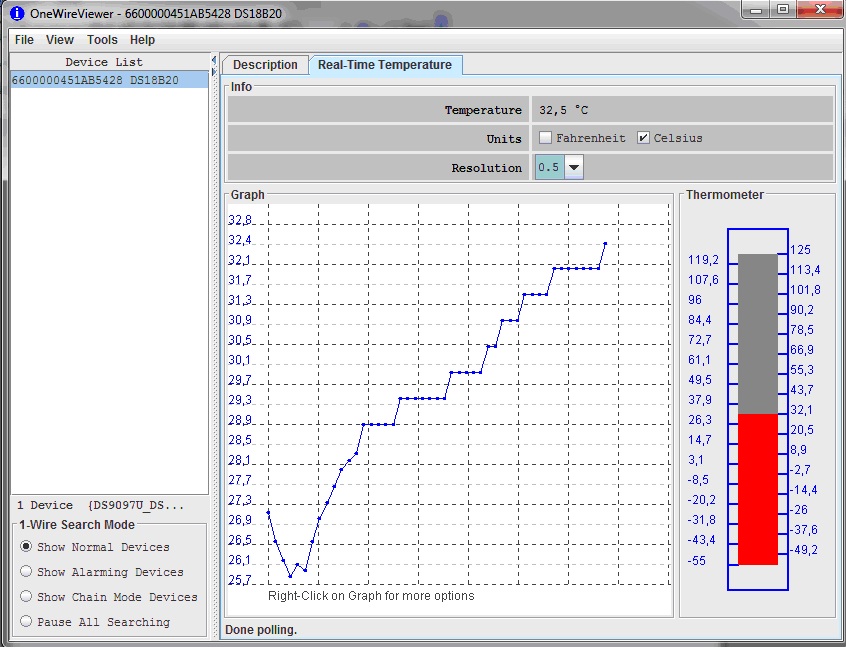 Lanmisoft Home Automation Software
Another very popular Windows software is Home Automation Software by Lanmisoft. Bellow it is given screenshot maden at a time when this software and Denkovi USB One Wire converter work with 300 meters twisted pair cable and dozen of DS18S20 and DS18B20 sensors. The software is very flexible and can work also with our USB 4 Relay Board and USB 8 Relay Board. The software is tested by us and it is warmly recommend for Home Automation applications. Please note there is free demo on the developer's web page so you can test it or you can purchase the full version.
Denkovi USB to One Wire converter is very important part of the home automation system presented on the image bellow. The PC with Lanmisoft Home Automation software handles the one wire network with temperature sensors (for example DS18S20) and several denkovi relay boards (USB 4 Relay board and USB 8 Relay board). Basicly the system can control relays based on temperature level, timers and pulses. Please note that all the components of such Home Automation system can be found on our web site. The Denkovi USB to One Wire converter (and Denkovi USB 4/8 Relay Boards) are tested with this software and we can confirm they work stable (for converters and USB Relay Boards from other suppliers we don't guarantee).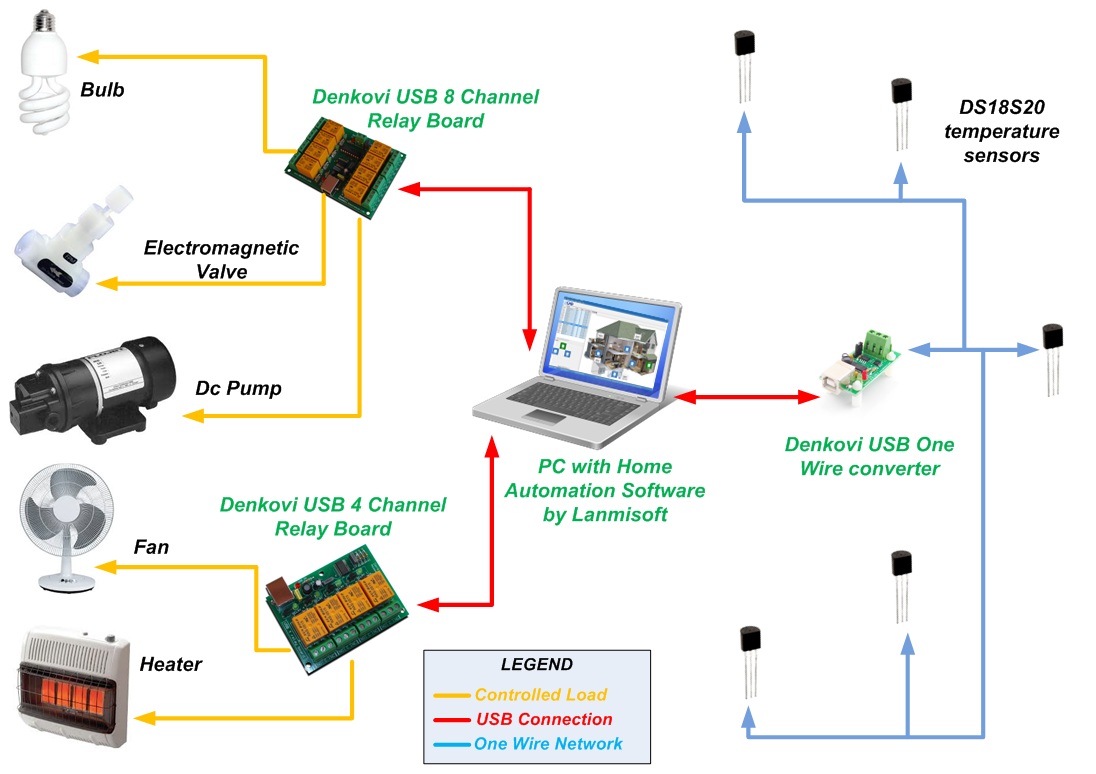 Links
With FT232RL and DS2480S
USB to One Wire converter
Attach 1-Wire to your PC
Very well made device, works perfectly. Well packaged for delivery and support information is fantastic.
Works perfect . Shipping takes a while .
Fast shipping. Thank you for these nice interface dongles for 1-wire.
Amazing product.