smartDEN Logger - Web enabled temperature datalogger with analog/digital inputs
smartDEN Logger is a general purpose Ethernet/SD-Card data logger/tracker that can be used in a wide range of remote monitoring, measurement and data-acquisition applications. Thank to its multi-channel design (16 digital, 8 analog and 8 thermistor inputs) this device can log simultaneously a variety of measurements, for example temperature, humidity, light, pressure, voltage etc. In addition to continuous data recording to a SD card, the current measurements can be downloaded (uploaded) from (to) remote IP host in XML/JSON format. The Web interface allows users to configure the smartDEN Logger, monitor current measurements and access logged files for download or graphical visualization. Works with Domoticz and OpenHAB home automation systems as well as with Node-RED IoT platform.
Features
Inputs:
16 digital inputs with ON/OFF LED; Schmitt trigger for each. Levels: (0-12VDC or 0-24VDC);
8 analog inputs 0-10V DC;
8 temperature inputs for NTC thermistors type B57500M (from -55 to +155°C) ;
High quality terminal blocks;
Data Storage:
Type: removable microSD;
Supported SD card formats: FAT16, FAT32;
Supported SD card sizes: 4GB, 8GB, 16GB, 32GB;
Log file format: CSV;
Configurable logging period (min. 1 sec);
Configurable log file size (100 KB to 1 MB);
Real Time Clock:
Built-in real time clock: YES;
Back-up power supply: YES;
Auto synchronization: YES;
Communication:
Fully Compatible with 10/100/1000 Base-T networks, Auto-MDIX;
Protocols: TCP/IP, HTTP, DHCP, DNS, NTP, ICMP (ping);
Web Interface:
Configuration of system and recording parameters;
Access current measurements;
Download logged data in Comma-separated-values (CSV) format;
Graphical visualization of logged data;
Secure login authorization;
Access protection (by IP and MAC address);
Software:
TCP/IP Services:
HTTP client: Automatically upload (POST) current data to a HTTP server in XML/JSON format;
HTTP server: Access (GET) current measurements in XML/JSON format, download log files in CSV format;
Power Supply:
Supply voltage 10..28V DC;
Additional source voltage 5V DC is provided for an easy sensors supply;
Physical and Environment:
Working temperature range: 0 to 70°C;
DIN Rail standard housing;
2 mounting feets for wall fixing.
The package include
smartDEN Logger module with 16GB microSD card formatted and ready for using;
One temperature sensor B57500M;
2 mounting feets for wall fixing;
microSD adapter for card reader like this one.
Application Examples
Weather station applications - wind speed / direction, temperature, relative humidity, solar radiation recording;
Hydrographic recording of water level, water depth, water flow, water pH, water conductivity;
Soil moisture level recording;
Gas pressure recording;
Recording a variety of environmental conditions;
Measure variations in light intensity;
Tank level monitoring;
Environmental monitoring;
Load profile recording for energy consumption management;
Temperature, humidity and power use for heating and air conditioning efficiency studies;
Water level monitoring for groundwater studies.
Benefits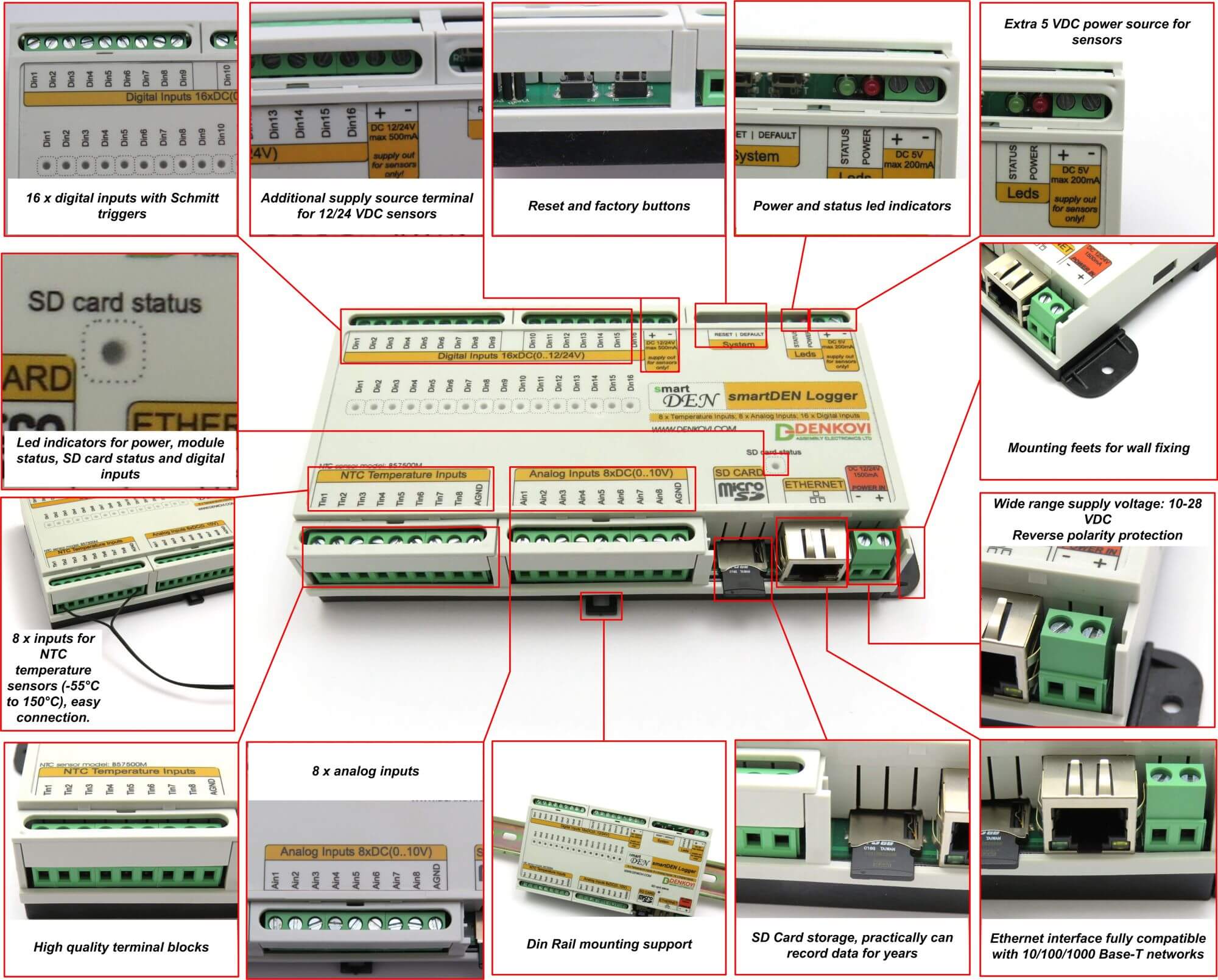 Compatible Sensors
smartDEN Logger is shipped with one NTC thermistor sensor B57500M (up to 8 such sensors are supported by singe module). However additional sensors can be ordered from our store from this link: here
The module has 8 analog inputs 0-10V which can be used also with every analog output sensor within this voltage range. We offer range of sensor that can be connected as well to the analog inputs: LM35DZ (temperature), LM335Z(temperature), HIH-4000 (humidity), TSL250R(light), GP2Y0A21YK (Proximity)
The digital inputs can be used with any NO/NC or PNP output sensor like PIR, BEAM, BARRIER, GAS, SHOCK, SMOKE, VIBRATION, ACCESS CONTROL TERMINALS and so on...
Recording Data
The smartDEN Logger comes with 16GB microSD flash storage for storing the .CSV log files. For reference, a file with size of 1MB can store at least 7600 records. If the recording period is set to minimal (1 sec), such file will contain data for about 2 hours. For a whole day that is about 11 MB, or for one year the recorded data size will be about 4GB with 1 sec recording period.
Access the .CSV log files
First way: via web browser
The easiest way to access particular file is via web browser. Just log-in to the web server and goto section "Log Files". From this page it is possible to download specific file or to view it's records in chart plot directly in browser. Here it is not necessary to access the logger physically, but only internet connection to the module is required.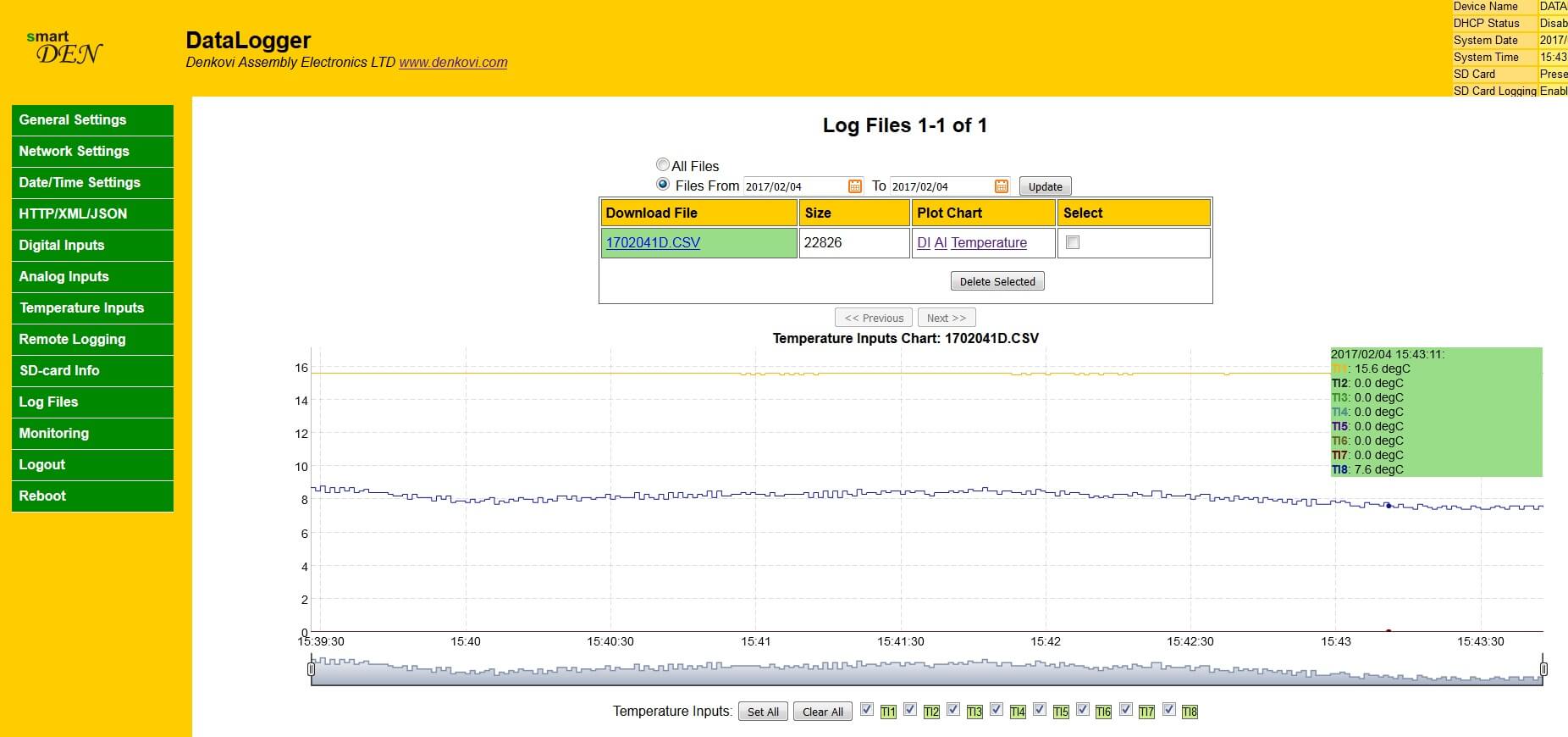 Second way: via smartDEN Plotter Software
The software is designed especially for smartDEN Logger and its main features are:
Download automatically all (or only new) files on local storage from the remote smartDEN Logger;
Plot multiple files on a single chart;
Monitor the current input values from the smartDEN Logger;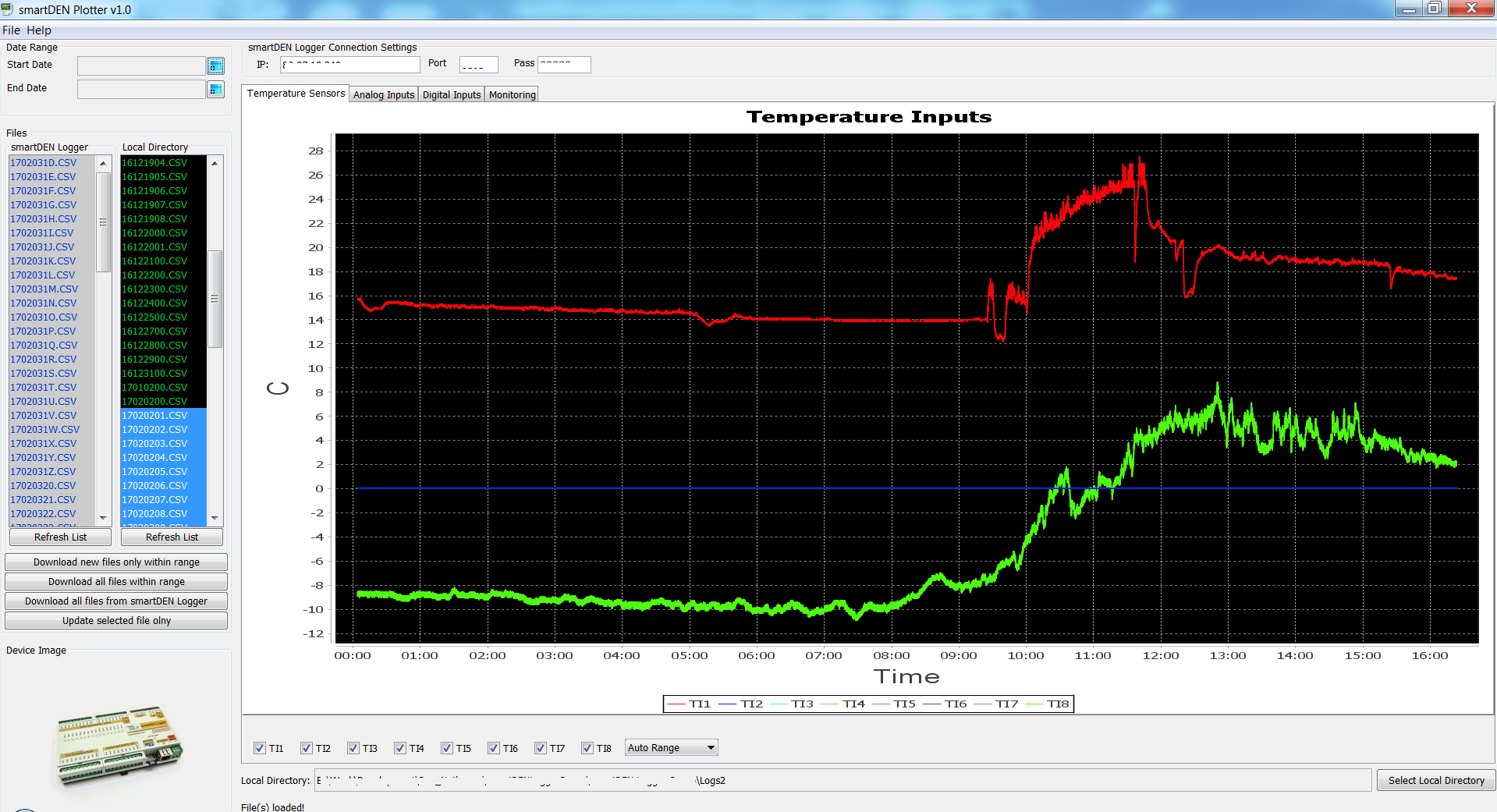 Third way: physically access the device and copy the files from SD card
This method requires physical access to the SD card. The files can be copied and imported in smartDEN Plotter or another chart plotting software accepting .CSV files.
Remote Sensors Monitoring
The module provides easy monitoring feature for its 32 inputs via web browser. Simply log-in to it's web server and monitor the values received from the sensors anytime.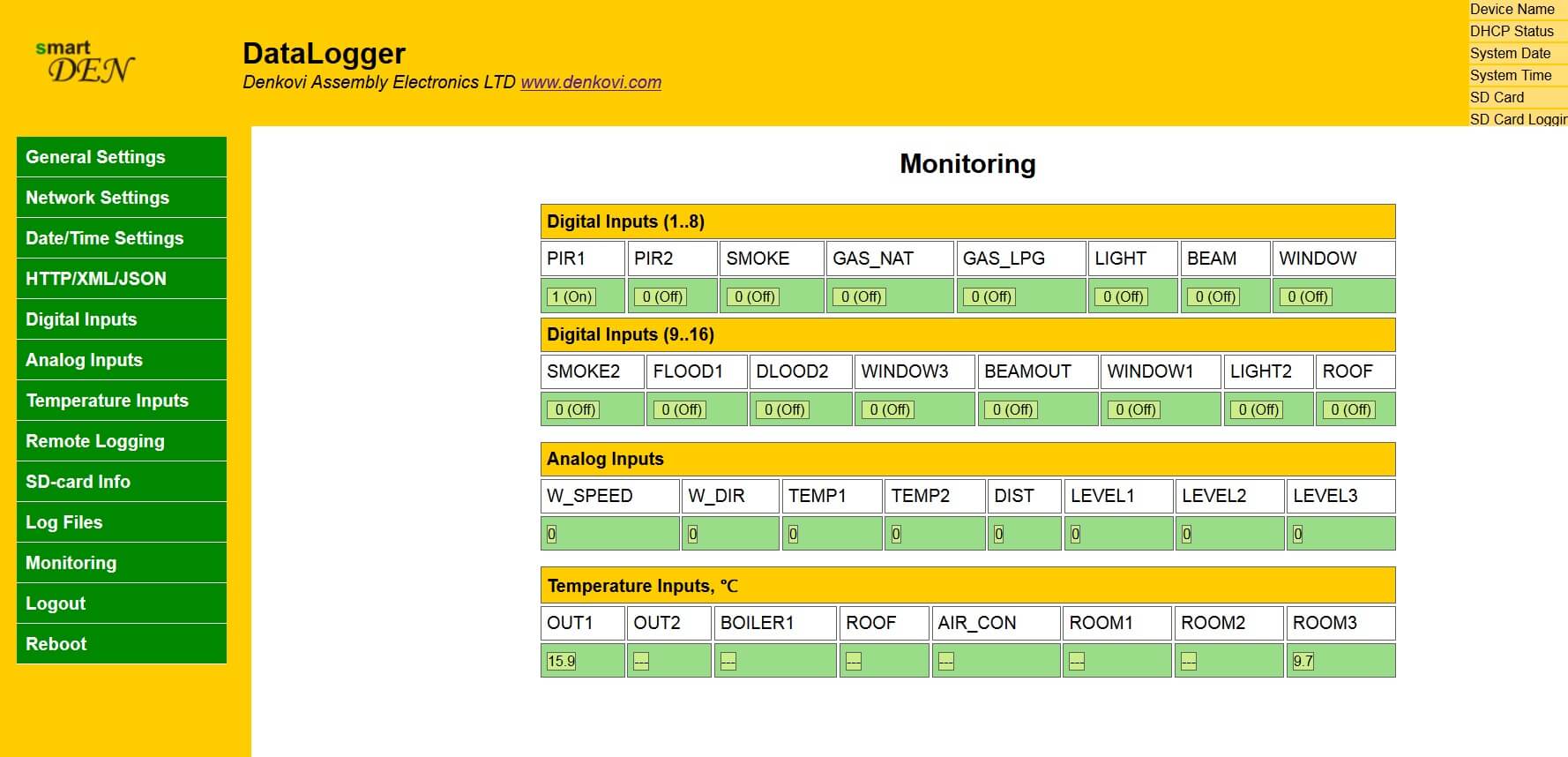 Access the inputs values via mobile devices
Android App DAE-aModules

Useful information about DAE-aModules and smartDEN Logger:
Select device smartDEN Logger. You have to enter the IP of the device, HTTP port (for web/http access) and web password;
Please with this app it is not possible to download the log files, but only to monitor the inputs values.
Remote Logging
This is advanced feature, and in this mode smartDEN Logger is able to send periodically POST request with the current states of the inputs in XML or JSON format to remote server which can easily record the received data into SQL database.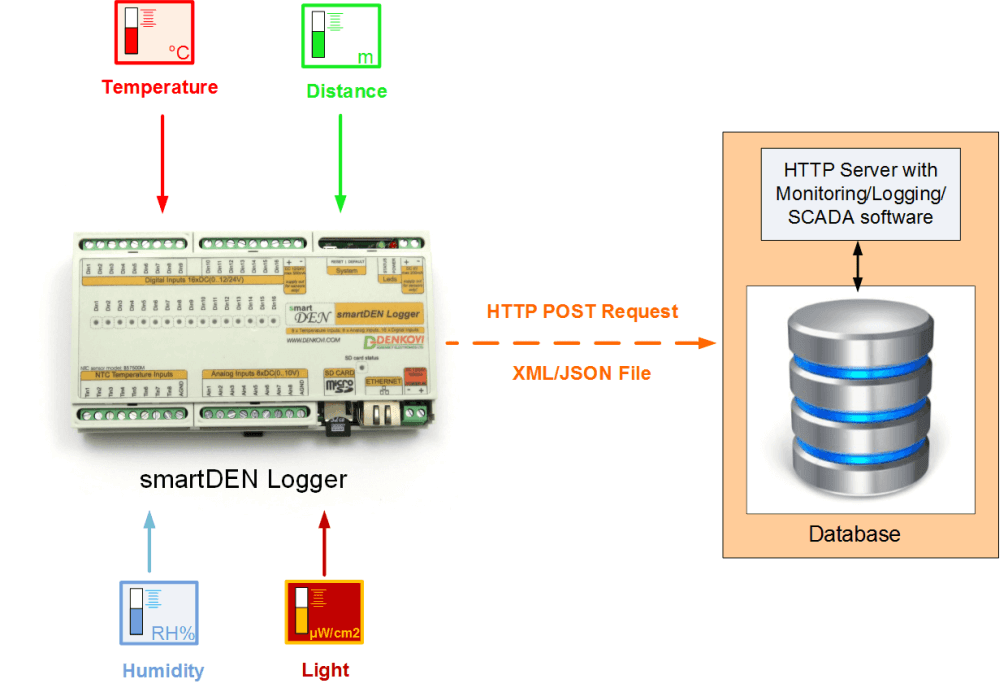 JSON and XML HTTP protocols for software integration
It is possible to download (GET) the current inputs values by a HTTP protocol via GET requests. The returned reply may be in XML/JSON request. If you would like to test it manually, just open your web browser and type in the address bar the following request: http://192.168.1.100/current_state.xml?pw=admin or http://192.168.1.100/current_state.json?pw=admin and the XML/JSON file will be shown containing the inputs stataus at this moment.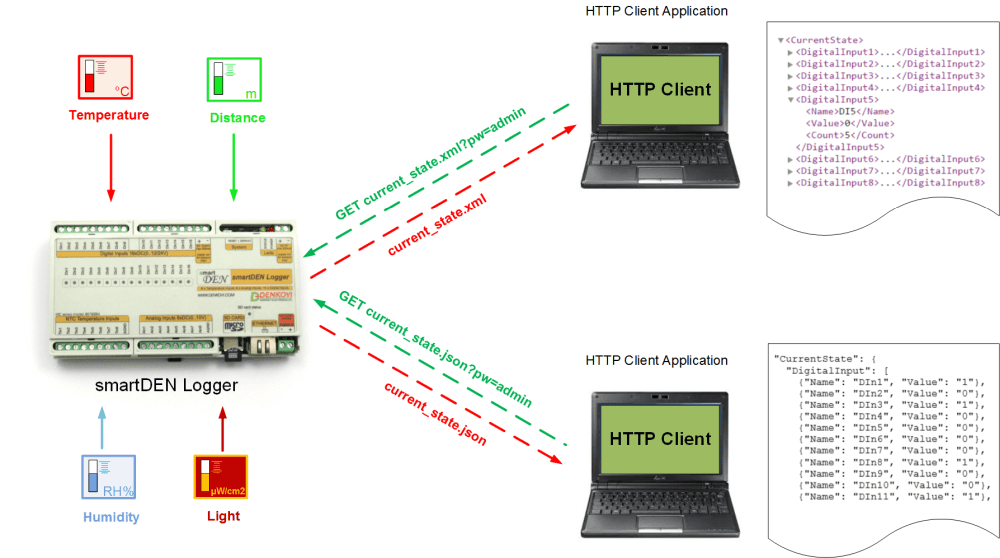 Access smartDEN Logger from OpenHAB
OpenHAB is a third party open source free home automation software. Run your server on Linux, macOS, Windows, Raspberry Pi, PINE64, Docker, Synology... Access it with apps for the web, iOS, Android and others. Use a powerful and flexible engine to design rules, with time and event-based triggers, scripts, actions, notifications and voice control.
The communication way is via HTTP requests. More information about the integration with our hardware - http://denkovi.com/openhab-with-denkovi-modules or contact with us.
Please note the logs are not accessible from OpenHAB but only the inputs.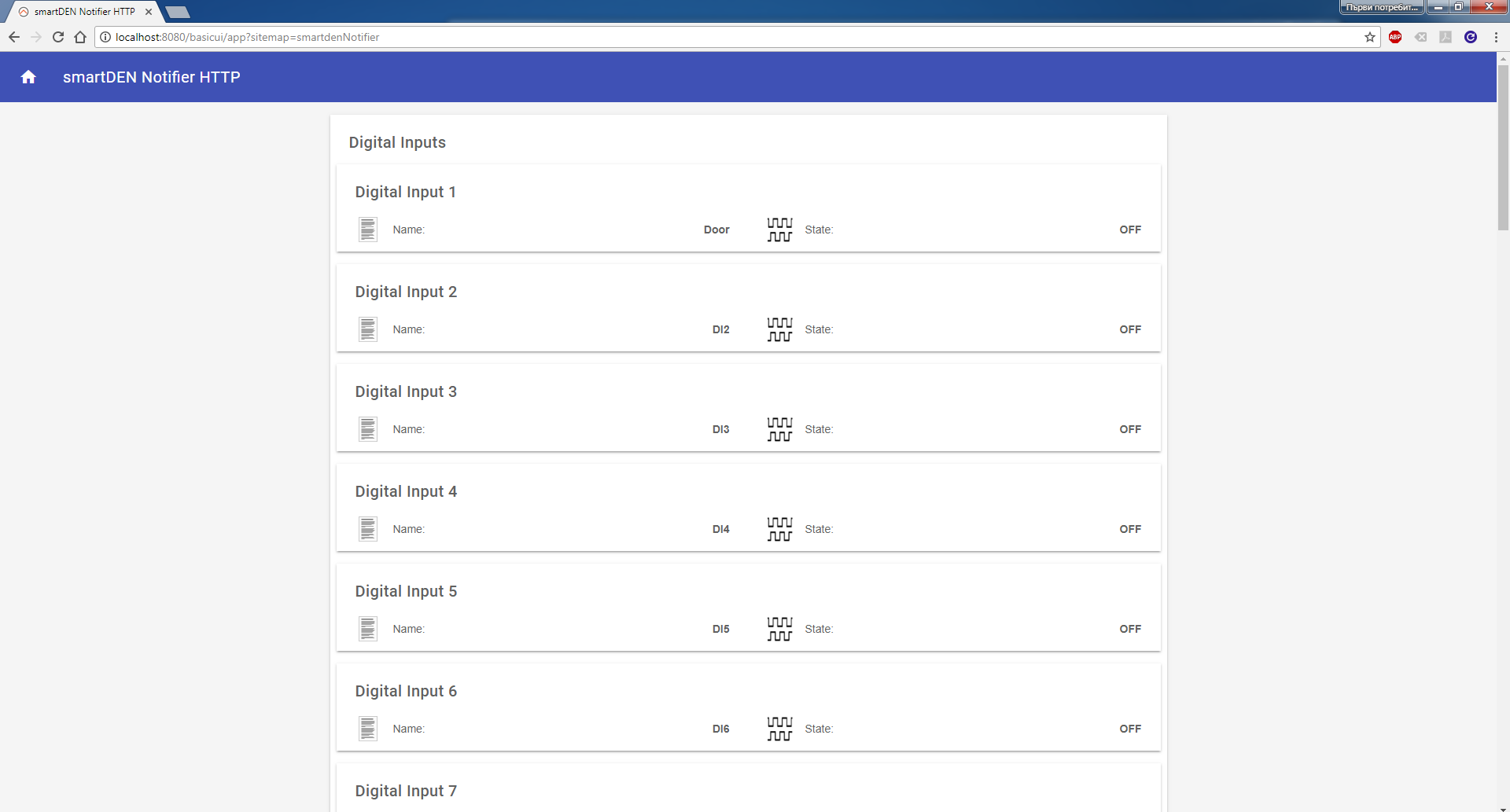 Access smartDEN Logger from Domoticz
Domoticz is a free open source popular home automation software which can run on Windows, Linux, MAC, Rasberry PI and others. It is a home automation system design to control various devices and receive input from various sensors. Access it with apps for the web, iOS, Android and others.
More information about how to connect and use it with our hardware - http://denkovi.com/domoticz-with-denkovi-modules or contact with us.
Please note the logs are not accessible from Domoticz but only the inputs.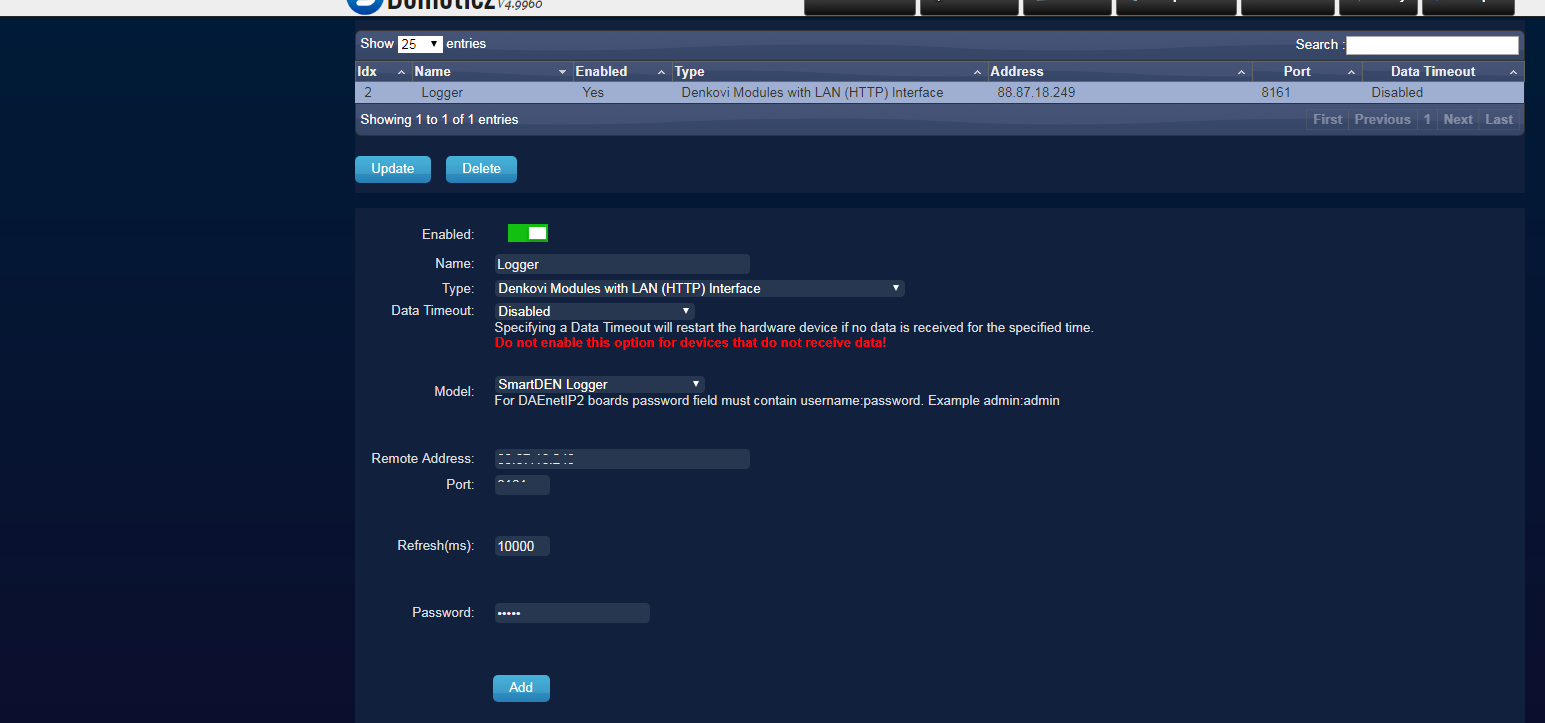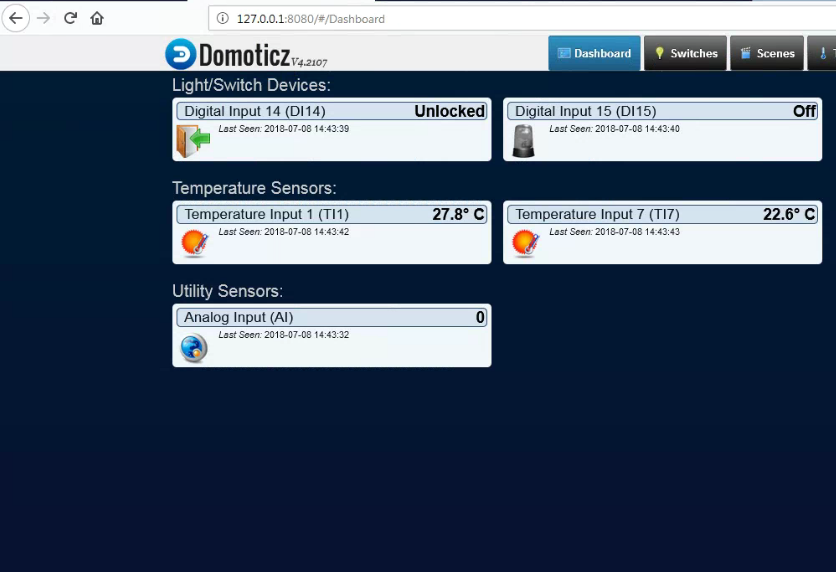 Access smartDEN Logger from Node-RED
Node-RED is a flow-based programming platform for the Internet of Things. We prepared small example for communication between Node-RED and our device. More info about Node-RED and denkovi modules: here
You can download the example Node-RED flows from here: HTTP
Please note the logs are not accessible from Node-RED but only the inputs.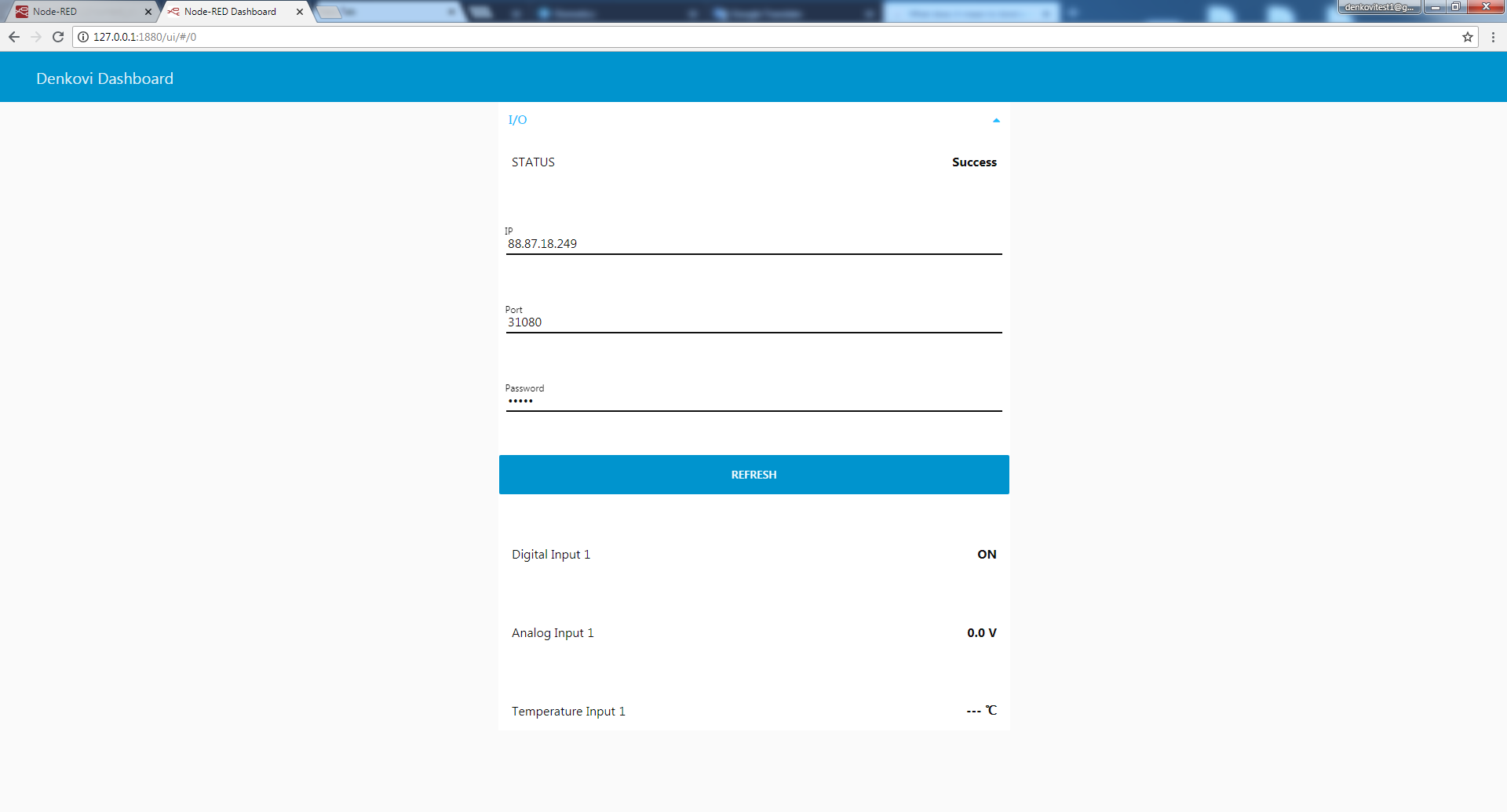 Links
Denkovi software
smartDEN Plotter - software for download and plot the log files from smartDEN Logger, support link here
Denkovi Finder - utility for discovery DAEnetIP4 and smartDEN devices in local network - here
DAE-aModules - App for Android mobile devices, support link here
openHAB - This device (only inputs reading without hardware logging) is supported by the powerful home automation system openHAB. Please take a look at our application note for more information. You can also download the configuration files for openHAB (ver 2.2.0) for communication via HTTP GET requests.
Domoticz - This device is supported by the powerful home automation system Domoticz. Please take a look at our application note for more information - http://denkovi.com/domoticz-with-denkovi-modules
Web Enabled Data Logger
smartDEN Logger
Logger for temperature
keywords
Web Enabled Data Logger
smartDEN Logger
Logger for temperature
Great and very useful product!