Voltage Transducer 0-300V AC In, 0-10V DC Out, DIN Mount
Converts AC 0-300V input voltage into a load independent output signal DC 0-10V. Can be used for monitoring the voltage in electricity network and with the 0-10V can be easily interfaced to our modules analog inputs. The voltage transducer features total galvanic isolation between input/output, high accuracy, low drifting by temperature, and wide temperature operational range.
Brand:

Other

Code:

DAE-8584-TCVHAC300VDC10V24V

Weight:

0.151

Kgs
Specifications
Input voltage: 0 to 300V AC
Output voltage: 0 to 10V DC
Band width: 50-60 Hz
Power supply voltage: 24V DC (+/- 5%)
Accuracy

: 1%

Minimum input voltage for linear measurements: 20% of the maximum input range

Response Time: < 350ms
Current consumption: <50mA
Zero offset, TA=25°C: 0.1mA
Operating temperature: -10..+70 °C
Storage temperature: -25..+85 °C
Mounting: DIN RAIL
Dielectric strength: 2.5kV (50 Hz / 1 min)
Connection diagram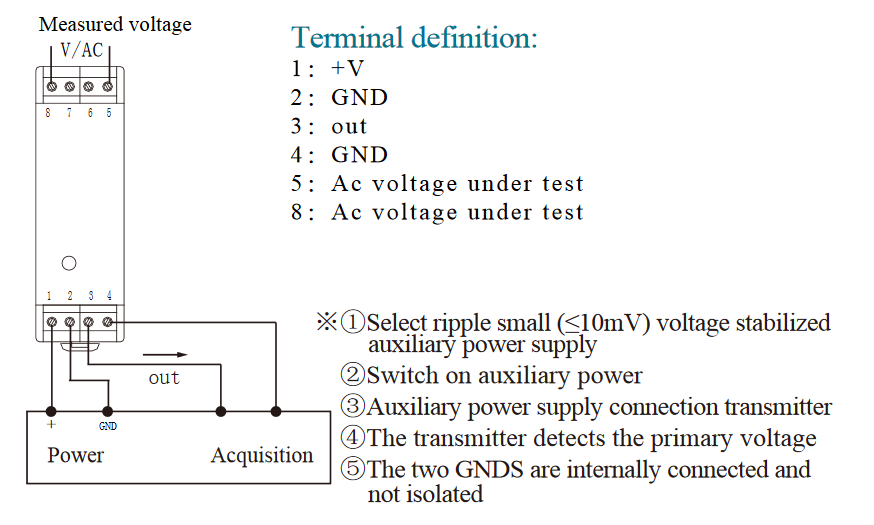 WARNING:
The above schematic is for the new models, which are shipped currently. For the old models - please use
this schematic
. We strongly recommend to double check the schematic label on the sensor itself - in this way you will be able to determine which model you have - the old one or the new one.
Dimensions, mm